Copyright. Part 1 | Mobio Group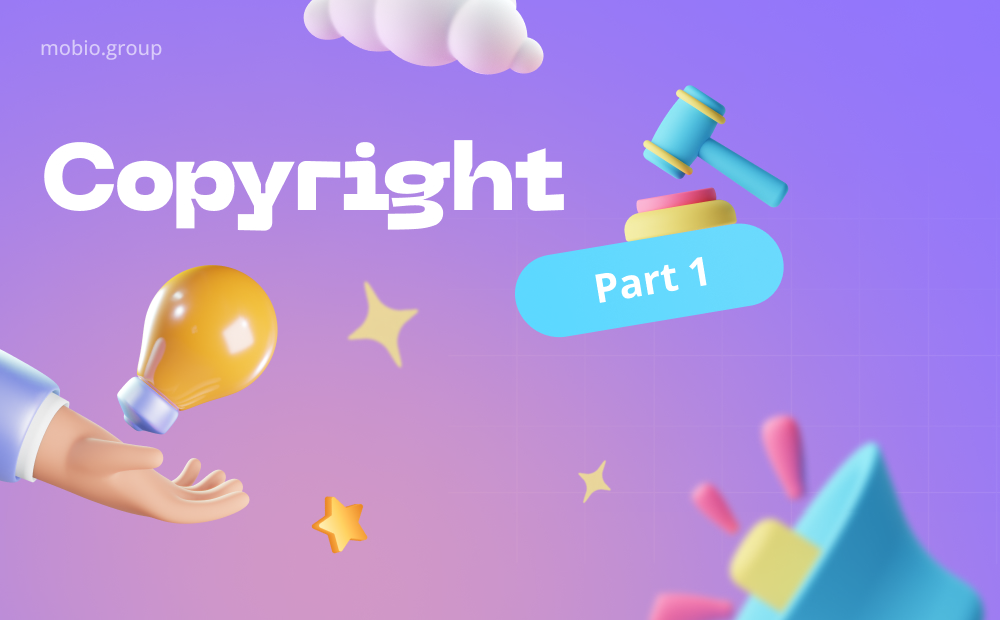 The law of copyright protection was adopted in Venice more than 500 years ago — in 1474. It was then that the citizen received the "moral right" to his own inventions and the exclusive possibility to use them at his own discretion. However, despite the centuries-old history, the judicial practice on the use of copyrights and the corresponding licensing is heterogeneous and quite confusing. And the emergence of digital technologies has not simplified, but rather complicated the situation. The issue of copyright has become particularly acute with the advent of neural networks generating content.

Both individuals and companies often violate copyright law by accident, without even realizing it or intending to do so. However, ignorance can lead to serious consequences, up to and including lawsuits. So let's take a look at how to legally use photo, audio, and other materials for marketing activities.
Public Domain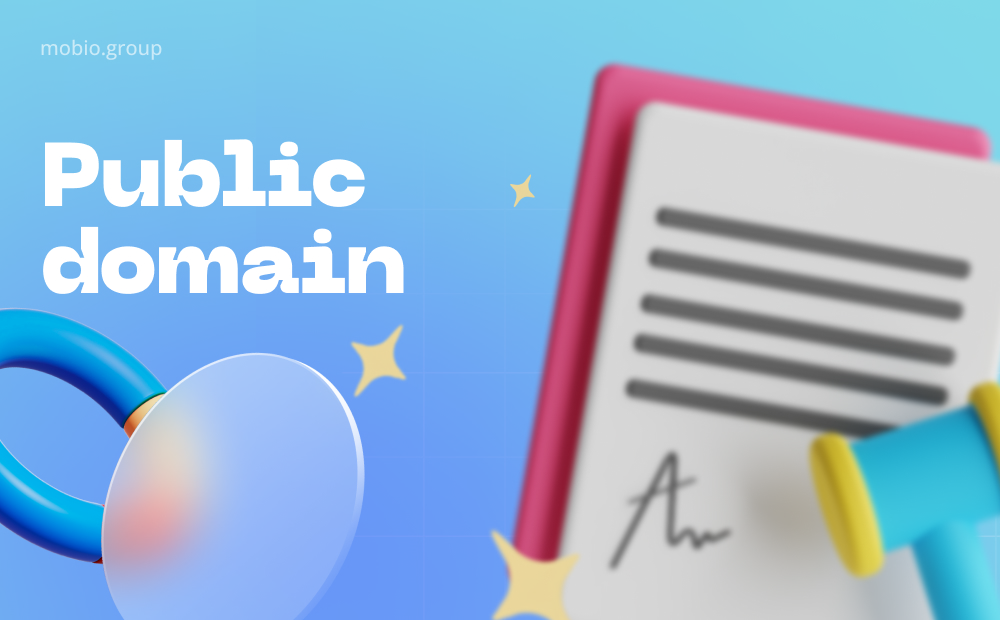 Copyright arises immediately at the moment of creation of any work and does not require registration with state or non-state bodies. Also copyright is not protected:
Works of folk art (folklore).
Public domain (if more than 70 years have passed since the death of the author or 50 years since the death of the performer).
Thus, the use of classics in the creation of commercials is absolutely legal. For example, Durex advertised its products in an ironic commercial to Beethoven's "Moonlight Sonata."
However, we should always remember that most copyrights belong not to the authors, but to "rights holders" (producers, publishers, record companies), who have little to do with the process of directly creating the work. A specific orchestra performs a classical work, a specific studio records a phonogram. And all the "intermediaries" may have a legal license to use the recording of the composition in the future (we will tell you how to check related rights).
Litigation over the misuse of content in advertising is quite common.
For example, General Motors used an altered image of Einstein in an advertisement for the GMC Terrain SUV and was sued by the Hebrew University (the court sided with GM after the proceedings).
Even public domain content should be used with caution, checking each particular track or image for copyrights. So, for example, it is free and legal to use characters such as The Little Mermaid, Rapunzel, Snow White, Cinderella, Aladdin, Sinbad, Scrooge, Dracula, Frankenstein's monster and Sherlock Holmes when creating a creative. However, the images we associate with these characters mostly exist in the Disney interpretation and are protected by copyright.
Even pictures taken with your own camera are not immune to the appearance of mishaps. A case in point is the copyright litigation between photographer David Slater and PETA over monkey selfies. (As of today, copyright law does not apply to animals. So if you have a cat who's a great photographer, you can feel free to use the results of his labors).
DMCA Notices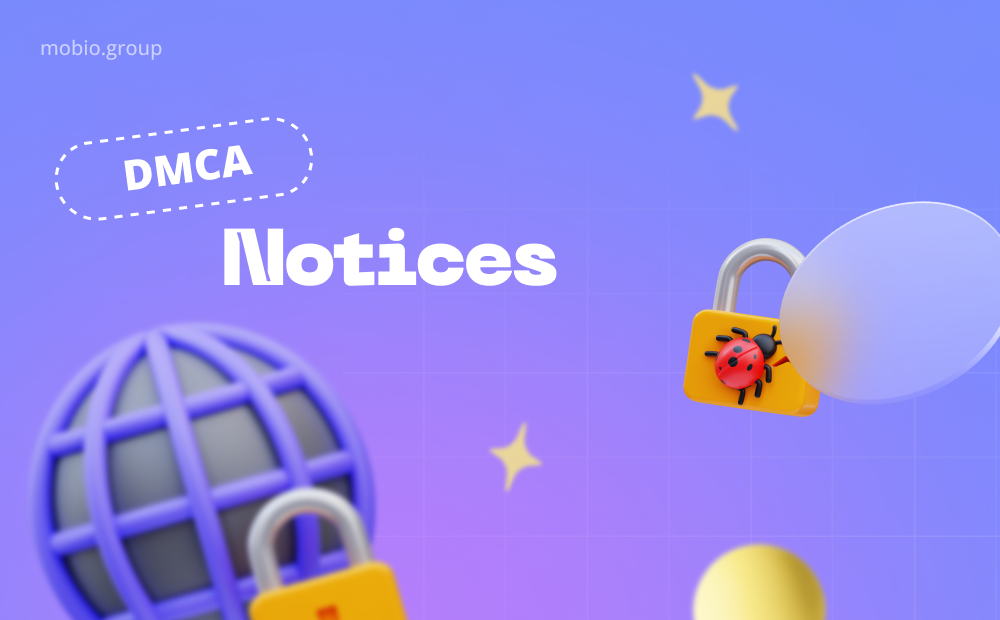 Everything published on the Internet is protected by the Digital Millennium Copyright Act (DMCA). The intellectual property policy based on this law is the same on all sites — Google, TikTok, Facebook, etc. You can get a DMCA notice and therefore content removal (at a minimum) for illegal use, copying and distribution of a work ("piracy"), as well as plagiarism.
Fair and conscientious use allows copyrighted material to be used without the owner's permission. Applies in commentary, criticism, news reporting or use of content for educational purposes. When using someone else's content for promotional purposes, the risk of getting a DMCA notice is very high (even if site moderation missed an infringement, such as a three-second music background track).
The technical means of DRM (digital rights management) protection help identify DMCA violators (besides homo-control). At the moment, DRM is used by many companies around the world, including Amazon, Apple Inc., Microsoft, Electronic Arts, Sony, 1C, Akella, etc. YouTube invested over $100 million in Content ID technology that checks uploaded content against a large database of protected content. Facebook correlates data using its own algorithms and Audible Magic platform.
Another thing to keep in mind is that copyright terms can vary from country to country. Content recognized as public domain in one country may still be protected under copyright law in another.
When content is used commercially, there are a large number of restrictions. Often they can only be detected by careful preparation of materials for the production of creativity. Few people know that, for example, the Eiffel Tower light show is protected by French copyright law as a work of art, and the commercial use of Eiffel Tower photos and videos at night requires special permission from the Société d'Exploitation de la Tour Eiffel.
Licensing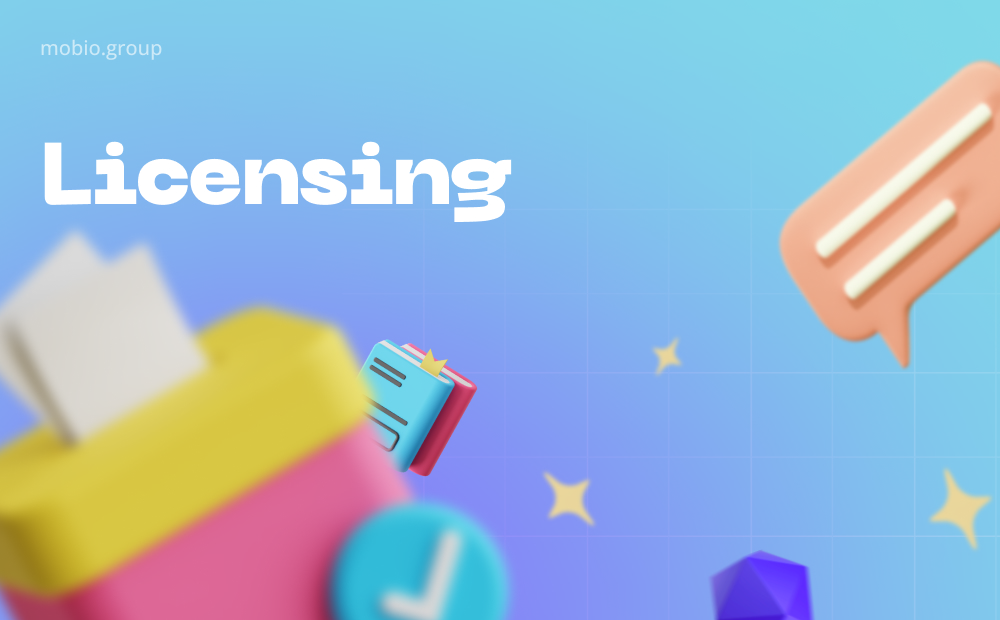 So, all content (music tracks, images, beats, graphics, etc.) is someone else's property. The use of all of it is governed by the free Creative Commons license group. A Creative Commons license is a package of licenses for copyrighted works, meaning that they can be used freely without the author's permission under different conditions.
When you download, copy, or use digital materials, you automatically enter into a virtual agreement with the owner, even if no documents are signed. The terms of engagement can be found through the site's footer in the agreement, for example:
Downloading content from Freelmages.com you accept the terms of this license agreement.
When content is posted under a Creative Commons license or other copyright protection, there will be a copyright marker on the images, file descriptions, or at the bottom of the page. For example, on the website:
Do Not Sell/Share My Personal Information Arbitation
Powered by WordPress.com VIP
Copyright ©️ 2023 MediaNews Group
Or on Youtube in the description of the video:
©️ All rights reserved by Soul Jazz
The selection of content with a CC0 license is quite limited and not always suitable for commercial purposes. Also, Creative Commons is not the only option. Stock image platforms can publish free content under their own license. Therefore, it is worth carefully studying the key questions (attribution, commercial use and possibility to change the original) on each source.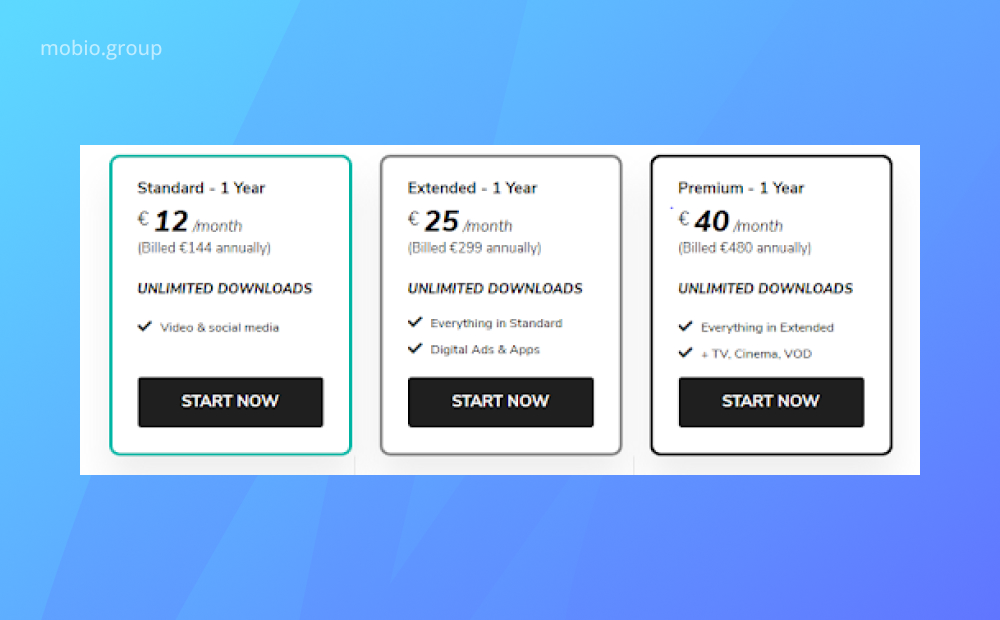 It is much easier and clearer to use the content, the rights for which have to be purchased.
Paid resources do not have universal licenses like Creative Commons. But there are basic terms and types of licenses that provide different options:

⦿ Royalty-Free
Paying for content once, when you download it, and using it afterwards without any time limit — immediately, after one year, or after ten years. This license does not provide an exclusive right to the content, anyone can buy it. Advantages of this license include low content price and easy purchase.
⦿ Extended Royalty-Free
An extended Royalty-Free license with no printing restrictions.
⦿ Rights-Managed
The purchase of a license gives exclusive rights to the content. Or restricts use in a specific region, for a specific time. It makes sense only if the uniqueness of content is crucial, since the price is usually high.
⦿ Editorial license
Similar to NC with Creative Commons — it is prohibited to use content for commercial purposes.
You can filter out the paid services and find the content with a free distribution license by means of Google with the help of "Tools". In the settings, you can choose one of the options for granting rights to pictures (for music there is no such a selection option):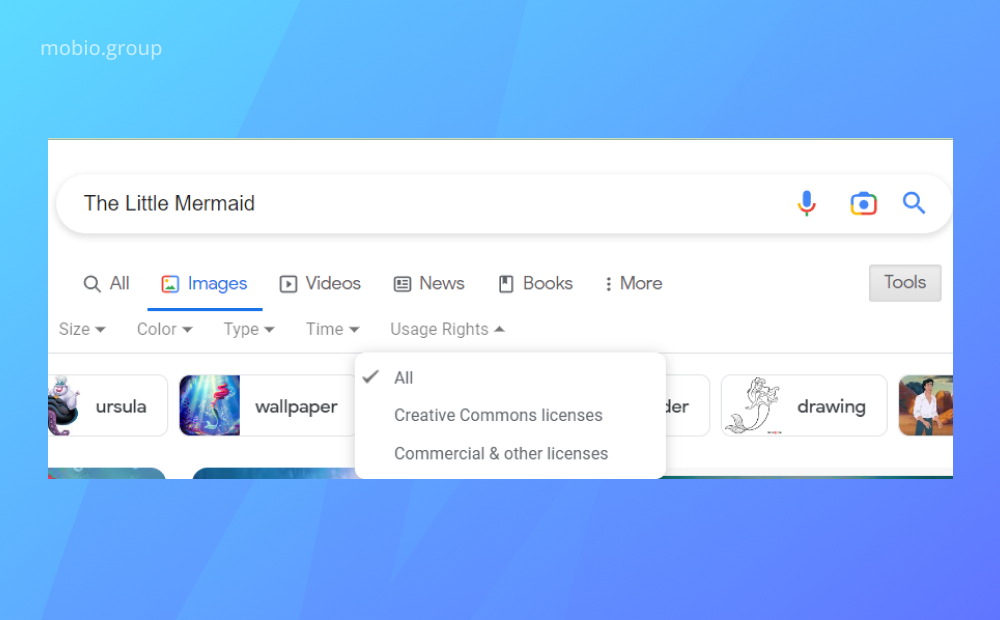 As an example, a Google search for "The Little Mermaid" images yields many recognizable and vivid choices.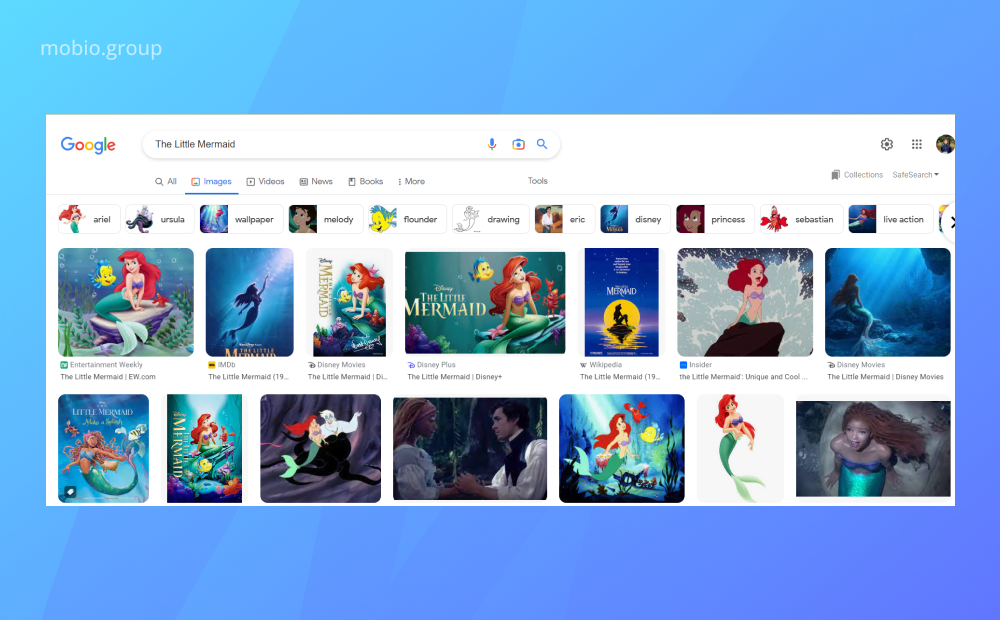 But when you select the Creative Commons license the results are much less. Most of them are images of the Little Mermaid sculpture in Copenhagen.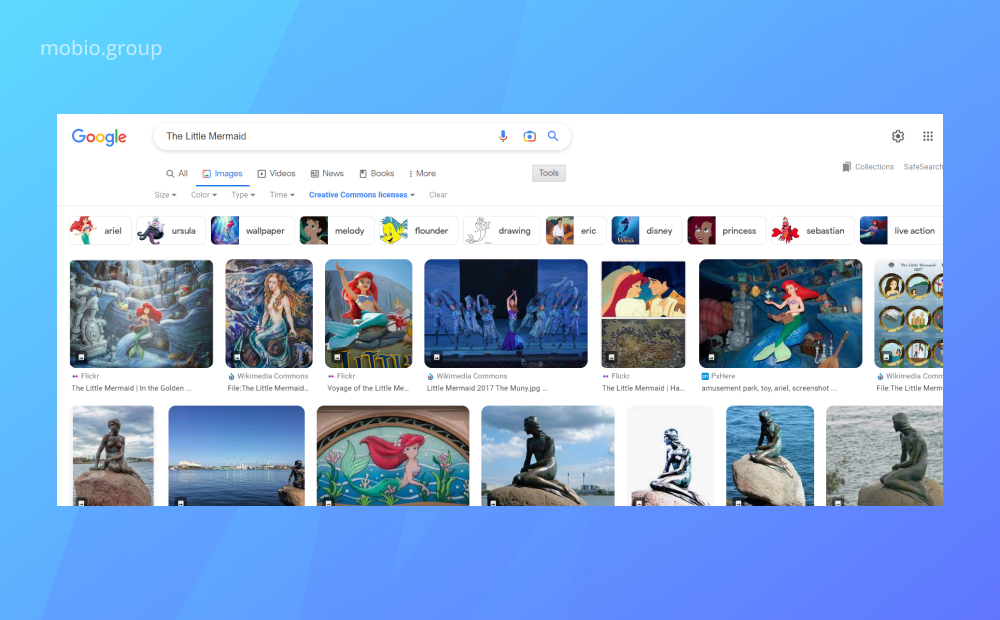 Obviously, paid stock image platforms have a much larger range of content and features. However, even after paying for an image (or a track), the buyer does not become its owner — only the right to use the content under the terms of a license with certain restrictions (except CC0 – Public Domain) is purchased.
Licenses are not a uniform agreement and may vary according to all kinds of criteria in different countries, stock exchanges and platforms. In the next article we'll consider where to get photo, video and audio materials for an advertising campaign, what you should pay attention to when using licensed content and how to check your creative for copyright violations before sending it for moderation.