Mobile Affiliate Marketing guide | Mobio Group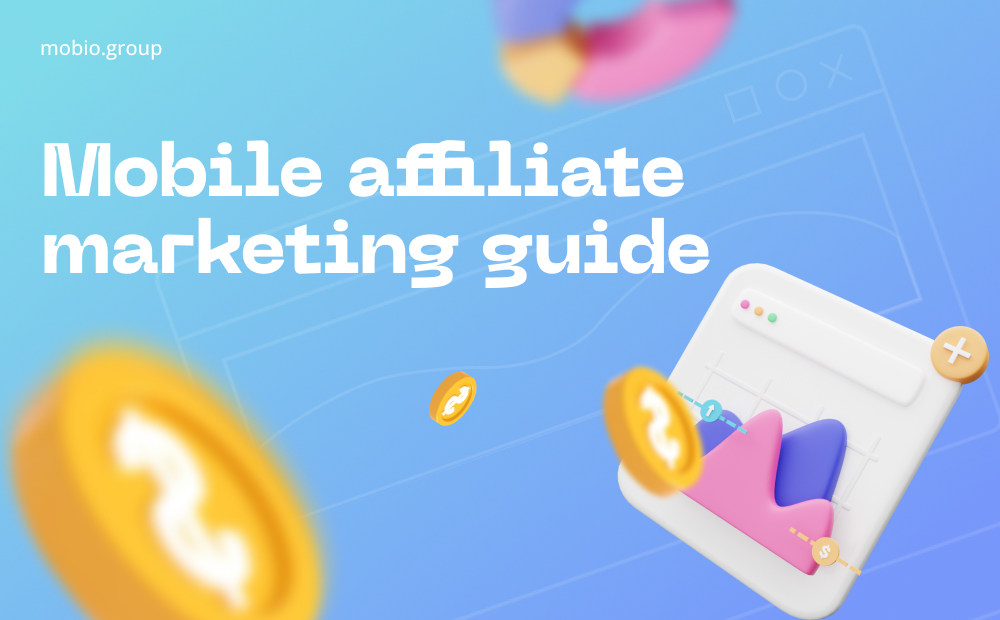 Nowadays, it is possible to sell and buy not only services or material products, but also information, probability of events, risks, investments, NFT-tokens and the rights to name a star in your name. The needs and demands of both buyers and sellers are constantly growing, and, accordingly, the field of marketing is developing, especially its digital direction, which uses digital channels to attract and retain customers.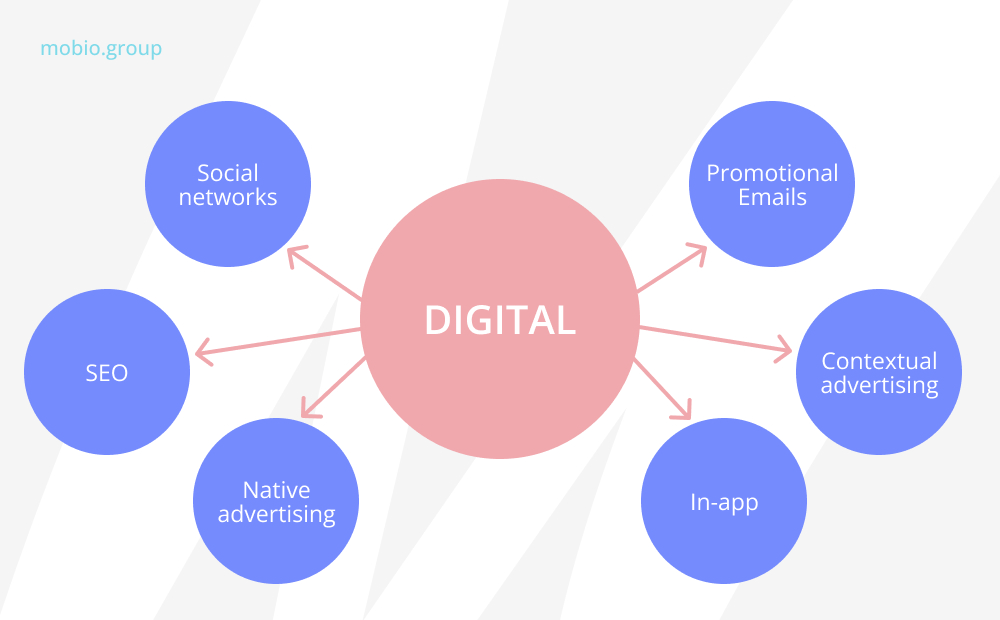 There are more than 200 types of marketing. They are classified by state of demand (e.g., conversion marketing, incentive marketing, remarketing), by application (consumer marketing, investment marketing), by segment (B2C, B2B, B2G, MSB), and so on. One of the popular types is affiliate marketing.
Affiliate Marketing
Affiliate Marketing is a method of product promotion in which third-party publishers are rewarded for referring potential customers.
With the rise of mobile users worldwide, mobile affiliate marketing has really become a mutually beneficial source of revenue in the affiliate industry, as mobile devices offer tremendous potential for reaching audiences, driving sales, tracking app performance, and engaging users. In mobile affiliate marketing, companies reward one or more affiliates for each user/customer referred by that affiliate through a mobile device (Android smartphone or iOS device).
In affiliate marketing the advertiser has to pay the affiliate only for the traffic that led to conversions, basically for each action generated (CPA , Cost Per Action or CPI , Cost Per Install are the two most common models). The advertiser does not pay for users who just see his brand, but only for specific actions performed.
Affiliate
In affiliate marketing activities are based on results with mutual interest of both parties.
· The side of advertisers (offers)
In the field of mobile affiliate marketing, these are usually VAS companies, app developers, product owners, etc. They are looking for users who will purchase their product. Their goal is to earn app traffic, downloads, installs, etc. and turn them into monetary profits.
Affiliate marketing allows advertisers to expand their reach, generate more leads from mobile devices and increase sales. The costs associated with buying traffic are borne by the counterparty affiliate, and advertisers don't pay for traffic that doesn't convert.
· The service provider side (publishers)
These affiliate marketing partners have an available and ready pool of audience, traffic, and user interaction. Their job is to promote the advertisers' offers and attract potential clients and traffic to them. The owners of the offers pay the publishers a commission based on quantified data related to traffic, impressions, leads, downloads, installs, etc.
· Affiliate network (CPA network)
It is difficult and time-consuming for an advertiser to communicate with dozens (hundreds, thousands) of publishers directly. To provide their offer to a wide range of publishers, product owners turn to affiliate networks (affiliate programs), which help meet supply and demand in one place.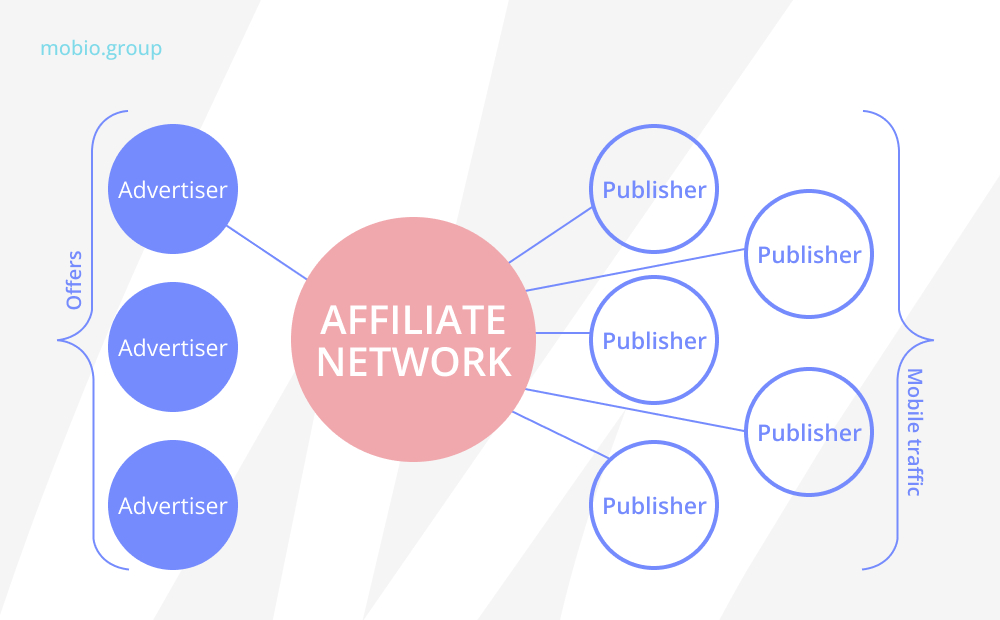 An affiliate network helps to buy traffic in any volume and on different sites en masse. In doing so, its statistical and payment tracking tools help reduce the likelihood that one affiliate will try to manipulate the system and work in bad faith.
Advantages of affiliate networks:
Saves time and resources — the advertiser/publisher interacts directly with one affiliate rather than a large number of traffic providers/offers.
Affiliate networks bring together a large pool of offers from both advertisers and publishers.
Networks work with large providers of offers/traffic that operate in large volumes. Partners often do not have the opportunity to collaborate directly with solid players on their own.
Networks have offers in almost all GEOs, so affiliate marketing is not limited to one or several countries.
Affiliate platforms have a powerful analytics system and tracking technology, a flexible and functional API, and, accordingly, available integration with third-party services.
To prevent fraud, networks use specific anti-fraud systems and track fraud based on metrics such as:
number of bounces;
intervals between click and target action;
retention and churn rates;
share of non-target geolocations, undefined devices and bots.
The affiliate network should monitor the correctness of the performance of the churned leads, quality of advertising materials, attracted traffic and make payments in a timely manner. Therefore, the right choice of an affiliate network is of great importance.
There are quite a few intermediary platforms in the advertising services market — ShareASale, AWIN, CJ Affiliate, Avangate Affiliate Network, Amazon Associates, Rakuten Advertising, AliExpress, and so on. Among the many offers, it is quite difficult to choose the most appropriate one. Each affiliate network has its own specifics and categories of publishers. Also, when choosing an affiliate network, you should consider the possibility of connecting different advertising formats, the cost of attracting traffic and the number of clients.
Advertising agencies help advertisers with the selection of advertising platforms as part of the marketing mix and implementation of affiliate programs. Agencies are generally experienced in working with a number of CPA networks and have the necessary tools for analytics, results tracking and interaction with affiliates.
An affiliate manager of an advertising agency is engaged in searching for partners for cooperation, developing a strategy and optimizing interaction between affiliate marketing parties, searching for sources for the specified KPIs, preparing creatives, working with offers, searching for new ways to promote a product through affiliate programs, tracking click fraud, impressions, conversions and other signs of low-quality traffic, and providing analytical data and reporting to the parties involved.
We are constantly expanding our list of partners and ensuring our quality and reliability. There are several successive steps to establish new business relationships:
1. Gathering information about the publisher from available sources and market colleagues.
2. In case of negative (objective) feedback, the publisher is included in the Blacklist.
3. If there are no similar cases, then a test is carried out for 1 month and the results are used to decide if we will continue to work with the publisher.

Basic criteria for publishers selection:
1. Monthly realized budget of at least $1000
2. No fraud cases
3. Number of offers in work: not less than 3

Arestak Mazmanyan, Affiliate Manager of Mobio Group
Conferences
Affiliate marketing conferences are the most sought-after CPA events for webmasters, CPA networks, agencies, advertising platforms, as well as direct publishers and business owners. Attendance of such events helps to increase business activity, establish new partnerships, establish connections with foreign colleagues, discuss latest trends and innovative ideas in affiliate marketing and share experience.
CEO of Mobio Group Sergey Konovalov and Tatiana Chirva, Head of Sales and Lead-Gen attended Affiliate Summit West 2023 in Las Vegas, which gathered over 6000 partners, advertisers, e-commerce vendors, networks and technology providers.
What I like most about such events is the opportunity to meet people in person who I have been communicating with online for a long time. I was glad to take part in such a large conference, to share my experience and to hear useful recommendations from other partners. The scale was really impressive, there were digital marketers from more than 70 countries on one platform. Professionals were discussing advanced technologies and new innovative ideas for 3 days almost 24/7 in order to improve their results. We would like to highlight the work of the summit organizers, who focus and listen to the participants, making the time at the meeting as comfortable and productive as possible.

Three exhibition areas organized by more than three hundred partners and sponsors of the event; networking events, several dozen presentations and discussions covering the latest industry trends, with more than a hundred experts from various industries; and Internet tools that can be used to organize communication with participants before, during and after the conference. Clearly, this summit is one of the best resources for finding new customers and partners, and the Mobio Group team has made sure to squeeze the most out of these opportunities.

Tatiana Chirva, Head of Sales and Lead-Gen of Mobio Group
The focus on developing international collaborations in mobile marketing allows Mobio Grpup to catch trends in the industry faster than others and apply them to grow both their own and partner businesses. We are interested in publishers, trackers, advertising networks, analytical services, and creative automation services.
Affiliate Marketing Conference Calendar 2023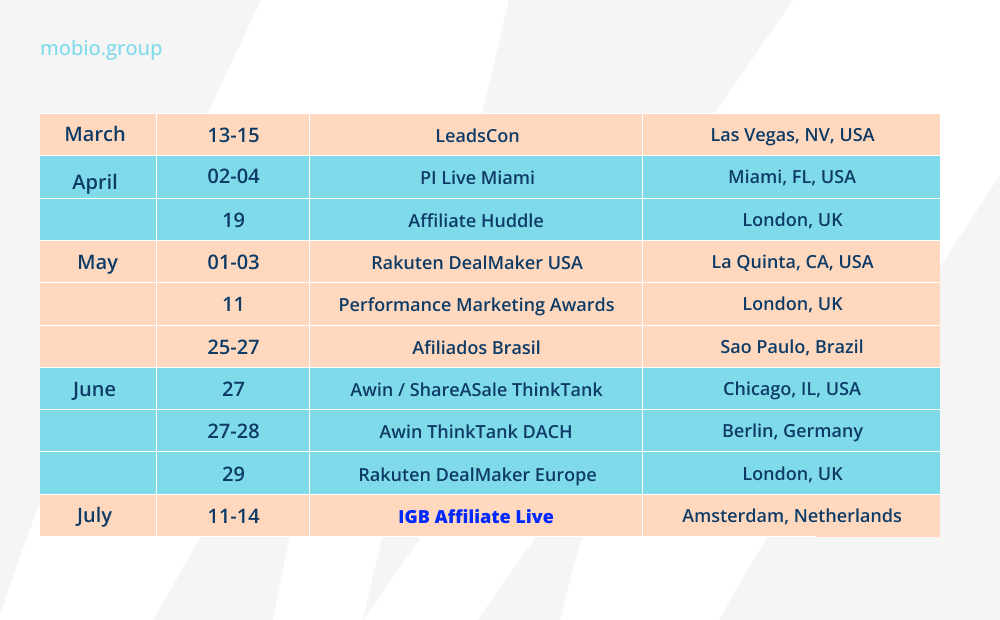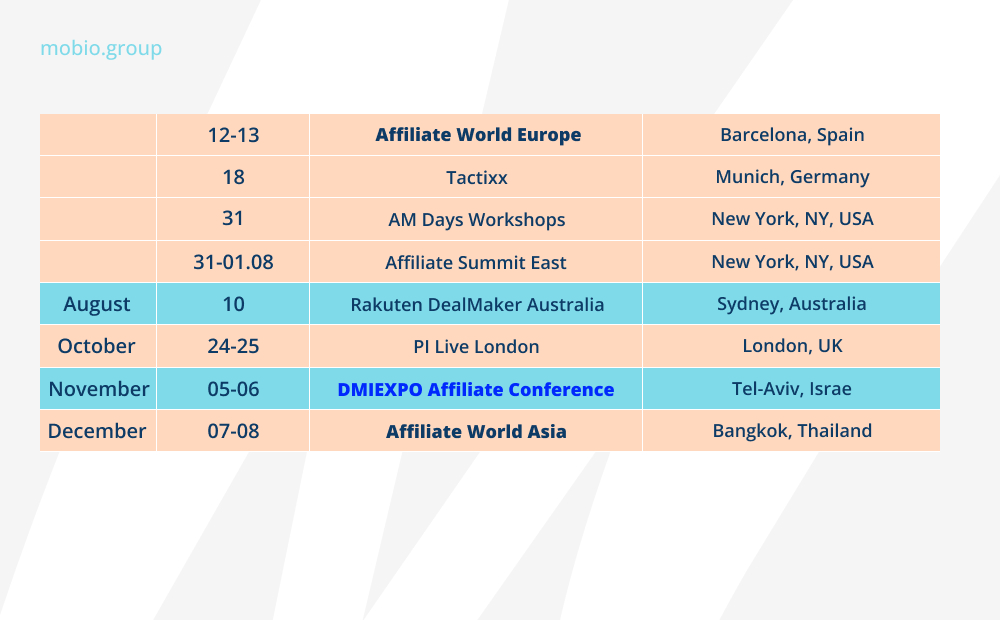 You can see a table of active conference links here.
Source: https://medium.com/@mobiogroup/mobile-affiliate-marketing-guide-mobio-group-18c4ae9b7d9