Affiliate Marketing Events 2023: Boost Revenue | Mobio Group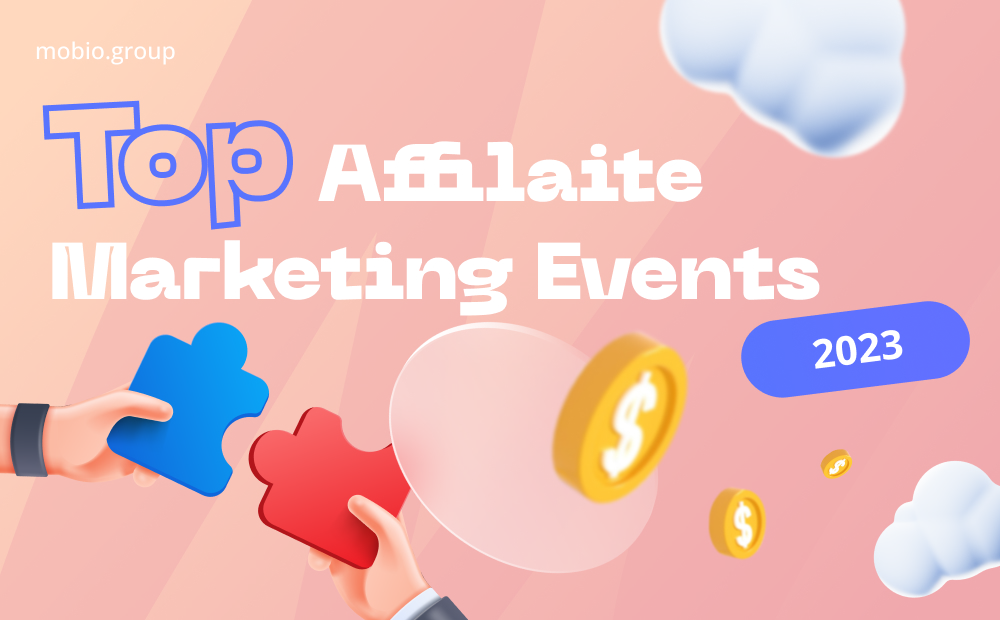 Affiliate marketing has become an important component of online advertising. Conferences are a great way for digital players to stay on top of industry trends and the latest innovations. Affiliate marketing events, including advertisers, publishers, investors, ad networks and agencies at such meetings share insights with those in their particular field, network with other industry professionals and, ultimately, drive promotion of their own products and services.
Advertisers attending such events learn the latest marketing strategies, discover new channels for traffic, and meet participants, such as publishers and ad networks, who can help them expand their reach and increase revenue. Also at sessions and seminars, advertisers can learn about the strengths and weaknesses of their competitors and use that knowledge to improve their own campaigns.
Publishers, in turn, can use the conferences to discover new related programs, learn about the latest tracking technology and how to optimize their traffic, and negotiate higher commission rates.
Investors gain insight into new investment opportunities, promising startups and potential targets for acquisition or investment.
Advertising networks and agencies, which is the intermediary platform between advertisers and publishers, can benefit from attending conferences by meeting with existing and potential partners, learning about new sources of traffic and learning about the latest technologies.
To stay competitive and take advantage of today's digital marketplace, all affiliate marketers should make attending conferences their priority. We've highlighted key events that you can still attend in 2023 (or at least track online).
Top Affiliate Marketing Events 2023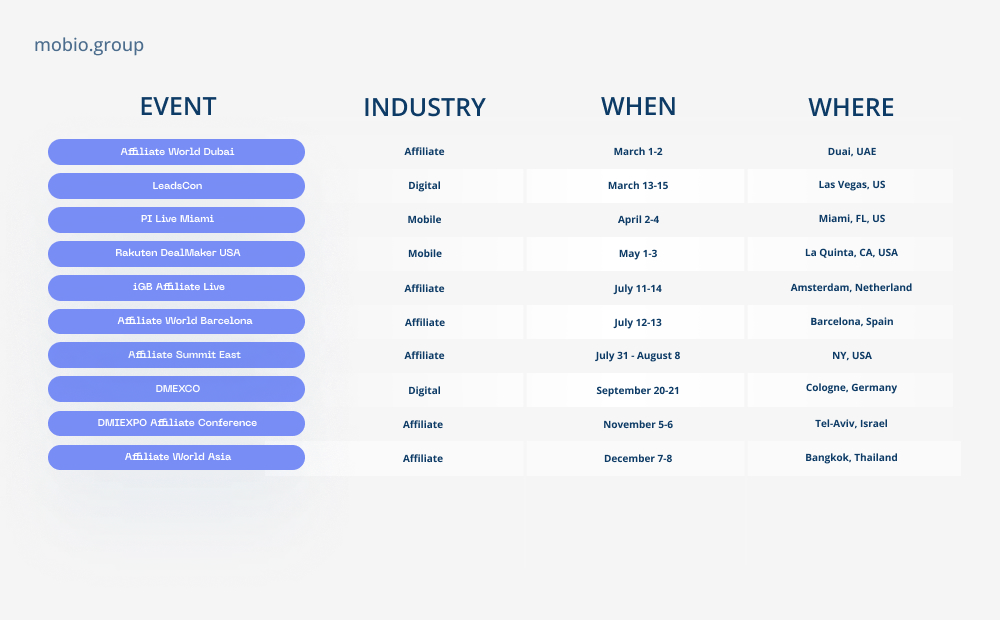 ⦿ Rakuten DealMaker USA
Rakuten DealMaker USA. Attending Rakuten Advertising events is a must for anyone in the industry who wants to connect with important decision makers, expand their business network and get ahead of the competition. Exclusive forums provide an excellent opportunity to showcase your brand and services to a broad audience, build new relationships with high-impact partners and receive competitive campaign optimization advice. The conference schedule is packed with forward-looking presentations and speeches from industry leaders. Discussions will focus on selected geographic regions of the world, from Asia-Pacific to Europe, and how these regions are pushing affiliate marketing to new heights.
Date: May 1 — 3
Location: La Quinta, CA, USA
Cost: To be confirmed
⦿ iGB Affiliate Live 2023
iGB Affiliate Live. More than 5,000 iGaming industry and affiliates who want to take their business to the next level will gather in Amsterdam in July. Through networking, conference attendees will have the opportunity to interact with experts who can help develop successful strategies for reaching new markets and reducing advertising costs. These meetings help make the right connections to modernize and promote your product/game development and learn about new niches such as Esports, cryptocurrencies and NFT.
Date: July 11 — 14
Location: Amsterdam, Netherlands
Cost: To be confirmed
⦿ Affiliate World Barcelona 2023
Affiliate World Barcelona. An offline meeting platform for leading affiliate marketers and e-commerce entrepreneurs that covers relevant topics such as e-commerce and native advertising tracking, advertising tracks in TikTok, Google and other platforms. Mastermind participants increase their business activity and expand their business opportunities by sharing their experience, generating ideas together, and providing a long-term framework of focus and mutual support.
Date: July 12 — 13
Location: Spain, Barcelona
Cost: €619 — €919
⦿ Affiliate Summit East 2023
Affiliate Summit East. It's a global event in the performance marketing industry, bringing together thousands of digital marketing professionals from more than 80 countries. Attendees include major publishers such as Buzzfeed, Forbes, Conde Nast, Dotdash Meredith, Gannett, Merriam-Webster, New York Post, The Daily Beast, Red Ventures, US News & World Report, Vox Media, Warner. Media, Ziff Media Group and CNN Digital. The event will feature tracks on topics such as content monetization, traffic diversification, the impact of AI, lead velocity and better ways to access data, the impact of new social channels on lead generation, consumer buying behavior in 2023 and strategies to combat the economic downturn.
Date: July 31 — Aug 1
Location: New York, USA
Cost: $300
⦿ DMEXCO
Attending DMEXCO, one of Europe's largest marketing and technology events, is essential for anyone interested in keeping up with the latest trends and innovations in digital business. With its unique combination of two concepts, an exhibition and a conference, and the presence of industry leaders, media professionals and technology pioneers, DMEXCO provides a platform to define and shape the future of the digital economy. From informative master classes to lively debates and groundbreaking keynotes, DMEXCO offers a comprehensive ecosystem that is both globally informed and locally focused. The event in Cologne covers almost every aspect of the digital industry — be it online marketing, performance marketing or online game advertising — and attracts a huge number of companies interested in developing and promoting themselves (more than 40,000 visitors in 2022).
Date: September 20 — 21
Location: Germany
Cost: To be confirmed
⦿ DMIEXPO 2023
DMIEXPO. If you're in the affiliate or performance marketing industry, one event you won't want to miss is the upcoming Digital Marketing International Expo 2023 in November. It focuses on creating and maintaining the right approach to affiliate marketing, and the event is an opportunity to meet like-minded people, learn from industry experts and showcase your brand. Using its extensive network of contacts created over the past 22 years, DMIEXPO brings together a large number of experts in all aspects of affiliate marketing in one place, who will be available to you at a unique international event in Israel.
Date: November 5 – 6
Location: Tel Aviv, Israel
Cost: To be specified
⦿ Affiliate World Asia
Affiliate World Asia. What sets this event apart is its focus on e-commerce and performance marketing. It is a meeting place where newcomers and experts come together to network, learn and move the industry forward. More than 5,000 top marketing professionals from around the world come to expand their networking capabilities and, above all, gain key insights to increase profits. AWA in Bangkok is the closing event of 3 regional series of annual Affiliate World Conferences: Affiliates World (AW) in Dubai, Affiliates World in Europe (AWE) in Barcelona (see July). AWA 2023 offers an intensive 2-part program of speakers sharing their top marketing tips, tools, strategies and examples from over 40 traffic sources.
Date: November 30 — Dec 1
Location: Bangkok
Cost: $564 – $835
Attending conferences is positive for everyone involved in affiliate marketing. Advertisers, publishers, investors, ad networks and agencies gather together to exchange their experiences and views and to meet new potential partners. Attending Marketing Events would not only allow you to make connections, build relationships, and gain new insights, but will help staying up-to-date on new trends in this fast-paced world.