Cannes Lions 2023: Grand Prix Winners & Trends | Mobio Group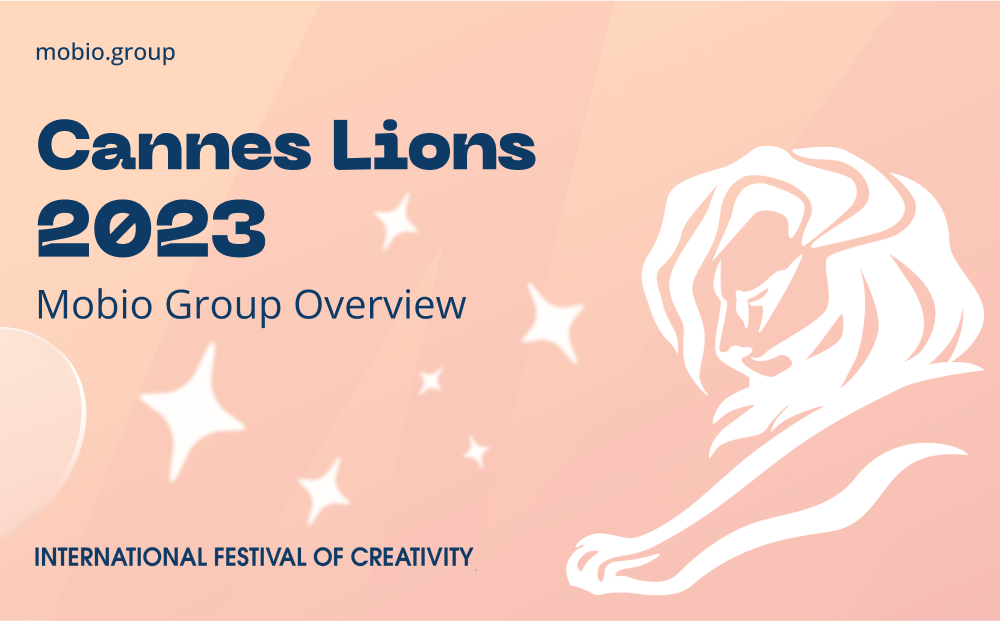 The Cannes Lions International Festival of Creativity. It is one of the most prestigious and celebrated events in the advertising and creative communications industry. The year 2023 was no exception, and the Mobio Group team will give their review of the Cannes Lions. The festival was first held in 1954. Since then creative teams, marketers, advertisers and industry leaders meet annually in Cannes in the third week of June. The event includes a diverse program of seminars, workshops and keynotes speakers. Renowned speakers from across the industry share ideas, trends and insights on creativity, advertising and marketing. The real highlight, however, is the prestigious acknowledgment ceremony, where the best advertising works of the year receive the well-deserved awards known as the Lions.
The Festival de Cannes showcases a wide variety of advertising excellence. Works are judged in various categories such as:
Film Lions
Press Lions
Outdoor Lions
Direct Lions
Media Lions
Design Lions
Entertainment Lions
Mobile Lions and others.
The jury scrutinizes each entry, awarding Bronze, Silver and Gold Lions. The top award, the Grand Prix, going to the best of the best in each category.
Entrants are also awarded Lions in various sub-categories such as charity and social advertising, or in special awards such as the Lion for Musical Excellence. The festival also honors Network of the Year, Agency of the Year, and awards the esteemed Palme d'Or, recognizing the best production studio of the year.
Cannes Award nominees set trends in the advertising world, especially in video marketing, and the festival's awards, the Lions, serve as beacons of creativity and innovation in the advertising business, so it's crucial to keep an eye on the festival winners and their groundbreaking work.
Cannes Lions 2023
In 2023, entries were evaluated in the following categories: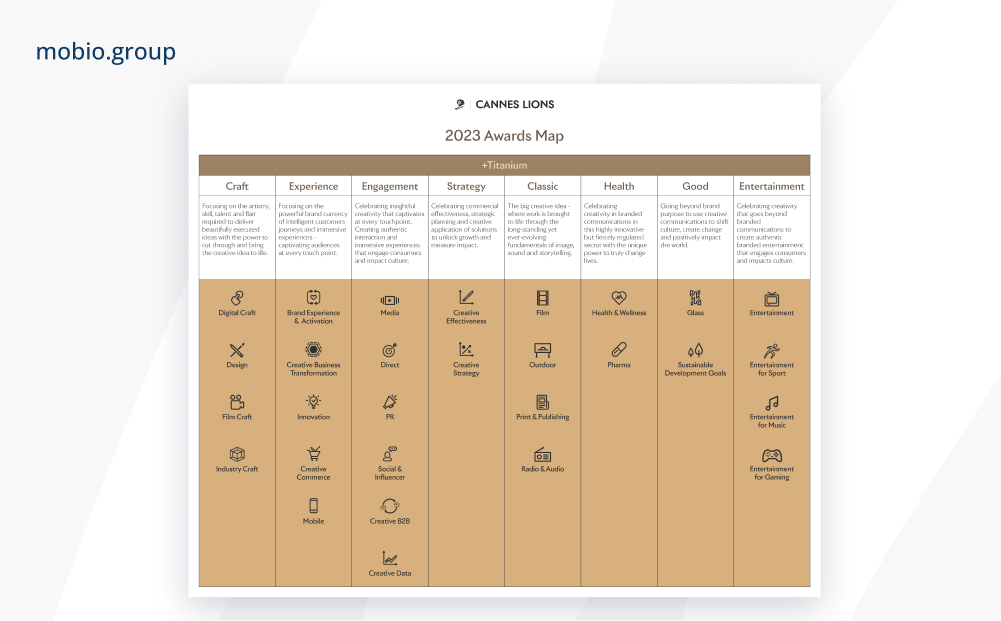 The festival panel consisted of 290 experts from 46 markets, representing the world's leading talents from a wide range of industries (IMPACT BBDO, PUBLICIS GROUPE, TBWA\MEDIA ARTS LAB, RIOT GAMES, GREY/OPENX, DARK SWAN INSTITUTE, MEDIA.MONKS and so on). Also new brands represented for the awards judges were Experian, Globacom, HSBC, Hulu, Kimberly-Clark, Mojang Studios, Nedbank, Safaricom, Suntory Brands and Vodacom.
Based on the results of Cannes Lions 2023, the United States was the leading recipient of awards, receiving a total of 218 Lions (in 2022, the U.S. received 273 statuettes).
The United States was followed by the United Kingdom and Brazil, each receiving 84 lions. France earned 55 awards, while Canada earned 48. Argentina's creative efforts were recognized with 39 Lions, Australia won 29 prizes, and Spain, Germany and India each took 24 statuettes.
In most cases, the Lions were awarded for the work of world-renowned brands — recognized names such as AB InBev, Burger King, Dove, IBM, IKEA, KFC, Kotex, Mondelez, Netflix, The Coca-Cola Company, Volkswagen and Workday were recognized for outstanding creativity. Alongside these, large regional companies — German Rail, Grupo Estratégico PAE, Regal Springs and Relate — were also recognized. Many brands received a whole range of prizes in different categories — for example, Ogilvy was awarded 64 Lions, including 1 Titanium, 2 Grand Prix, 9 Gold, 23 Silver, 29 Bronze, as well as 128 Shortlists.
GRAND PRIX of the 70th International FestivalCannes Lions 2023 Festival of Creativity
Grand Prix awards are the most coveted awards at the festival. And it is these winners who become trendsetters for advertising. Grand Prix winners by category:
CRAFT
Digital Craft — Nike (Agency: AKQA)
Design — Microsoft (Agency: McCann)
Film Craft — pgLang (Production Company: pgLang)
Industry Craft — JR Group (Agency: Dentsu Inc)
EXPERIENCE
Brand Experience & Activation — EA Sports & Apple (Agency: Apple)
Creative Business Transformation — Microsoft (Agency: McCann)
Innovation — Augmental (Agency: Wunderman Thompson)
Creative Commerce — HungerStation (Agency: Wunderman Thompson)
Mobile — Pedidos YA (Agency: Gut)
ENGAGEMENT
Media — Dove (Agency: Ogilvy)
Direct — Adidas (Agency: FCB Toronto)
PR — DoorDash (Agency: Gut)
Social & Influencer — Samsung (Agency: Chep Network)
Creative B2B — B3 Stock Exchange & United Nations Global Compact (Agency: AlmapBBDO)
Creative Data — Stella Artois (Agency: Gut)
STRATEGY
Creative Effectiveness — Cadbury Celebrations (Agency: Ogilvy)
Creative Strategy — Renault (Agency: Publicis Conseil)
CLASSIC
Film — Apple (Agency: Apple)
Outdoor — British Airways (Agency: Uncommon Creative Studio)
Print & Publishing — Annahar Newspaper (Agency: Impact BBDO)
Radio & Audio — Skinny (Agency: Colenso BBDO)
HEALTH
Health & Wellness — Partners Life (Agency: Special)
Pharma — Eurofarma (Agency: Dentsu Creative)
GOOD
Glass — Korean National Police Agency (Agency: Cheil Worldwide)
Sustainable Development Goals — Mastercard (Agency: McCann Poland)
ENTERTAINMENT
Entertainment/Entertainment for Gaming — Clash of the Clans (Agency: Wieden+Kennedy)
Entertainment for Music — Michael Kiwanuka (Production Company: Smuggler) / Apple (Agency: Apple)
Entertainment for Sport — Michelob Ultra (Agency: FCB New York)
Also at Cannes Lions 2023, special awards were presented to the following winners: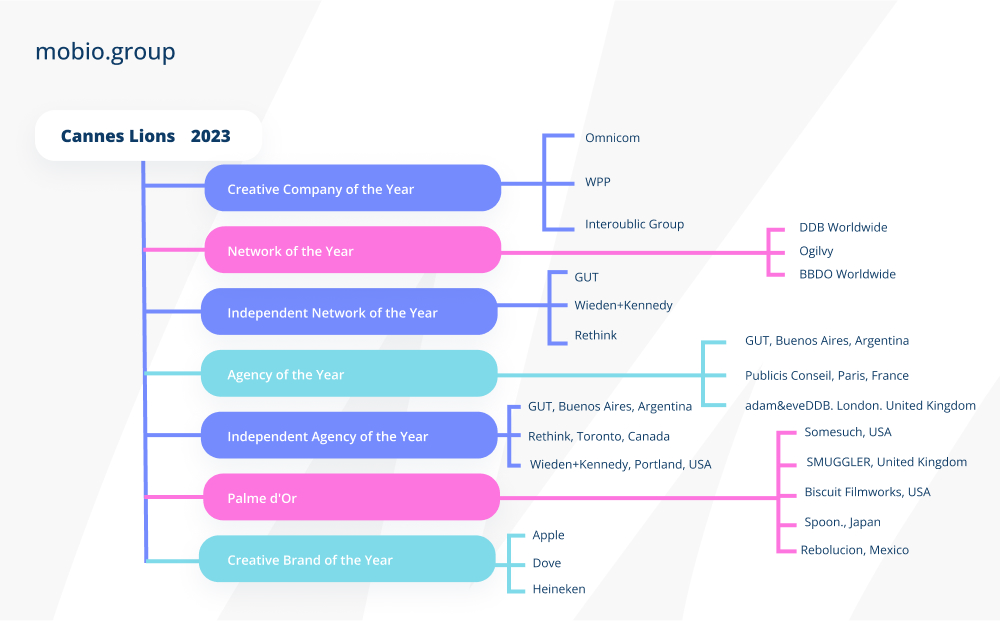 Cannes Lions — Mobile
At the 2023 festival, the competition for the top prizes in the Mobile sector was held under the slogan "The Mobile Lions celebrate device-driven creativity". The competition for the awards took place in the following categories: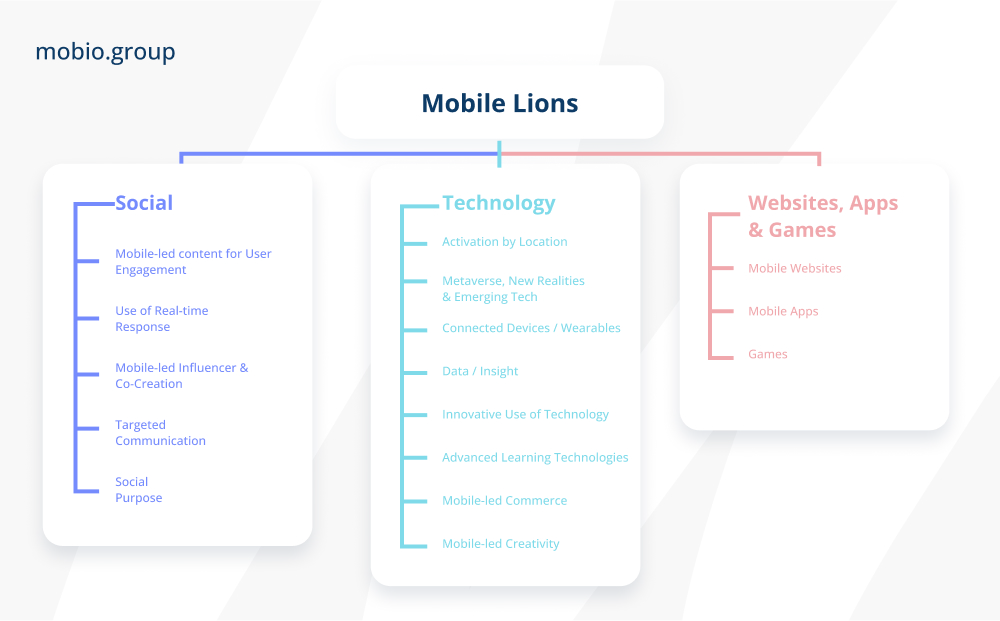 Mobile Lions Jury: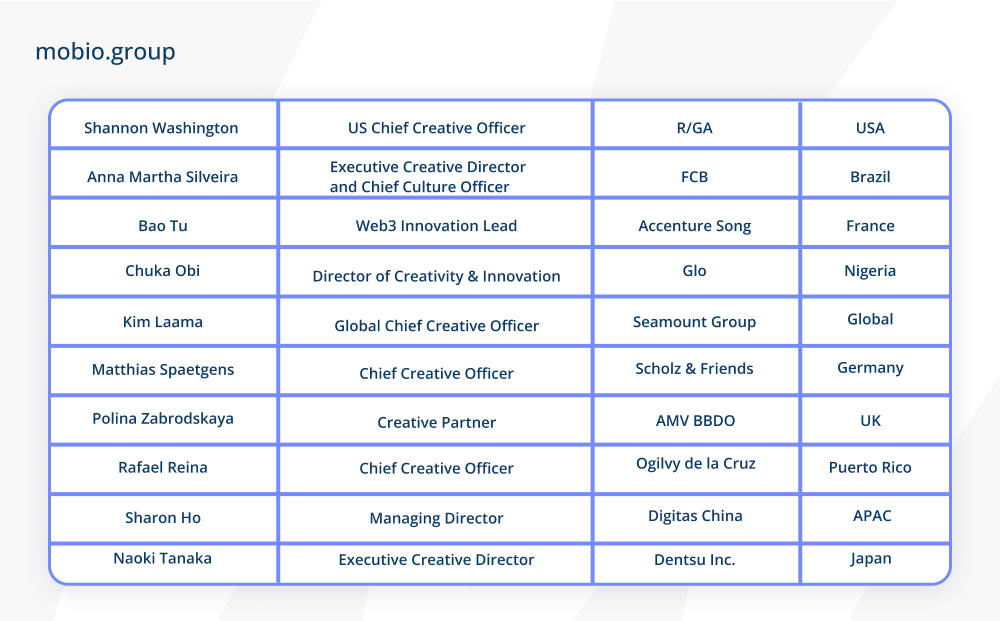 The Cannes Lions — Mobile awards were claimed by such famous brands as TIKTOK, MCDONALD'S, APPLE, SOLE MUSIC, SKIP THE DISHES, HALEON, THE COCA-COLA COMPANY, SAMSUNG SPAIN, FRITO-LAY, OREO, NIKE, HILTON, FIAMA, CAPAXIA, PLAZA VEA, SABA MEXICO (world famous as Bodyform). In total, more than 300 creative works were presented: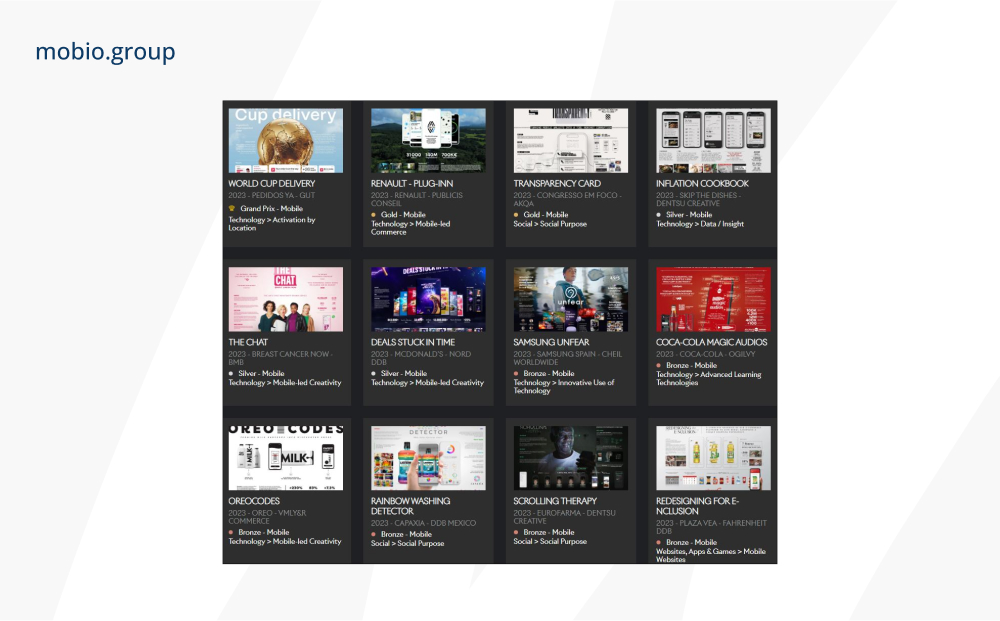 Cannes Lions Winners — Mobile
GRAND PRIX
PedidosYa "WORLD CUP DELIVERY", Production — GUT, Buenos Aires /PAISANOS.IO, Buenos Aires
GOLD LION
Renault "Renault — Plug Inn", Production — Publicis Sapient, Paris
Congresso em Foco "Transparency Card", Production — PAY4BRAIN, Sao Paulo / JAMUTE, Sao Paulo
SILVER LION
Breast Cancer Now "The Chat", Production — BMB, London
McDonald's "Deals Stuck In Time", Production — NORD DDB, Stockholm / Filmic Art, Stockholm
SkipTheDishes "Inflation Cookbook", Production — Dentsu Creative, Toronto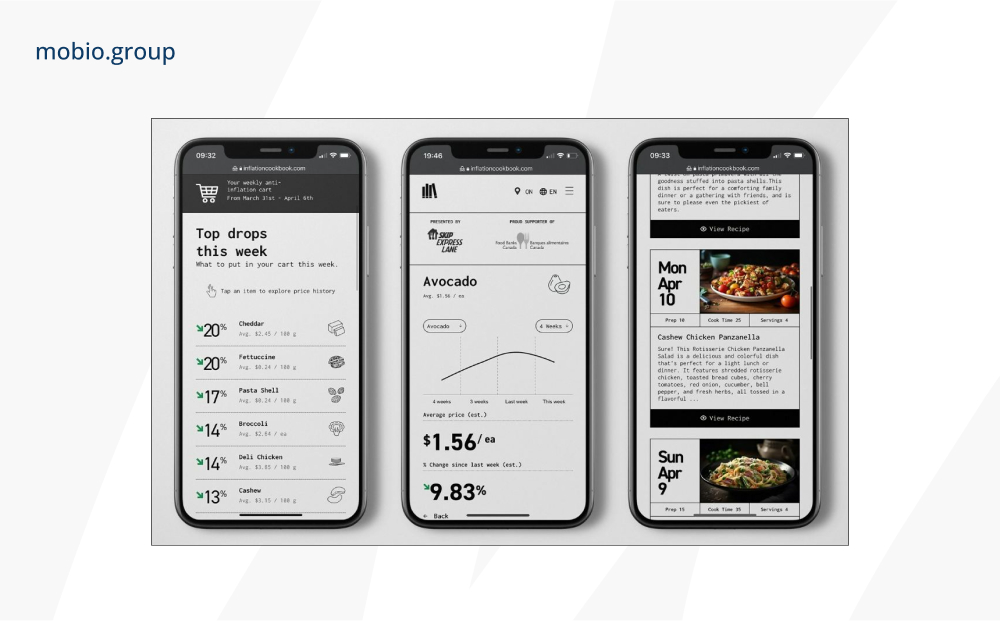 BRONZE LION
Samsung Spain "Samsung Unfear", Production — Cheil Worldwide, Madrid / Somos 5, Madrid
The Coca-Cola Company "Coca-Cola — Magic Audios", Production — Take BLiP, Belo Horizonte / Sailor Studio, Sao Paulo / A-Gandaia, São Paulo
Oreo "Oreocodes", Production — VMLY&R, New York
Capaxia "Rainbow Washing Detector", Production — Agency DDB
Eurofarma "Scrolling Therapy", Production — Friends & Family , Los Angeles / The Youth, Curitiba
Plaza Vea "Redesigning for E-nclusion", Production — Quechua FILMS, Cusco.
Trends of Cannes Lions 2023 Festival
Studying the creatives presented at the festival, one can get valuable information about the latest trends in creating successful advertising, storytelling methods and impressive messages that captivated both the audience and the festival judges. Mobio Group team have highlighted what we believe to be the main trends in advertising art dominating the Cannes Lions nominees.
⦿ Brand Orientation
Despite frequent claims that "the era of brands is over", evidence from festival venues and winning entries confirms the enduring power and relevance of brands.
Brands are increasingly succeeding by adopting a blue ocean strategy, the essence of which is not to compete with other players in existing markets (called scarlet oceans), but to create or find a new market where there are no rules, no competitors and no well-traveled marketing roads yet. By presenting creative work in unexpected contexts, brands at Cannes Lions captivated audiences and left a lasting impression with their creatives.
Using a modern approach and gentle humor, IKEA's "Proudly Second Best" video demonstrated the art of brand building and the effectiveness of combining digital and traditional channels to realistically portray family life, skillfully highlighting the retailer's place in it.
Heinz received 21 award nominations from multiple Lions, expressing brand love with a touch of ironic humor in the "Heinz Ketchup Fraud" and "Is That Heinz?" spots. Coca-Cola's "I See Coke" creative creatively engaged its audience in Saudi Arabia, effectively converting product placement into direct sales.
To achieve a harmonious blend of short-term and long-term marketing strategies, Cannes Lions 2023 nominees presented innovative models that foster deeper and more engaging interaction with their audiences. The "Rosalia MOTOMAMI Live Experience on TikTok" video demonstrated the superstar's skillful use of the social platform, delighting fans with exclusive live performances.
FP7 McCann Dubai's "The Heinzjack" revealed the potential of low-budget but effective campaigns (earning a media ROI of 45:1) through strong creativity.
At its core, creativity remains the driving force behind thriving brands. By embracing ideas beyond their products, brands can establish themselves as influencers, breaking new ground and shaping the advertising landscape in unexpected and powerful ways.
⦿ The Artificial Intelligence Revolution
The Cannes Lions International Festival of Creativity in 2023 witnessed an unprecedented surge of entries using artificial intelligence, highlighting its growing influence in the world of advertising. AI was undoubtedly a major theme of the festival, with 8.3% of this year's winning entries mentioning AI in their synopses, compared to 4% in 2022. During the festival's stage sessions, AI was heralded as an innovative tool that can enhance creativity. The winning works demonstrated how AI is helping to strengthen consumer engagement by bridging the gap between technology and emotion.
Silver Pharma winner Lion Horizon Therapeutics ("The Outside In Experiment" from Area 23, an IPG Health Network Company) used an AI-powered image generator to integrate the words of gout patients describing their pain. This innovative approach created a visually compelling video that left audiences captivated.
Samsung Spain ("Unfear" by Cheil Worldwide) ingeniously applied artificial intelligence to create a more comfortable environment for people with autism in noisy places. This initiative not only fostered connections in the real world, but also strengthened the brand's connection with its audience, earning silver recognition in the "Sustainable Development Goals Lions" and "Brand Experience & Activation Lions" categories.
The impact of AI on advertising opening up new facets of imagination is already evident, but the winning design examples only emphasize the role of human creativity in the process. The motto of the 2023 festival in the use of AI can be seen as the words of Robert Wong, vice president of Google Creative Lab: "The most important component of AI is not AI, it's people. It's all of us".
⦿ Connecting to Communities
The nominees' creatives proved that brands rely on communities, using collaboration and co-creation to build strong relationships with audiences. The Cannes Lions stage sessions offered tips and tricks on how to more effectively engage with consumers, especially those who generally avoid advertising, such as Generation Z.
The opportunities to connect to unexpected communities were demonstrated by the video "#OptInk" (agency McCann), which won the Golden Lion. By featuring tattoo artists as influencers and offering free matching tattoos to enthusiasts who agreed to organ donation, the campaign generated remarkable connection and deep audience response.
Flash Benefícios, which promoted its benefit card with the "Cashback For Your Jerseys Back" video (agency FCB Brasil), is also a case in point. The company's marketers took advantage of fans' protests about the high price of a Nike jersey and offered them a sponsorship deal — they gave 50% back to every fan who bought a jersey in Nike's online store, who made a "Flash" inscription on it and posted such a photo on social networks.
⦿ Embracing Innovation
The videos presented at Cannes Lions successfully demonstrated how brands are redefining barriers and actively innovating. They find unconventional workarounds to circumvent bans and restrictions. AB InBev's ingenious response to the ban on beer sponsorship on soccer jerseys was an original move. Offering beer foam haircuts to players, they created "The Foamy Haircut" by Brahma Beer (agency Africa Creative DDB). This innovative campaign won gold in the Creative Effectiveness category, demonstrating how creativity can beat obstacles.
Another great approach to overcoming barriers — turning legal challenges into creative starting points — was presented by the NotMilk and MRM Worldwide teams. They turned a legal challenge into a resounding success with their award-winning "We Didn't Write This Campaign". By incorporating lawyers' legal arguments into the ad text, they achieved an impressive 93% conversion rate and won Silver Outdoor Lion and Gold Lion for Print & Publishing awards.
⦿ Audience Engagement
Colenso BBDO Auckland's project for telecommunications company Skinny brilliantly demonstrated this approach in the "Phone It In" video. Winning the Grand Prix at Radio and Audio Lions, the campaign utilized reverse interaction by inviting the audience to participate in the voiceover. This innovative strategy resulted in a significant 34% increase in Skinny acquisitions over last year.
Rethink's Kraft Heinz "Ketchup Draw" project took a consumer-centric approach, using drawings of people with Heinz as the primary media asset. This thoughtful endeavor won a Golden Lion in the Creative Effectiveness category and significantly increased brand sympathy.
As the advertising industry seeks to appeal to Generation Z, new campaign models are emerging. "Flipvertising" by Samsung, created by the CHEP network in Sydney, won the Grand Prix at the Social & Influencer Lions competition. This brilliant campaign leveraged Generation Z's social media behavior, demonstrating an unprecedented understanding of media dynamics and algorithms. By creatively utilizing this knowledge, Flipvertising set an inspiring example of how brands can effectively engage this tech-savvy audience.
⦿ Surprising and Memorable Endings
Several award-winning videos have unexpected twists and turns or powerful closing scenes that keep viewers talking about the campaign long after they've watched it. "We Cry Together: A Short Film", which won the Grand Prix in the Film Craft category, had the most extravagant and epic ending (along with the use of profanity).
Every winning video at the festival is a testament to the limitless potential of the dynamic nature of the artists and its role in shaping the advertising landscape. Analyzing the videos presented at Cannes Lions can serve as an impetus to create your own masterpiece strategy that can propel your team (and ours) into the ranks of future award nominees.
When it comes to creating design works and promoting mobile advertising, our point of view was best expressed by Polina Zabrodskaya, resourceful and artistic Partner at AMV BBDO and member of the Cannes Lions 2023 jury:
"Cannes can seem like a giant slot machine, and anyone who tells you they cracked the code to win the Lions can't be your best friend. Here's my opinion: making the right decisions pays off quickly on mobile. Outstanding campaigns in our category didn't need billions of dollars and would have been strangled by twenty layers of stakeholders. Mobile devices are a great environment for lean, reactive, smart experimentation, and I believe more frequent use of these small things can be a game changer."

Polina Zabrodskaya, artistic Partner at AMV BBDO and member of the Cannes Lions 2023 jury