Promoting Mobile Apps by Apple Search Ads | Mobio Group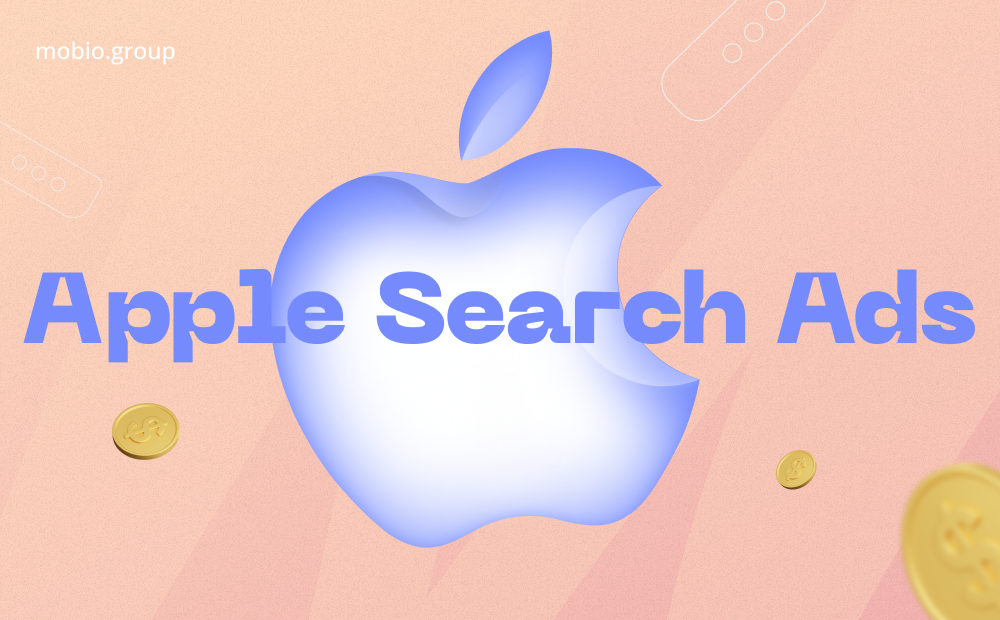 The Apple App Store currently has more than 1.6 million apps available. This, of course, is notably different from the 3.5 million apps on Google Play. And IOS has only 27.6% of the global mobile operating system market, while Android accounts for 71.8%. But if you're considering whether to launch your product on iOS, Mobio Group recommends paying attention to the following facts:
First, iOS is much more popular than Android in some countries, such as the US, the UK and Japan.
Second, iOS users spend more on apps and in-app purchases. Global consumer spending on Apple App Store mobile apps is almost double that of Google Play.
Third, competing with 1.6 million App Store apps is certainly difficult, but standing out among Google Play's 3.5 million apps is much harder.
In addition, the App Store has a wonderful tool, Apple Search Ads, which allows you to get impressions even for the most competitive phrases with low rates, and in this article Mobio Group experts will be telling you more about it.
What is Apple Search Ads?
Apple Search Ads (ASA) is an advertising platform for iOS apps that includes ad placements on the Today tab, Search tab, Product pages, and traditional search results. It is currently available on the App Store in 61 countries.
Users enter the App Store search with the intention of downloading the app; accordingly, they are already quite motivated, so the traffic provided by Apple Search Ads is of very high quality.
The average conversion rate to install is almost 65%, and for some categories it exceeds 70%.
The Cost of Traffic
The cost of attracting a user depends on different parameters: specific keywords, country, application category, audience profile. But a general idea of installed cost can be obtained from the Splitmetrics report. For example, the dependence of the install price on the category of the app looks like this: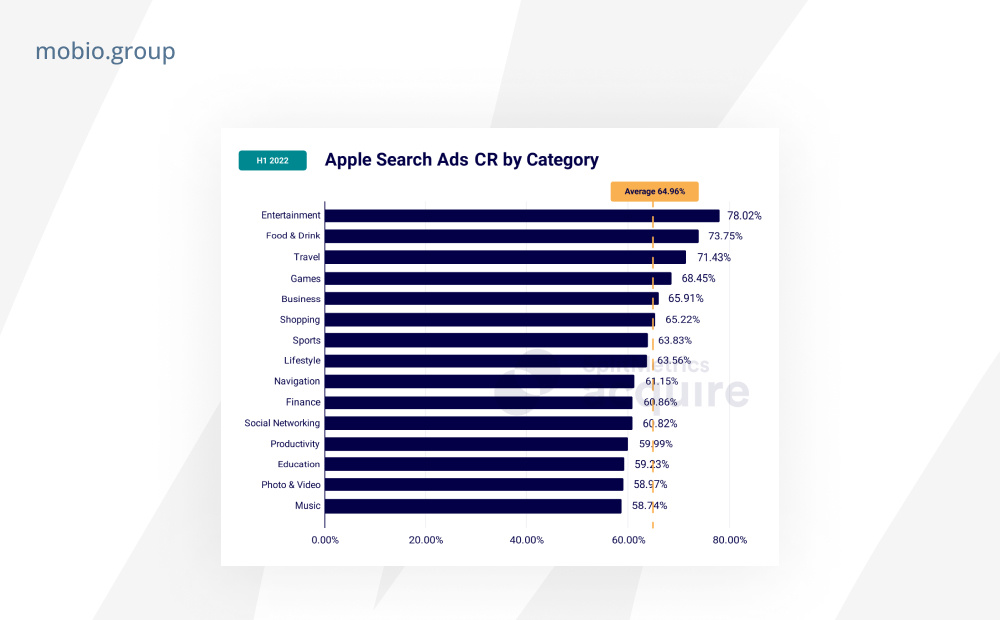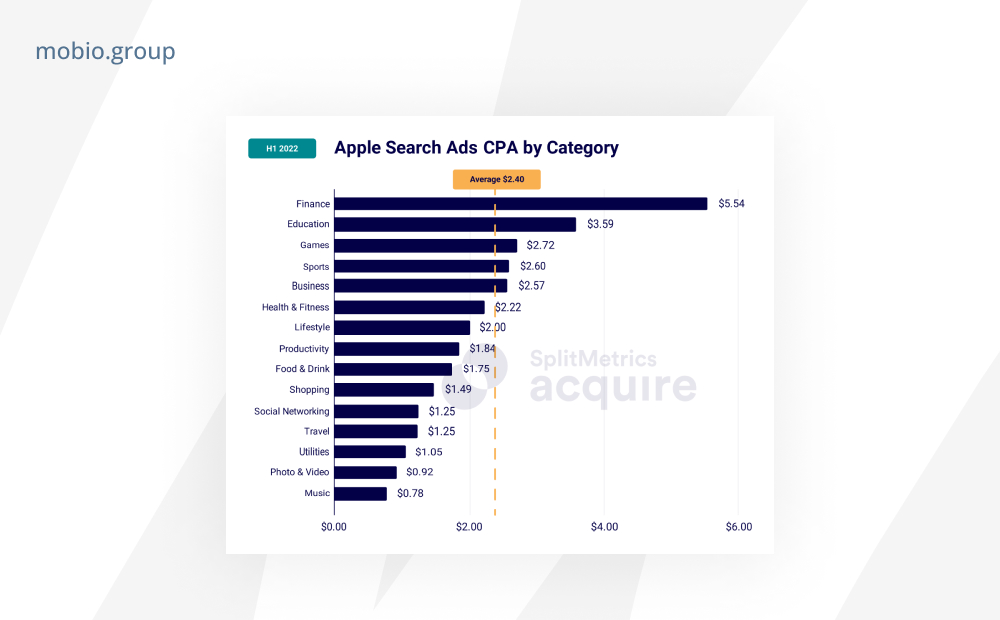 Also the cost depends on the country, you will pay the most if you place an ad in the U.S. and UK markets.
Places to Post Ads
⦿ Search Results
This is the main location for Apple Search Ads. In order for your ad to appear first above the normal search query results, you need to bid on the appropriate set of keywords.
⦿ Search tab
The ad will be shown to users who are about to perform an App Store search in the "Suggested" section.
⦿ Today tab
The "Today" tab is the first tab that loads when you open the App Store, and takes up about 50% of the visible screen space. The ad shows creatives from the custom product page, created specifically for the "Today" tab and approved by the Apple team.
Product pages (the "you might also like" category)
Ads will be displayed when users scroll down the page of another app. There are 3 targeting options here:
Ads on app pages in the same category as yours.
Ads on app pages from a different category than yours.
Ads on app pages of any categories of products.
Types of Ad Cabinet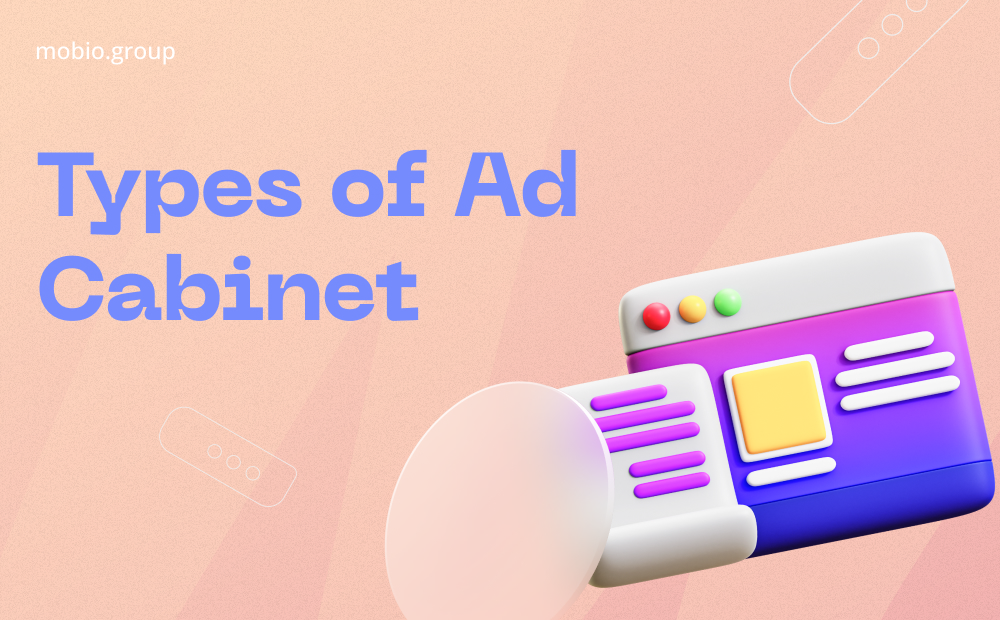 Apple Search Ads offers two versions of the advertising cabinet — Basic and Advanced.
The Basic version has a simpler structure and is mostly automated.
Features of Apple Search Ads Basic:
Minimal management and easy setup.
Payment for installs at the selected price.
Intelligent optimization of your advertising campaign.
You can promote a maximum of 50 apps.
No ability to manage keywords and targeting.
Limited access to attribution API.
$100 credit is available for new accounts.
With the Advanced version, you get more control over ad campaigns and advanced customization options.
Apple Search Ads Advanced features:
CPT model — you pay when a user clicks on your ad.
No budget or limit on the number of apps you can promote.
Advanced targeting and the ability to work with keywords.
Full access to attribution API.
The structure of the advertising cabinet consists of campaigns, ad groups, keywords, negative keywords and creative sets.
Targeting options:
By search relevance (automatically matches the ad to relevant search queries).
By user type (new, existing, regular, users of your other apps).
By device type (iPhone/iPad).
Keywords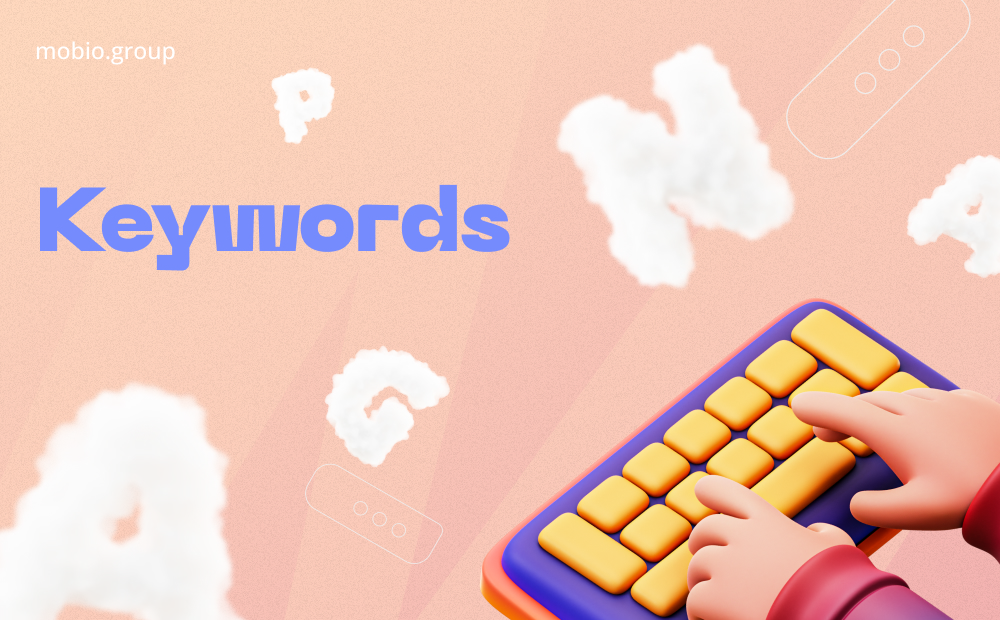 Apple Search Ads offers two types of keyword matches — broad matches and exact matches.
A broad match will include different variants close to your keywords: misspelled words, synonyms, related phrases, singular or plural, similar search terms. This way you can discover new variants of keywords and use them for further promotion.
An exact match will only show your ad for a specific keyword. Typically, with this type of match, you get fewer views, but a higher TTR (click-through rate) and install rate, because the user gets exactly what they're looking for.
The click-through rate has a direct impact on the auction results. So, if TTR is low, the platform may consider your ads irrelevant and the auction will be harder to win. That's why careful keyword selection is essential.
You can also use negative keywords to indicate which words you do not want to include in your bids. That way you get a guarantee that you won't be bidding against yourself.
Types of Apple Search Ads Campaigns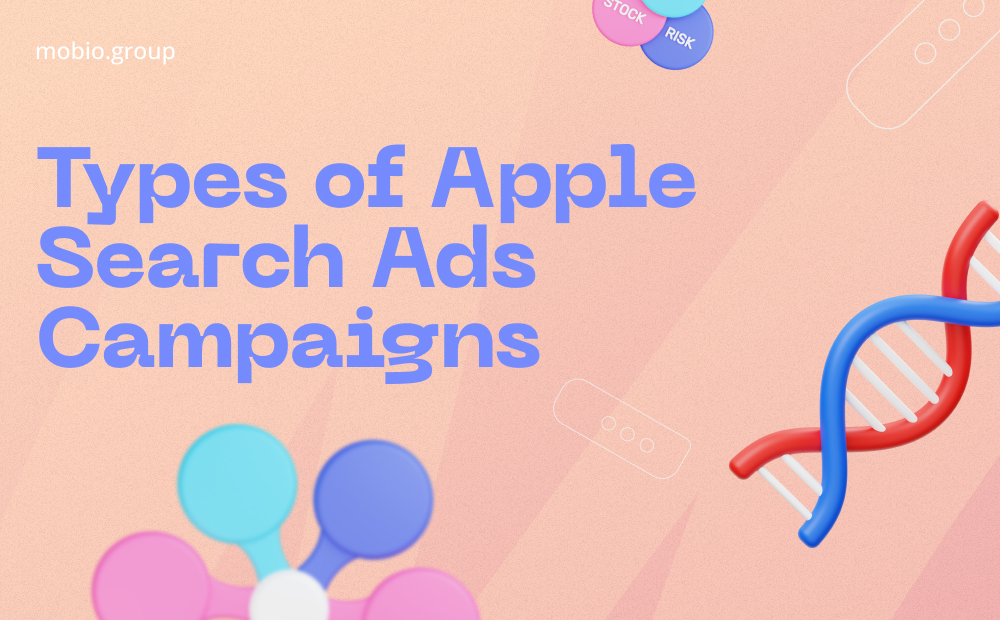 Campaigns are often grouped according to one advertising strategy.
Brand campaigns: bid on keywords that relate to your brand or are related to it in order to protect your brand as much as possible and not allow competitors to hijack potential users. Admittedly, this may involve a partial cannibalization of organic search traffic. For this campaign, keywords must be set to exact match.
Competitor campaigns: similar to Brand campaigns, you can bid on your competitors' names or keywords to get installs from users who originally searched for your competitors' app. For this campaign, keywords must be set to an exact match.
Generic campaigns: use keywords related to the application category, gameplay, or main features. Keywords must be set to match exactly.
Discovery campaigns: This is the ability to find new, previously unknown search phrases relevant to the app. There are two groups of ads that are used:
a) Search Match: ads that Apple Search Ads automatically match to relevant keywords.
b) Broad matching: you select keywords and Apple Search Ads bids on similar ones.
Apple Search Ads also allows you to launch ads on apps that have not yet been published. This way you can get key metrics on search traffic, identify keywords and points of possible growth before the app is even launched.
Apple Search Ads (ASA) as a traffic source has a notable advantage: its attribution works better than other traffic sources for iOS apps, which means it can track all installs and actions within the app with high accuracy. From my experience with this source, the traffic it provides is of very high quality. However, as with any search source, we can encounter traffic limitations and competition, resulting in high click-through rates and difficulty in achieving the desired results.

Leonid Khomko — Performance Manager, Mobio Group
We've covered the basics of working with Apple Search Ads, but that's not all of the platform's features. Stay tuned for more articles from Mobio Group to learn how ASA and ASO affect each other, and how and why to use Custom Product Pages.