AI in Digital Marketing. Creating Graphic Illustrations Using AI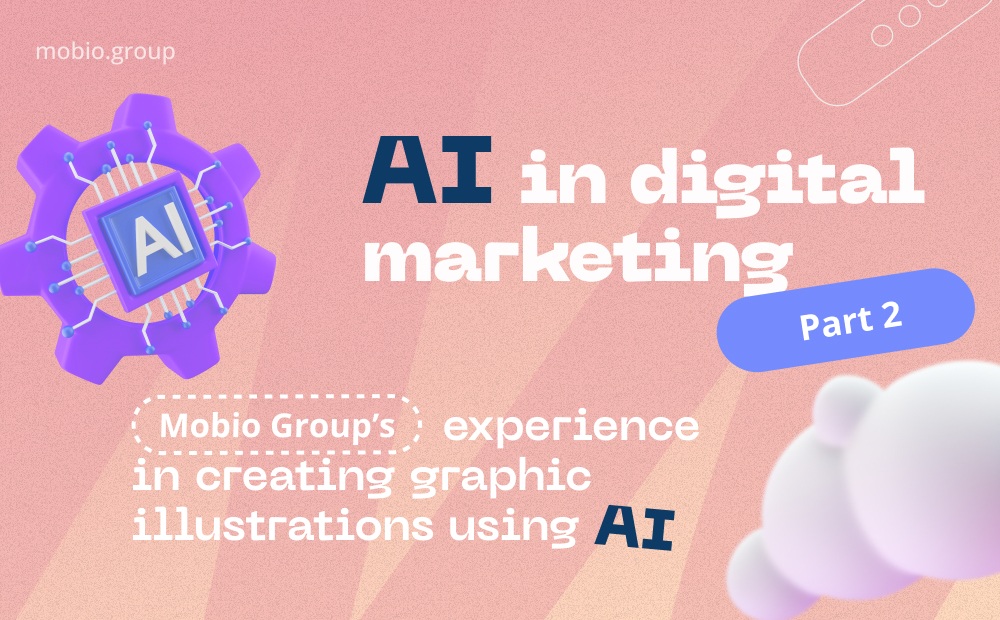 Nowadays, it is hard to guess which of the images published on the Internet was drawn by an artist and which was created by artificial intelligence. The quality of AI-generated images, as well as the number of neural networks that generate images based on text requests, continues to grow.
---
The main services are Midjourney, DALL-E, Stable Diffusion, Deep Dream Generator, NightCafe, AI Playground, Let's Enhance, Lexica. In the advertising industry, these neural networks have a great potential to develop and strengthen creative teams, although there are still a lot of unresolved issues related to copyrights, licensing and using artists' work as references.
The most current and rapidly developing image generation platform is Midjourney. This service gives you the ability to quickly create illustrations in styles ranging from photo realism to abstraction. MidJourney provides higher resolution final pictures and more detail according to text requests than other services. It is now a tool to replace stock and illustrator, and in the future, Mobio Group assumes it will work as a stock platform.
How exactly can you use the power of neural networks, particularly MJ, in developing advertising creatives? We have tested the potential of AI in the creation of graphic images for various agency tasks in practice.
Group Avatar and Branded Images
When creating creatives, we don't always strictly follow the client's brand book unless the concept of the advertising campaign requires it. But in the long run, we need to be clear about whether MJ is capable of generating images that exactly match a given brandbook and work in clear guideposts.
Branded images are used quite often as illustrations in articles or avatars posted on forums, sites, blogs and social media pages. We decided to test the capabilities of the neural network by creating an avatar of the group discussing the capabilities of MJ and uploading an illustration from our brand book and a text description of the desired picture.
Next we show examples of illustrations from Mobio Group's brand book.
The generated result: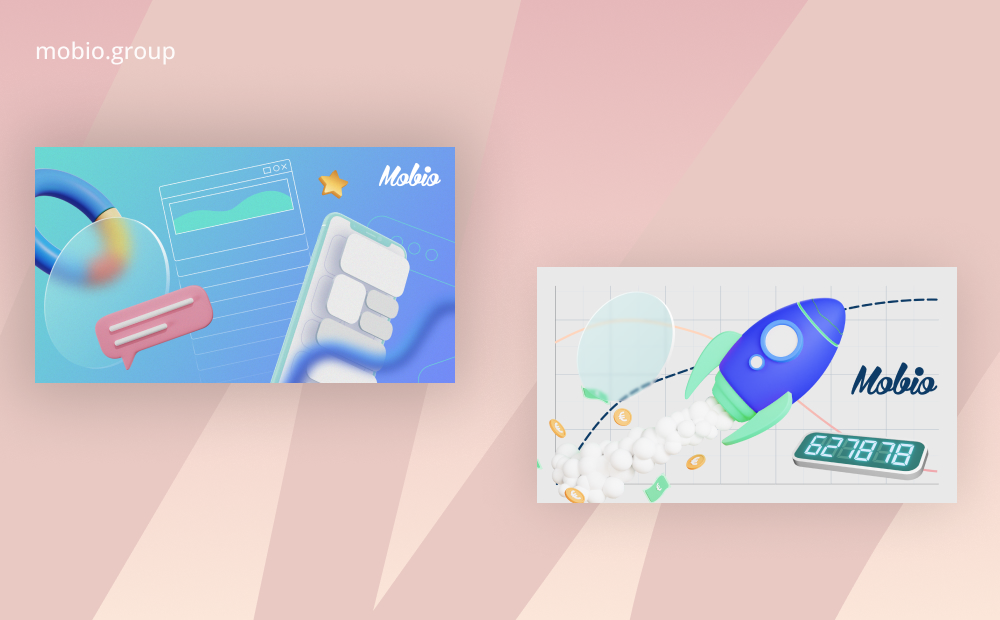 As you can see, the pictures turned out to be quite attractive from an aesthetic point of view. Somewhere there are elements of our brand book, the combination of colors and the percentage of each of them in the composition is also quite close. But this is still not what we would like to achieve. Only one conclusion comes to mind, MJ is more of an artist than a designer. As the author's work all looks very beautiful and of high quality, but when it comes to following the guideposts and hitting the exact target, here MJ is not quite sure what 3D graphics is different from 2D, what is an outline, etc.

Sergey Lebedev — ArtLead, Mobio Group
Also on this task we wanted to evaluate MJ's "imagination" and understanding of image structure and individual elements. We changed the query and broke the illustrations into elements to make it easier for the artificial intelligence to perceive individual segments.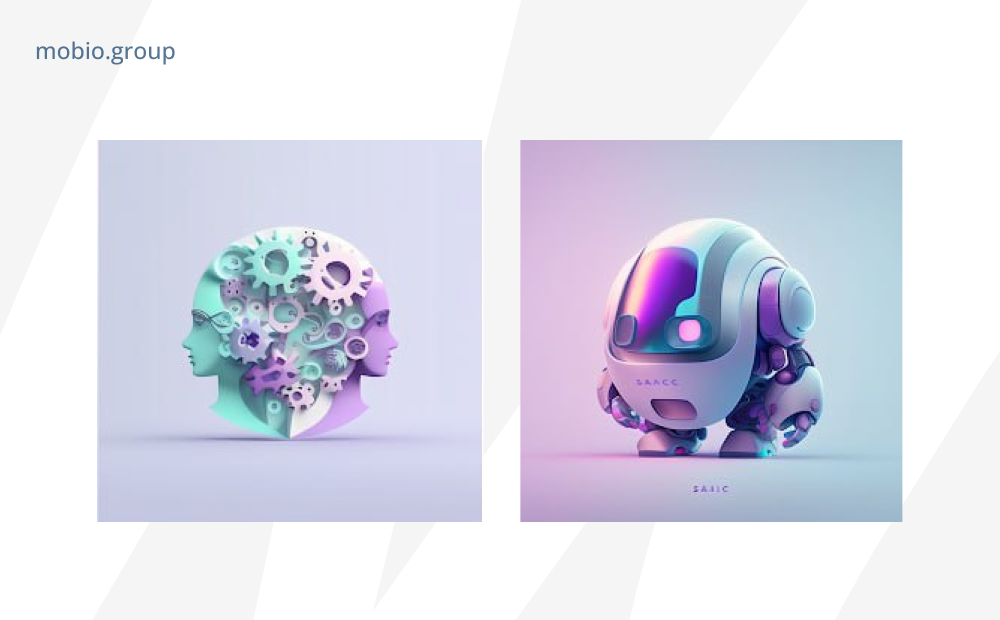 Even when broken down into elements, MJ still doesn't understand what he's being asked to do. For example, he doesn't understand how much detail the material needs to be worked out. Our brand book usually uses very simple 3D graphics with the simplest possible materials and lighting. MJ, on the other hand, always tries to generate something near-realistic when asked for 3D.

Sergey Lebedev — ArtLead, Mobio Group
We did not achieve clear branding and styling, but we saw an opportunity to create viable and aesthetic design solutions. We can set a set of requirements and conditions for a neural network, and then, as before, identify suitable options, refine them and test them.
Generation of Graphic Elements
We decided to test the ability of AI to generate graphic elements on a given topic on a specific task: to create 5% for the promotional banner for discounts on products that can be gifts for women. The element should be made in delicate pastel colors with the attributes of spring (flowers, butterflies and other things).
Midjourney has generated some pretty good options: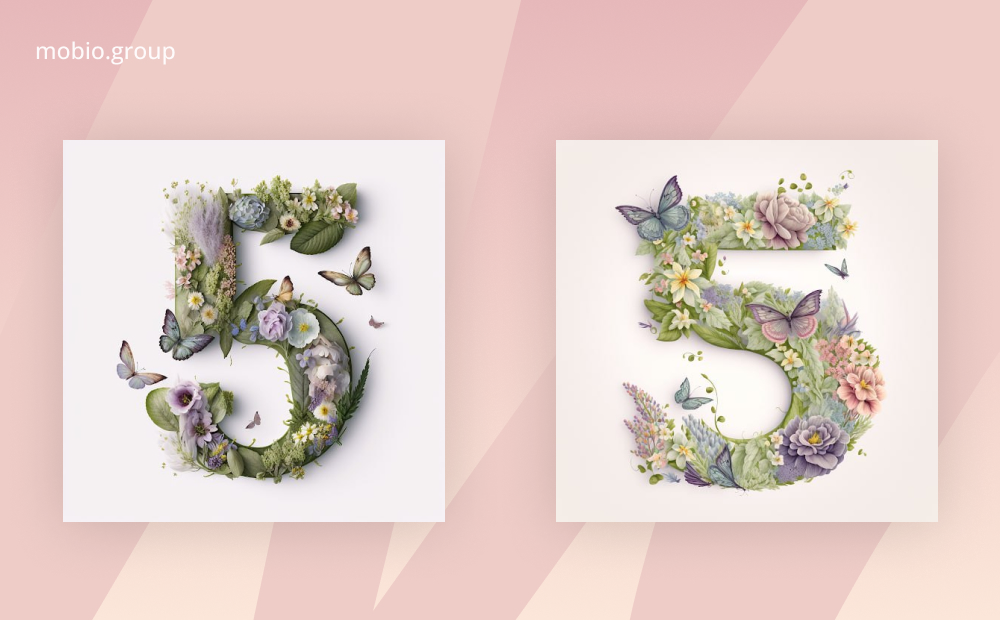 This is where MJ has shown great results. When the client does not care so much about following the brand book, or, for example, its scope is wide enough, the "matrix" really shows its full potential. For matte-painting such a plan can take from 2 hours, and if you build it procedurally in 3D, it can take more than a working day. Here we have unique content in seconds and a very satisfied client!

Sergey Lebedev — ArtLead, Mobio Group
The DALL-E options, in our opinion, were more modest: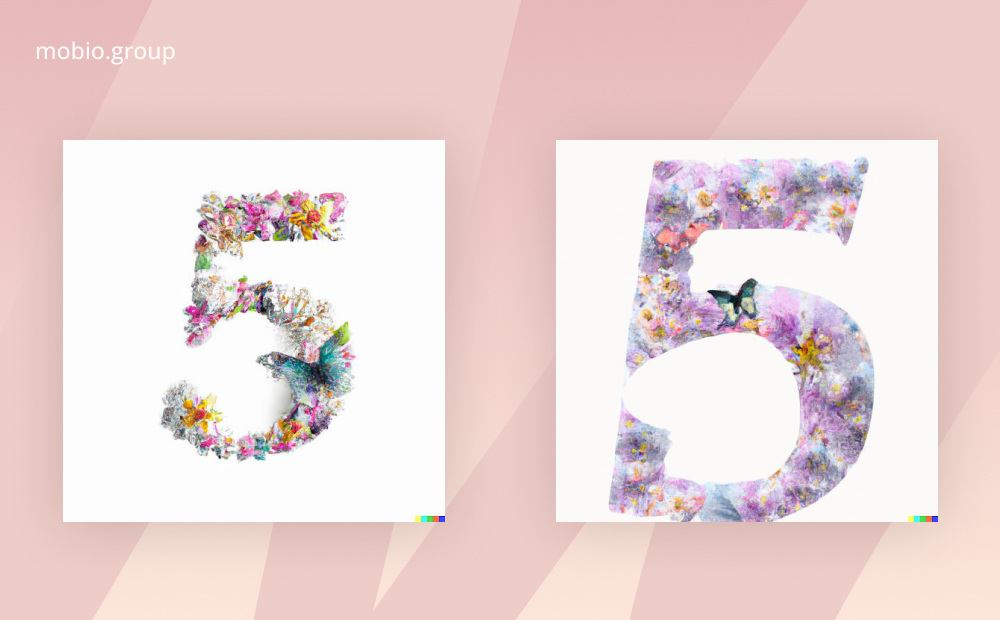 In the process of testing, we discovered a problem that could not be solved — the neural networks refuse to perceive the percent sign (%) and display it on the generated images.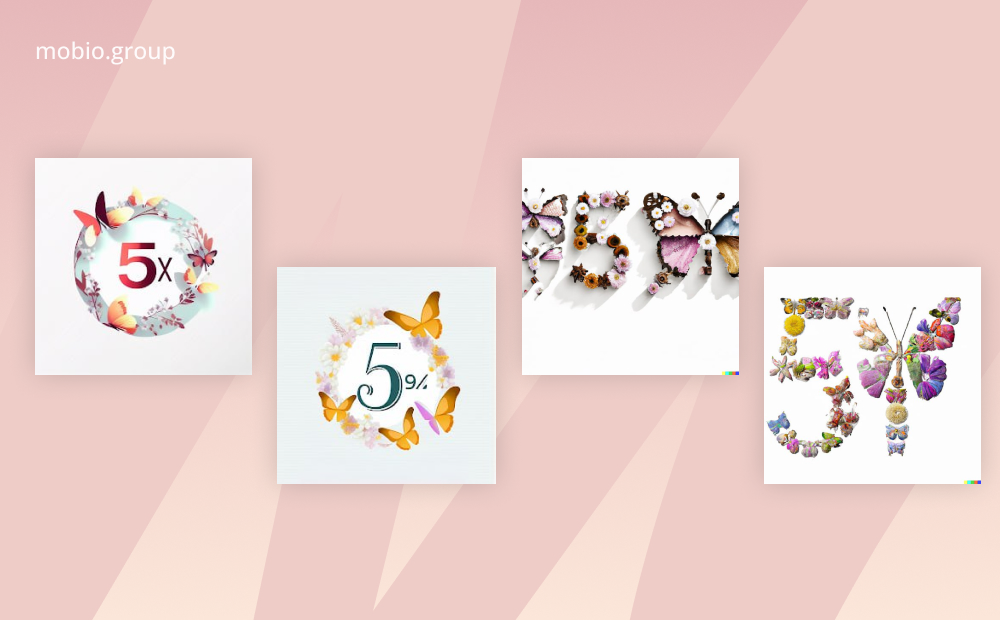 The need to edit images in graphics editors remains for the task to be completed, especially for spelling out the % sign. However, using AI to create graphic elements can significantly save time for designers or serve as a "basis" for developing creativity.
Free services, in our opinion, have not coped with the task at all: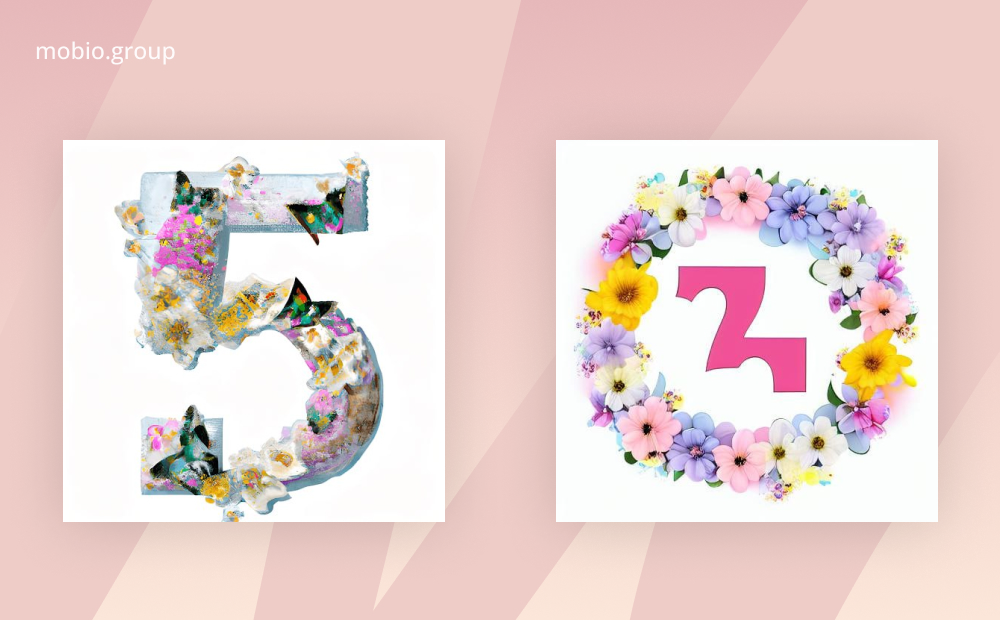 Generating Animated Characters
Statistically, users like fictional characters (38%) , celebrities (22%) or sports stars (18%) (according to Ipsos research). In our experience, the CPA score is higher for creatives with cartoon animation.
In creating animated characters, neural networks show excellent results for even the simplest queries. The generated images can be taken as the basis for a particular concept or as an image in its entirety. The uniqueness of the character is also a significant plus.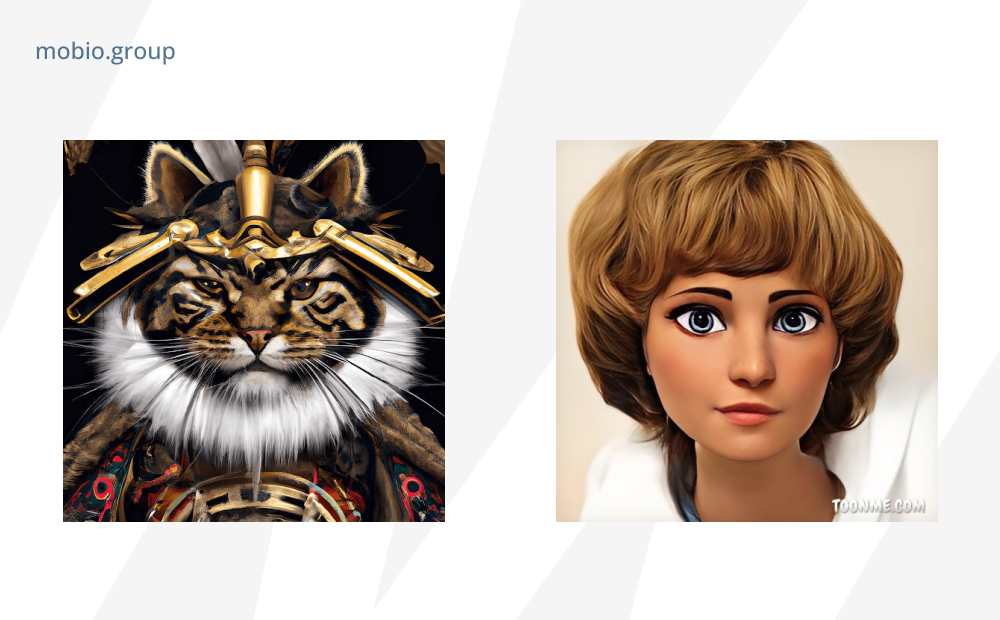 A lot of potential lies in the ability to use the stylistics of famous artists. The same query (take SEALs for clarity) with the names of different artists (or styles) generates completely different art: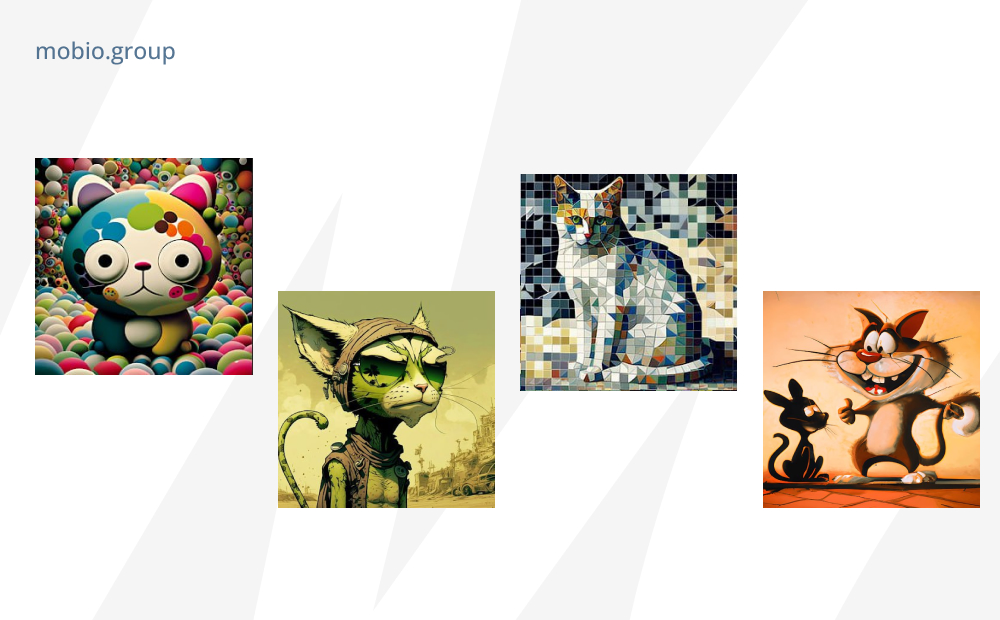 AI by adding the necessary parameters to the request successfully manages the stylization of the generated images by types of drawing (watercolor, mosaic, sketching), directions of painting (futurism, abstraction, art deco), types of art (pop art, furry art), genres (cyberpunk, steampunk, biopunk), styles of specific artists (Van Gogh, Andy Warhol), etc.
Preliminary conclusions that we made for ourselves by experimenting with the generation of graphic images:
The transformation of today's creative industry is directly related to the development of technology.

Software updates or new plug-ins for familiar programs allow us to create more original images and optimize our work.

Specifics of work of the creative department of the performance agency is that we often need a lot of iterations and variants of creatives before we find the most suitable for the promotion of the concrete product of our client. Speed and the ability to create content quickly in this environment becomes critical to success.

MidJourney is a new round of development and, although in our opinion, the current version of artificial intelligence does not allow for accurate predictive results, it is definitely applicable.

1. We plan to use MJ as an alternative to stock images.
2. Create some elements of banners or marketing materials.
3. Use as a substitute for the work of illustrators.

Olga Mazur — Head of Creative, Mobio Group
In addition to graphics, photorealistic images are often used to work on ads. We have tested these neural network capabilities as well. In the next article we will tell (and show) what results we achieved in creating creatives for a specific customer's ad campaign by generating realistic images based on queries.