Effective AI Video Solution for Your Business | Mobio Group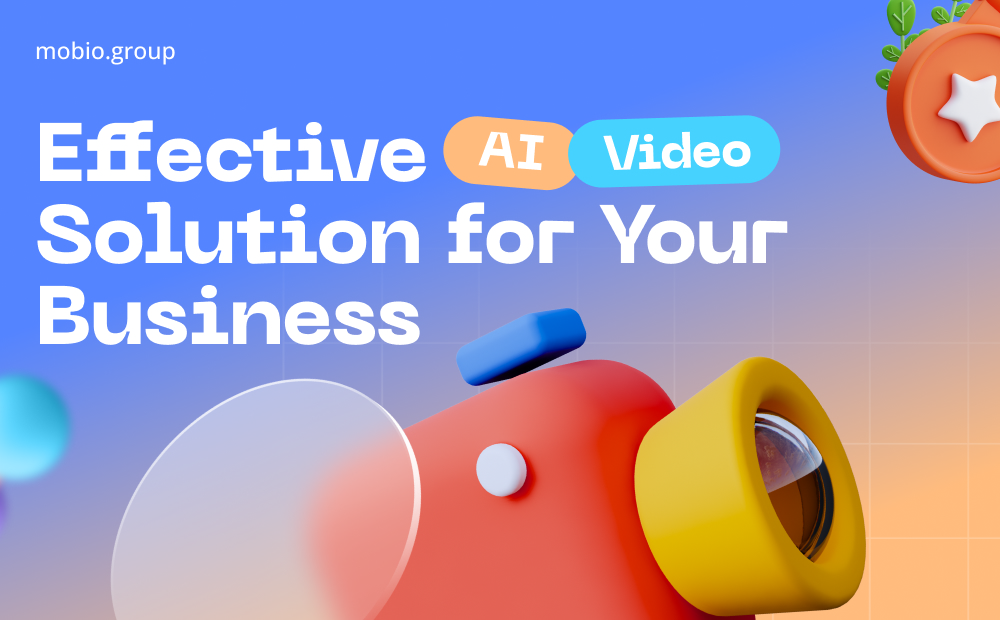 Video is one of the most effective marketing tools used in productive communication strategies. In this article, Mobio Group will reveal the resources and potential of Colossyan's generative video creation platform, as well as explore the possibilities of applying the created personalized video products to solve marketing tasks.
The generation of high quality synthetic multimedia allows companies to establish more adaptive types of communication with their target audience. Integrated video creation solutions are designed to improve this interaction through direct marketing and quality content aimed at a specific group of consumers. Today, there are quite a few AI-powered platforms for producing such content. One such service is Colossyan.
Colossyan is a video platform for creating personalized videos using artificial intelligence.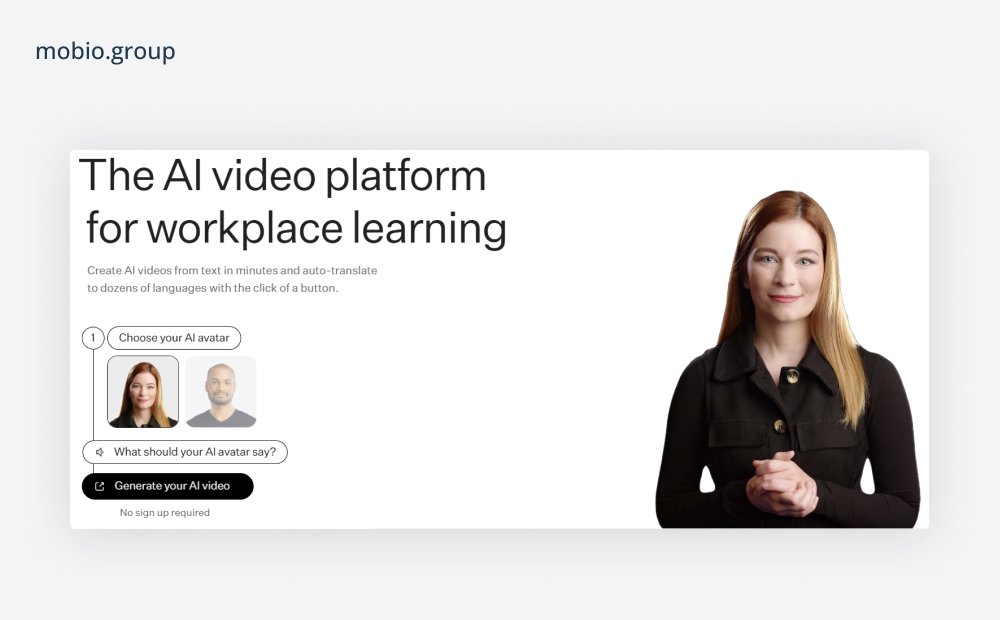 Colossyan's Main Functions
The main purpose of the Colossyan platform is to produce ready-to-use video content based on user-imported files or templates available on the service, which can be edited at will. The following functions are used to accomplish these tasks:
☉ Converting PDF/PPT to video and video to video
In the editing mode, the clip is presented as separate scenes connected by transitions. There are limitations on the number of scenes and the size of imported files. Editing options:
Using avatars offered by the service or your own avatars with good lip motion synchronization. You can add up to 4 actors-avatars
Voice selection (200+) to convert text to speech
Language selection (50+)
Choice of fonts, themes, background music, avatar positioning
Choosing the right video size (for YouTube, Instagram posts and stories, PC)
☉ Screen Recording
This function allows you to record the screen in real time with no time limit. The recording can be added to the created video product. Convenient for showing navigation, for example, in a product catalog.
☉ Conversation
Unlike the primitive "talking head" feature, Colossyan's video platform offers side-by-side avatars. Conversation of avatars with side profiles makes the video more realistic and lifelike.
Additional Colossyan Features
Add subtitles to video
Automatic language translation
Create collaborative workspaces (with different access levels)
Brand Kit preservation
Built-in AI-assisted GPT-3
Benefits of Colossyan for Use in Marketing and Advertising
➲ Video content personalization
Creating customized or highly personalized video messages and ads gives companies the opportunity to address their immediate audience with their preferences and needs in mind.
➲ Dynamic communication
Videos with avatars allow for a lively and authentic connection with their audience. Unlike static banners or "talking head" videos, these ads convey a sense of real-time dialog. This communication increases user engagement and improves user experience.
➲ In-depth product demonstration
Screen recording adds depth and visibility to marketing efforts to familiarize potential customers with products or to demonstrate untapped opportunities when retargeting users.
➲ Multilingualism
Colossyan's support for 50+ languages and 200+ voice options allows you to reach a diverse audience and connect more deeply with users in other countries.
Effective Use Cases of Colossyan Platform in Different Categories of Mobile Apps
Personalized, interactive and engaging content for users of different app categories significantly increases the impact of marketing campaigns. Possible uses of the generated video content:
1. E-commerce and Shopping Apps:
Creation of demonstration videos to showcase products and services.
Personalized video ads for recommended products based on user preferences.
Use dynamic avatars to help customers with questions and support.
2. Travel and Navigation Apps:
Providing dynamic avatar guides on popular tourist destinations.
Creating personalized itineraries with video clips and recommendations.
Provide virtual concierge services with dynamic avatars for reservations and assistance.
3. Social Media Apps:
Personalized video greetings and messages for user profiles.
Dynamic storytelling using avatars to create interactive and engaging content.
4. Entertainment and Multimedia Apps:
Create animated video teasers for new movies, podcasts and other infotainment content.
Provide personalized video content recommendations based on user preferences.
5. Productivity and Utility Apps:
Create tutorial videos on how to use the application features.
Create dynamic avatars to help users customize and use the app.
Personalized video reports to track and manage tasks and goals.
6. Health and Fitness Apps:
Creation of personalized workouts with video demonstrations of classes and virtual trainers (dynamic avatars).
Generate video reports on users' fitness successes and achievements.
7. Finance and Banking Apps:
Create video tutorials on how to use app features and manage accounts.
Provide personalized financial advice through dynamic avatar-driven videos.
Create video explanations of complex financial concepts or investment strategies.
8. Education and E-Learning Apps:
Developing interactive personalized video lessons and generating virtual tutor avatars.
Creating video notes of course materials for better memorization.
9. News and Magazine Apps:
Use dynamic avatars to present news in an engaging and interactive format, generating video profiles of famous people or topics.
Create personalized video news summaries based on user interests.
Good quality informational video products create a positive image of the company, brand loyalty and stimulate sales for the end user. Using such a high-end platform as Colossyan is suitable for companies that are looking to improve the results of their marketing strategies and scale their business.
Mobio Group's mobile marketing team is a recognized expert in mobile app promotion. Utilizing all modern AI-powered technologies we offer ready-made solutions to grow your business.
FAQs
Can I use Colossyan for free?
The trial period of the platform is 14 days. Starter package = $28/month, Pro package = $96/month. However, these subscriptions do not grant access to many options and video editing or customization options may be limited. The full package is only available with an Enterprise subscription after contacting Colossyan's sales team.
What platforms is the Colossyan service compatible with?
Colossyan's video generator API allows for seamless integration with Cross Platforms, Mac, Windows, Linux, Chromebook, Android, iPhone, iPad, cloud and SaaS.
Is there a Colossyan knowledge sharing community?
Colossyan users have a community on Discord.
Is 3D video generation available?
There is no such feature yet.