Growth Lab by Mobio Group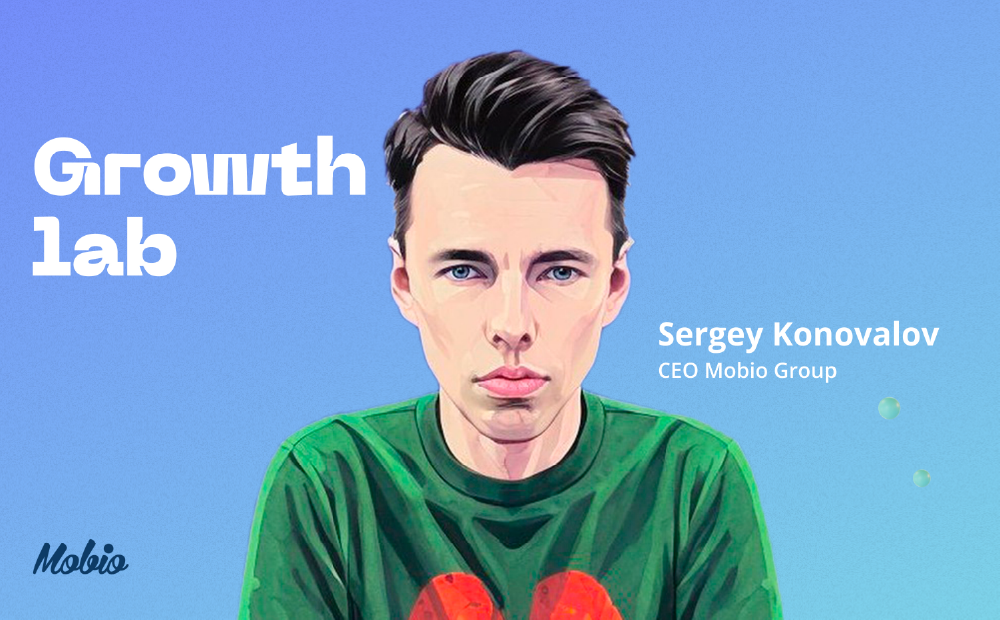 In this article, I want to tell my story of entrepreneurship and share how I can help you grow your business.
So, I'm Sergei Konovalov, I'm 40 years old, an entrepreneur, 21 years in digital advertising, and now the CEO of Mobio Group. I know about the life of startups firsthand. Since 2004 I have launched and successfully closed at least 5 businesses: web studio, payment system, equipment delivery from China, wishlist service startups and advertising platform.
---
We built Mobio Group together with my partner from scratch. Since 2013 I have led the team through dozens of transformations, there were countless pivots, and upgrades of the team. The company survived the founder conflict and maintained its original business model. We assembled a large development team, developed a DSP, in-app Network Feedwise, and the Getloyal retargeting platform. We raised a round of investments and secured a beginning for our first investment fund.
Mobio Group is my 6th attempt, and it was the most successful. Now Mobio Group operates all over the world, with a team in Europe and the USA. Production is based in Europe, finance in London, BizDev and Marketing in the US. Since 2022, Vox Valor Capital, which includes Mobio Global Ltd, is listed on the London Stock Exchange, which confirms the standards of quality and transparency.
The Mobio Group team's experts have helped a huge number of businesses grow in mobile marketing. Our clients have included mature companies as well as startups: Aliexpress China, Republic.com USA, 3commas.io Europa, Jiffy UK.
I'll add a little context about product growth to help illustrate.
Product Growth Consists of the Following Blocks:
1. Product-Market-fit: there is a segment of users for whom the product performs better than other solutions.
2. Product-Channel-fit: there are managed user engagement channels with LTV >CAC.
3. Sufficient size of target market. By the way, Mobio Group has been focusing on app mobile promotion for 10 years and therefore has accumulated tremendous experience in this area.
At What Point Does It Make Sense to Turn to Experts in Mobile App Promotion?
1. When you're looking for Product Market Fit, we can help you do it faster and cheaper. Avoid standard mistakes and avoid falling into unusual traps. We will find insights into the work of your competitors, professionally and cost effectively attract users for product development.
2. Once you have found the Product Market Fit, we will help you test the performance channels to attract users. We'll carry out dozens of tests, run hundreds of run throughs, provide minimum CAC for your product and show the potential for scaling. The goal of this work: find channels to attract users with LTV > CAC.
3. When you are in the founding stage, we will verify all your marketing results and supplement them with data on the market and evaluate your competitors. The team can raise a round of investment under the scaling, if Product Channel Fit is proven. So the key to raising investments is to have a profitable business at the moment or in the foreseeable future.
4. When you have raised a round of investment and need to grow quickly, we can help you build an in-house marketing team. We will provide training, help with hiring talent, and provide verification of your team's expertise. We will provide the necessary resources of designers, marketing managers and analysts to support your explosive growth.
What is the Tag Price for Fast Growth Cost and in What Time Frame is it Possible to Do It?
Don't expect quick results here, it's the coordinated work of your product team and a team of marketing experts from Mobio Group. It takes 8–12 weeks from the beginning of the audit of your product to the completion of the testing of advertising channels.
A group of high-class specialists will work on your project: Growth Expert, Project Manager, Performance Manager for each channel (Facebook, Google), Designer, Motion Designer, ASO specialist, Copywriter, Analyst. A team of 9 experienced experts can join your task in just 1–2 weeks. It is impossible to assemble such a team from scratch in such a short time.
The required budget for the test of one advertising channel (Facebook, Google Ads, TikTok, ASA) for one platform (iOS or Android) is about $5000. Mobio Group is a performance-based agency, we are responsible for the results. You always know what you pay for and what the result will be. Since you pay for a specific result and working hours of the experts, you will not have to pay for a full-time marketing team of 9 people for 2–3 months. This will bring a significant amount of money and get a higher quality result.
About the Company
Mobio Group is an international mobile app marketing agency headquartered in the UK and with offices in the USA, Europe offering quality mobile app promotion. Our team of 70+ experienced app promotion specialists help clients to achieve maximum profit with 5 key services:
• User Acquisition (Paid Search/Paid Social)
• App Store Optimization
• Mobile Retargeting
• In-app Promotion
• Creativity Services, Video Production
Since 2013 the Mobio Group has worked with various industries and clients such as Burger King, Aliexpress, Gameloft, Playrix, Wargaming, Jiffy, OBI, Apple Music and others.
Why Mobio Group:
• Performance Based. Performance Mindset  —  it is our goal to attract real customers, not displays and clicks. Pay by CPA.
• Trusted Next Door Partner. Mobio Group is an international company listed on the London Stock Exchange. Our team works in all time zones. In-house USA team with an office in Silicon Valley.
• High-Level Experienced in mobile. Full-service mobile app agency with 10 years of experience in every app promotion channel.
• Advanced Tech with Human Face. We adopt a personalized approach to each client: personal manager and a performance team.
• Wide Coverage. We hire the best specialists around the world with international certifications. Connecting highly qualified publishers to our own Feedwise network.
How to communicate with Mobio Group experts:
— Email: newbiz@mobiogroup.com
— LinkedIn
Let's do our win-win cooperation!