In-App Advertising Insights 2022 | Mobio Group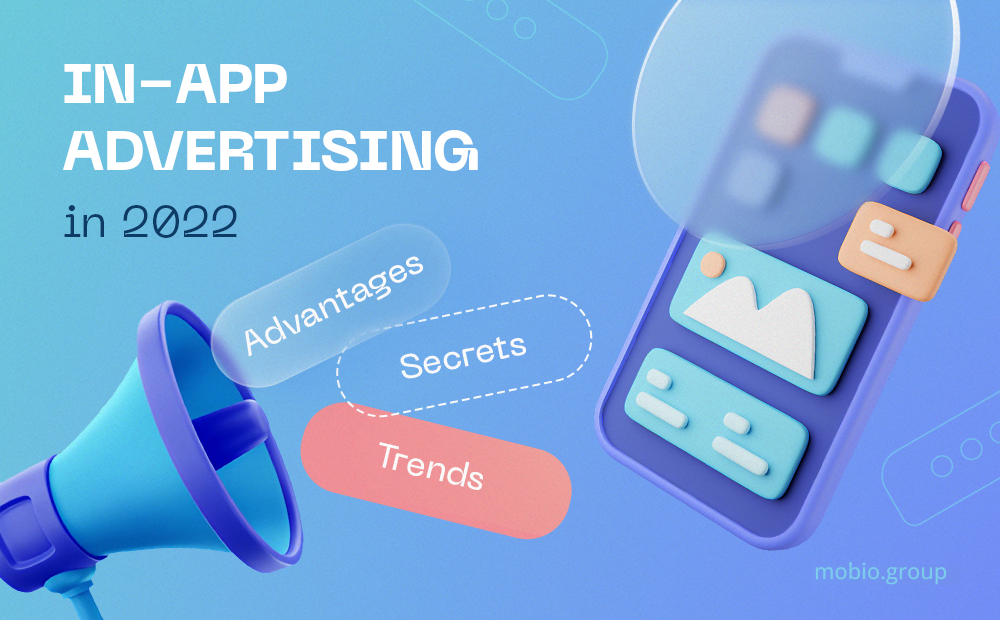 The market for advertising in mobile applications appeared in 2013, but for a long time, advertisers gave preference to other sources of traffic. Later, new convenient and effective tools for working with in-app advertising began to appear, which significantly increased its attractiveness. In this article Mobio Group wil share in-app advertising insights 2022.

Today, the field of mobile applications is experiencing a real boom. The age and social limits of the audience have expanded as much as possible, the number of app downloads and the time spent in them is constantly growing.
Another trend is increasing user loyalty to advertising within mobile app. If earlier it caused irritation, today more and more people perceive advertising as a kind of "payment" for using a free application. An increase in the level of loyalty is also facilitated by constantly improving targeting tools, thanks to which the user receives content that is interesting to him, and modern ad formats make advertising interesting and engaging. In-app traffic is becoming more and more popular among advertisers. However, in-app advertising has its advantages and disadvantages.
Advantages of In-app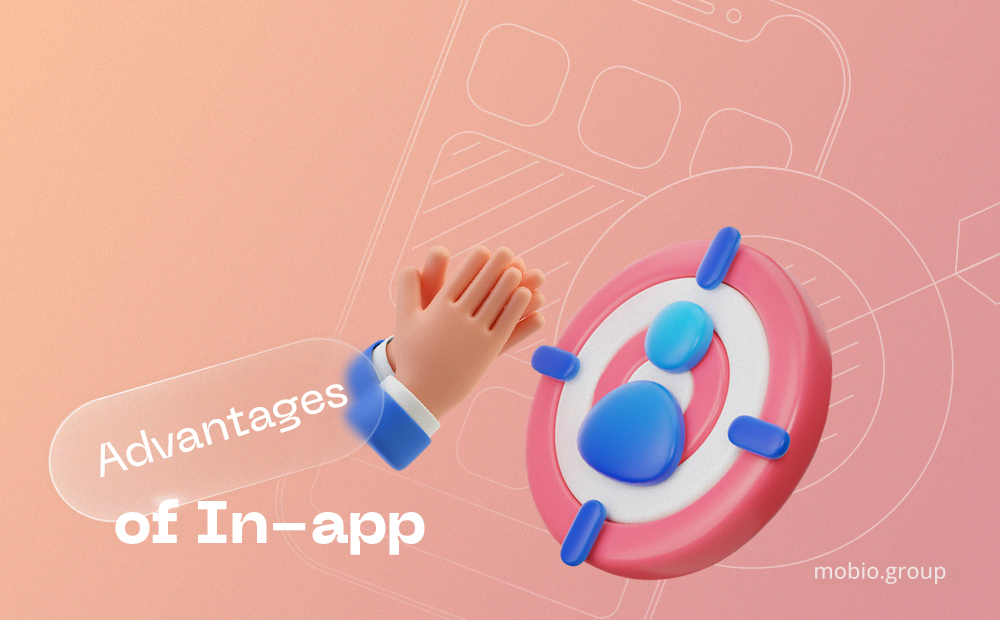 1. Wide audience
There is a wide variety of mobile apps on the market today. Each of them has its own audience. In addition, there is a constant increase in the number of downloads of mobile applications, respectively, and the number of potential leads.
2. Quality targeting
At first glance, the targeting functionality in in-app advertising is quite small compared to other advertising sources. But thanks to the ability to target by category of applications in which ads will be shown, we get a very wide reach and high-quality audience. After all, with the right settings, ads will be shown to users who already use similar or similar apps. Also, ad networks are evolving and providing more and more targeting options.
3. High quality traffic
Ads in apps are seen by real people – app users. Hence, the risk of fake impressions, clicks and bots is reduced.
4. No ad blocking
Ads in applications are not yet as easy to block as classic ones.
5. Scalability.
In-app advertising is easily scalable. If the offer + creative combination has given good results, it can be launched into other applications of a similar theme.
In-app Myths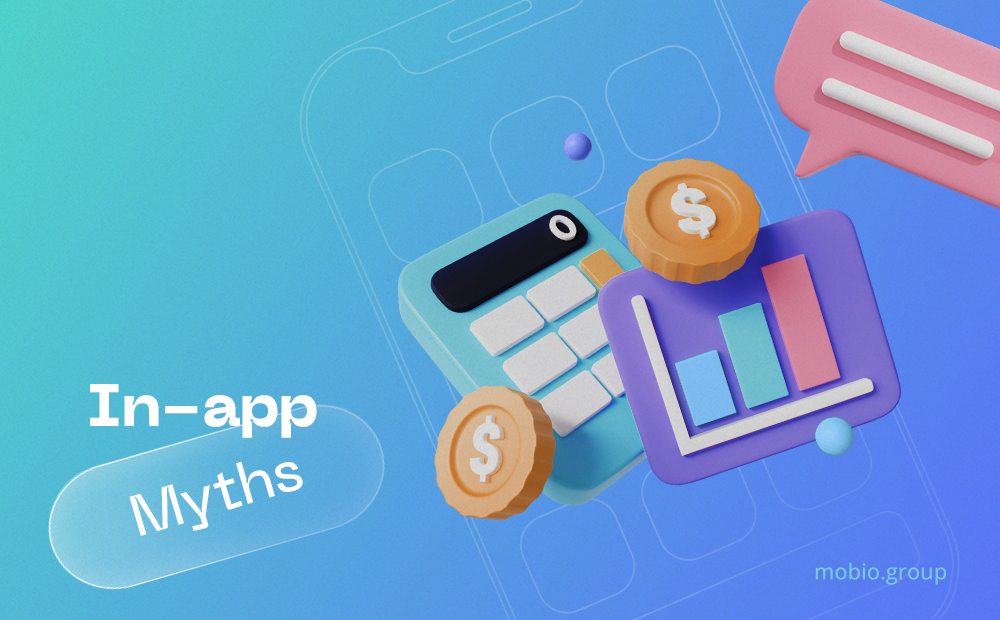 — High CPI rates
In-app bidding is affected by ad network competition and creative quality. In addition, some ad networks provide very poor targeting functionality, hence the difficulty in reaching the target audience.

You need to carefully consider the choice of advertising network.
However, in order to conduct a successful advertising campaign and receive high-quality traffic, we recommend using a bid increase of 10-20% from the minimum.
— A lot of fraud
Previously, this problem was indeed extremely relevant, but now various algorithms that prevent fraud are widespread, and almost all large sites use them. And we again come to the conclusion that the main thing is to choose the right advertising network.
What is an Advertising Network?
In-app advertising networks are companies that mediate between advertisers and owners of applications in which ads will be shown (publishers).

Advertising networks have user-friendly interfaces and various options for setting up advertising campaigns.

We at Mobio Group worked with different ad networks, selecting the best option for each project. Each of them had their pros and cons. At some point, we decided not to make any more compromises and created our Feedwise advertising network. In it, we combined all the best – automatic optimization, intelligent procurement algorithms, anti-fraud solutions, which allowed us to deliver only high-quality traffic to our customers. Works through our own in-app traffic platform Tracemetrix, which is a CPI / CPA network to which publishers from all over the world are connected.
Secrets and Trends of In-app Advertising in 2022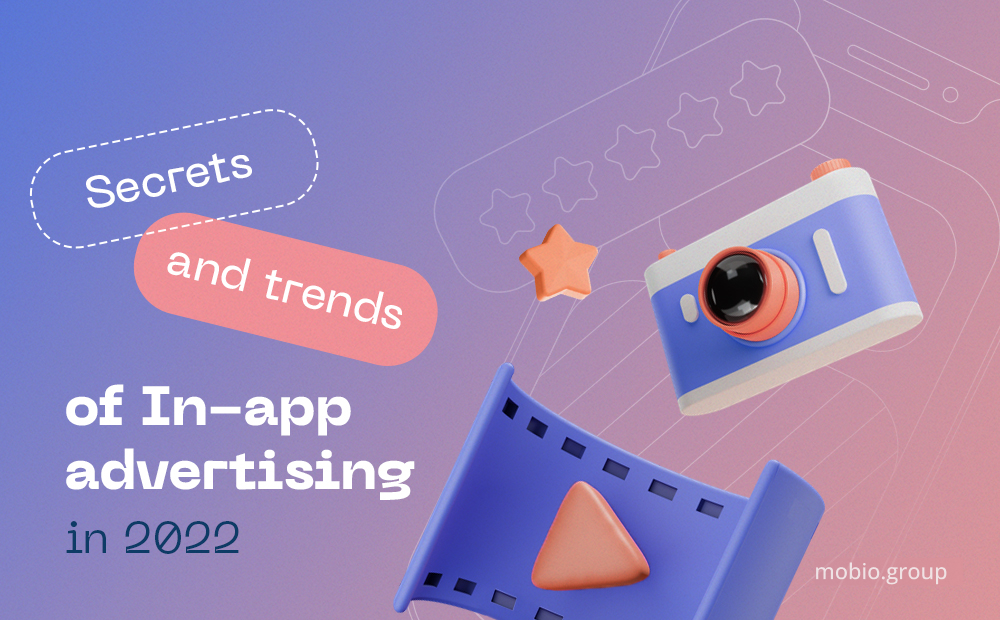 1. High-quality and adaptive videos and images
It is important that your creatives are displayed on the screens of any device without errors. Pay attention to the resolution of the pictures, because they should look good on both cheap and expensive gadgets.
2. Interactive advertising
It shows itself well when promoting applications, games and even goods. When viewing ads, the user can select a character, scroll through the advertised clothing models, or view screenshots of the application.
3. Elements of augmented reality
Great way to show the product in real life. Therefore, it is mainly used in the field of e-commerce, so that the user can "try on" the product on himself. But, with a creative approach, this tool can show excellent results in other areas.
4. Advertising gamification
An important trend in in-app, when advertising looks like a mini game. To win, the user needs to perform some simple action, after which a button appears calling for "get a bonus", download an application, use a discount, etc.
5. Short messages
Users often open apps on the go. Therefore, advertising should be clear, short and readable. The less time the user needs to read and understand the message, the more likely it is to get a lead.
6. A simple call to action
CTA should be as clear and simple as possible. Call to action development is one of the main tasks in any type of advertising, but for in-app advertising it is of particular importance. When developing your call to action wording, answer two questions. What action should the user take after viewing the ad? How easy will it be for him to achieve the desired action on the smartphone? There should be the minimum possible number of steps from showing an ad to a target action.
Video advertising has been an ongoing trend in recent years. According to the InMobi platform, in the first half of 2020, in mobile advertising, the percentage of clicks on video was 17 times higher than the percentage of clicks on banners.

Video ad spending could reach $81.5 billion in 2022 (according to eMarketer). And most of it is on mobile devices.

This is not surprising, because the video format is a universal and engaging tool for any field.
How to improve the Effectiveness of Video Advertising
1. Take into account the motivation of gamers in game advertising
So, if the user prefers puzzle games, then we develop a video in order to captivate the solution of the quest in a creative way. If a player is more motivated to compete, then you can add a table of the best players at the end of the video, where his name will rise to the top lines.
2. Using "unsuccessful" game moves
Video ads for games show either successful or unsuccessful moves. Moreover, videos with unsuccessful moves turn out to be more effective. It's hard to tell if users like the failures of others or if they see it as a challenge and driven by a desire to do better, but it works.
3. Playable elements in video ads
Usually playable video is used to advertise mobile games, but when used correctly, this format works well in other areas as well, as it increases engagement and, as a result, drives conversions.
4. Videos of various lengths
The optimal length of a video depends on both the advertising product and the placement of the ad. Previously, they preferred standard videos of 15 and 30 seconds. Now advertisers are actively experimenting and getting great results with both shorter videos and 45-second videos. The optimal duration can only be calculated by testing.
5. Advertising with replaceable elements
You can create an ad with a summer theme, but with the advent of winter, change the modular elements to thematic ones (for example, New Year's) and continue to show it.
Conclusion
As we can see, in-app has its own risks and disadvantages, and this tool can hardly be called simple. On the other hand, the constant growth in the number of mobile phone users and the huge variety of applications provide a complete coverage of the target audience, since all mobile Internet users use applications, which means that everyone can be reached. Today it is the widest traffic channel that advertisers should not ignore.
We told you about in-app advertising trends in 2022 and shared some secrets with you. If you have no desire to learn the in-app intricacies, but want to get high-quality traffic and not waste your budget, then you should turn to professionals. The Mobio Group team is constantly working with this traffic source, our specialists have thoroughly studied its capabilities and tools and are constantly monitoring trends and novelties. Contact us.