Marketing Mobile Apps Effectively Is The Key To Business Success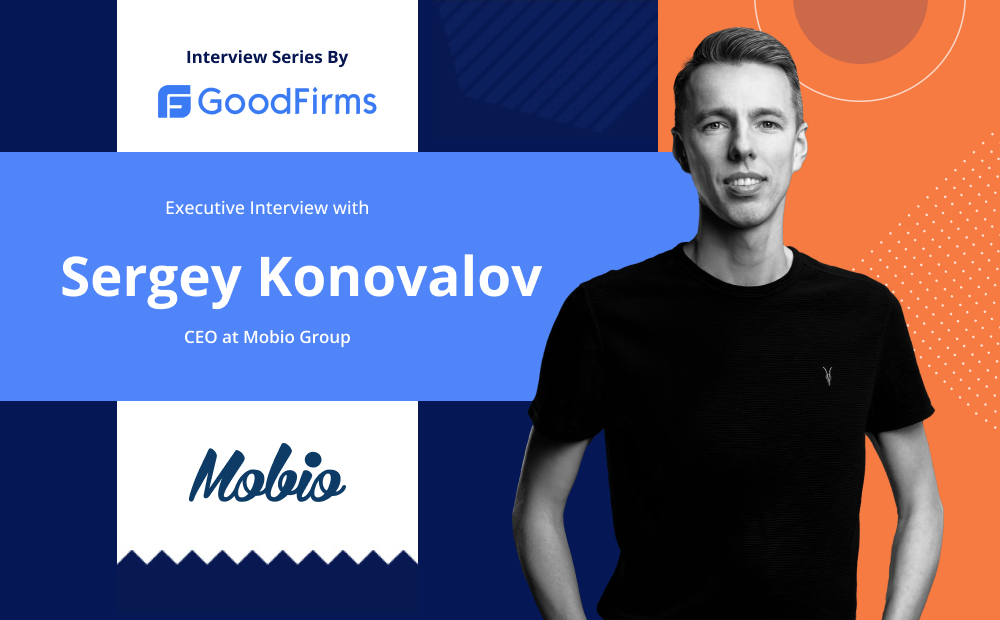 Mobio Group is a mobile app marketing agency specializing in building apps for startups and helping them scale up their businesses to grow their revenue and conversions quickly with high-end efficiency. For more than 10 years, the company has been dedicated to delivering impeccable digital marketing and advertising services to small, medium, and large enterprises.
Mobio Group includes more than 80 senior specialists who made more than 10 million app downloads possible for their clients. The company has worked with different industries, including health & fitness, FMCG, eCommerce, FinTech, travel & tourism, crypto, entertainment, and more. Being such a prestigious company, Mobio Group has been listed as one of the top digital marketing agencies in the UK.
The GoodFirms team interviewed Mr. Sergey Konovalov — CEO of Mobio Group. Let's go through the synopsis of this interview to learn more about the company and its achievements.
Introducing Mobio Group and the CEO's Role in it
Mr. Sergey Konovalov explained that Mobio Group is an international growth marketing agency specializing in promoting mobile apps on a global scale. They are headquartered in the United Kingdom and have their offices in Silicon Valley (USA). He added that Mobio Group has been helping startups and large companies increase their conversions and revenue by marketing their mobile apps effectively. They have 5 primary services that include user acquisition, mobile retargeting, in-app advertising, ASO, and growth marketing. Mr. Konovalov said that his only goal is to create an inspiring work environment wherein they can achieve new heights and continue to lead their mobile app marketing niche.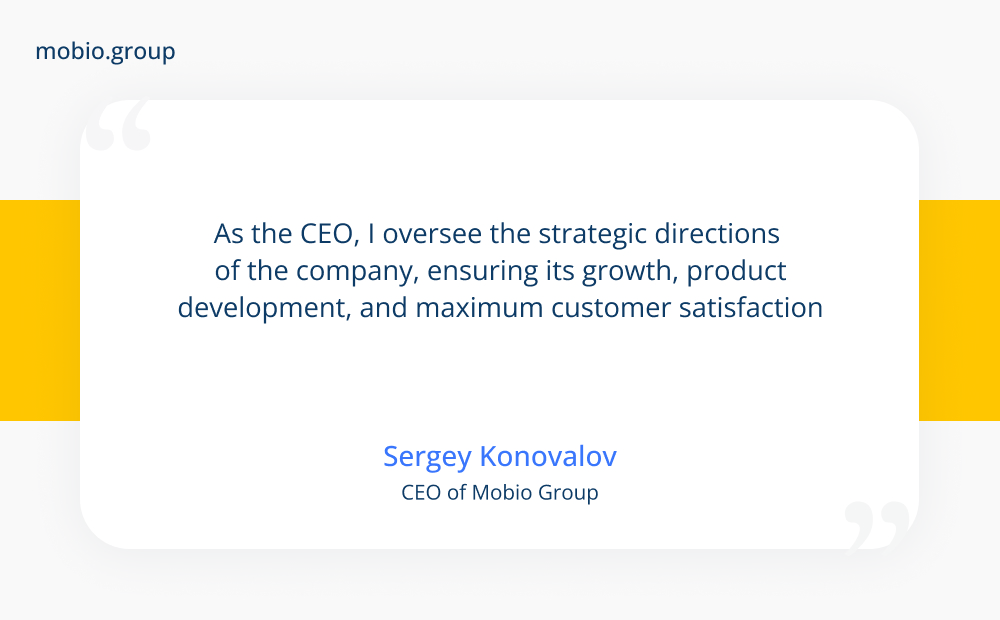 Story Behind Formation
Mobio Group was launched with the desire to create something innovative and meaningful in the mobile advertising business. Mr. Konovalov said that he was inspired to embark on this journey through many years of experience and knowledge in digital advertising. He had his 21 years of career, which included launching 5 businesses, including a web studio, a payment system, imports, and even startups.
In 2013, Mr. Konovalov and a partner launched Mobio Group with a clear goal of innovating, transforming, growing, and adapting. Due to their dedication and hard work, the company became successful and resilient on the global stage. Since 2020, Mobio Global has been a subsidiary of a technology-based group — Vox Valor Capital Limited, that focuses on companies through digital marketing and advertising.
Business Model and Outsourcing Methodology
Mobio Group has an in-house team of 80+ experienced professionals, which helps them maintain a high level of control over processes and quality. Their business model allows them to react promptly to market changes. At the same time, they are also currently operating in a "remote-friendly" environment. As they have offices in the US, UK, and Europe, all their employees are allowed to work from the location of their choice. This ability also helps them to attract talent from different countries. At present, Mobio Group consists of professionals from more than 15 countries worldwide, allowing them to expand their vision and achieve outstanding results.
Competition
Mobio Group stands out from competition because of several aspects like dedication, intelligent strategies, and new technologies adoption. They are always ready to dive into deeper product work including improving activation, conversion, retention, and customer lifetime value. All these aspects allow them to implement a long-term and in-depth strategy that delivers more significant value than isolated work on advertising campaigns.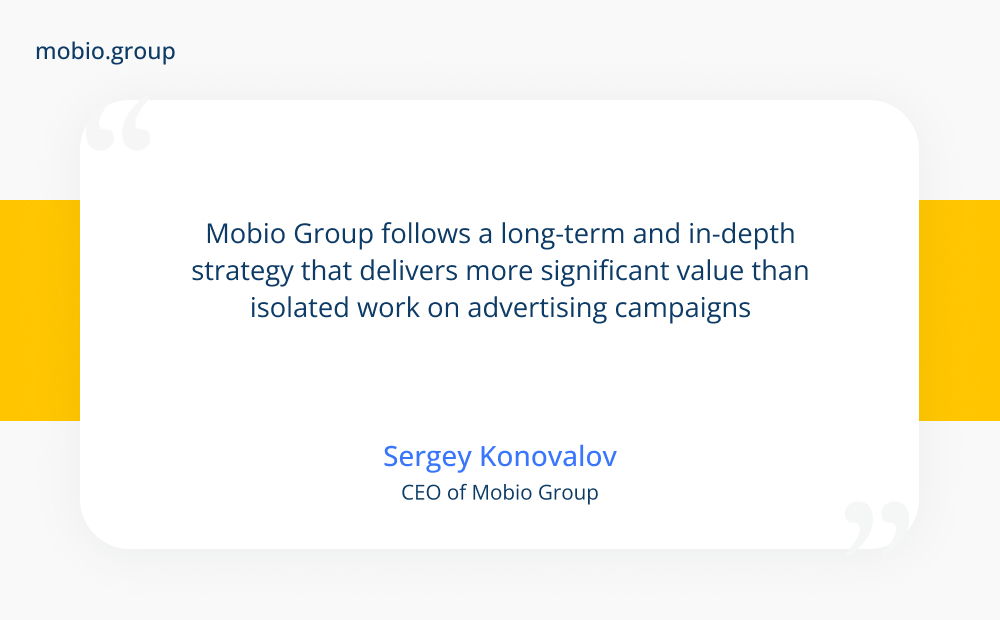 Clients and Retention
Mobio Group serves diversified industries that rely on their mobile applications. The industries that they serve include finance, entertainment, telecommunications, eCommerce, health and fitness, and more. Mobio Group follows a customized approach towards each of its clients and thus is successful in retaining them. Some of the successful brands Mobio Group is associated with include – Aliexpress, Burger King, Jiffy, Herocraft, Storytel, Leroy Merlin, Playtika, Gett, Clear Minds, and many others. When it comes to retaining clients, Mobio Group has proven itself to be maintaining stable and long-term partnerships.
Best-Selling Services
Mr. Konovalov said that their best-selling services include growth marketing via AARRR & HADI approach, user acquisition, app store optimization, creatives production, audit & consulting, and mobile retargeting. He also added that their 80+ experienced app promotion specialists help them find the optimal solution for growth, building predictable expansion, and scalability through these 7 best-selling services.
Customer Satisfaction Rate
Mr. Konovalov feels pride in saying that customer satisfaction is the key indicator of his company Mobio Group's success. The company maintains a high level of customer satisfaction, resulting in long-term partnerships and continuing business. Also, they conduct surveys annually among their clients, which shows that they highly value the company's work. The positive evaluations from clients motivate the company to improve its services consistently.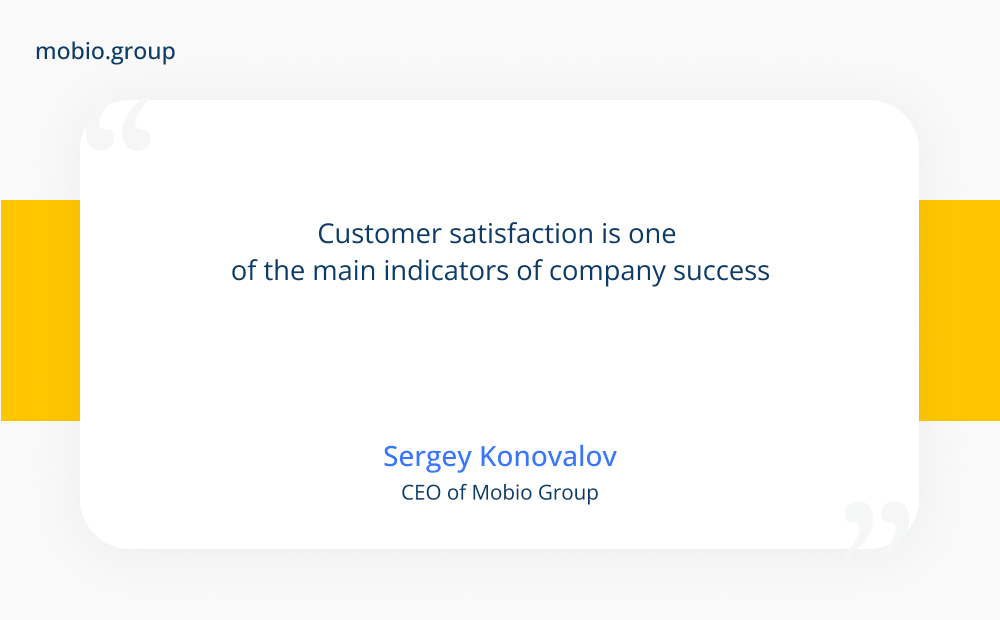 Customer Support System
Mr. Konovalov said that customer support is one of the most essential processes of their company and it is looked after quite intricately. They provide accurate and comprehensive support to their clients at every stage of their collaboration, ensuring a reliable partnership and high-quality results. They value their customers, understand their needs, and accordingly provide customized solutions that help problems get solved.
Payment Structure
Mobio Group follows a flexible approach towards payment structure aligning with the needs and expectations of each client. Also, the payment structure depends on the services clients have selected. When it comes to consulting services, they have some fixed costs, but in the case of contractual services, they have monthly and yearly payment structures.
Stages of Development
The company primarily works with clients at three primary stages of development – Seed-stage startups, Mature-stage startups, and large companies and brands.
For seed-stage startups, the project budget starts from $10,000 per month, and the goal is to find the perfect market fit and ensure revenue flow for newly launched companies.
For mature-stage startups, the project budget starts from $50,000 and is for companies yielding around $200,000 in revenue and wanting to overcome growth barriers and generate more revenue. For large companies and brands, the project budget starts from $500,000 per month for companies requiring comprehensive mobile marketing, ensuring client's profitability and KPIs are met.
Company's Minimum and Maximum Budget Requirements
In 2022, Mobio Group collaborated with a diverse range of projects for small startups and large enterprises. They focus on providing an optimal balance between cost and quality. Mr. Konovalov said that as per their company's policy, they don't disclose the project budget information.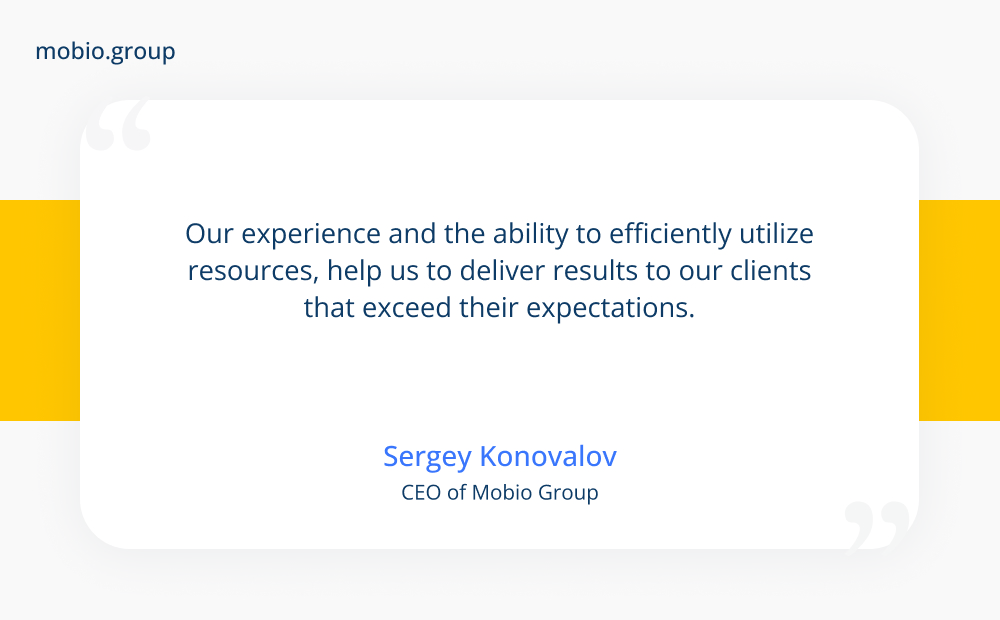 Future of Mobio Group
As per Mr. Konovalov, Mobio Group plans to become the #1 growth partner in Silicon Valley for all global startups, be a leading international AdTech Group, and get into developing and publishing mobile applications besides marketing them.
You can also go through this detailed interview on GoodFirms.
About GoodFirms
Washington, D.C.-based GoodFirms is an innovative B2B Research and Reviews Company that extensively combes the market to find business services agencies amongst many other technology firms that offer the best services to their customers. GoodFirms' extensive research process ranks the companies, boosts their online reputation, and helps service seekers pick the right technology partner that meets their business needs.
About the Author
As a Content Writer at GoodFirms, Anna Stark bridges the gap between service seekers and providers. Anna's dominant role is to figure out company achievements and critical attributes and put them into words. She strongly believes in the charm of words and leverages new approaches that work, including new concepts that enhance the firm's identity.