The Night of the Ad Eaters: Creative Trends | Mobio Group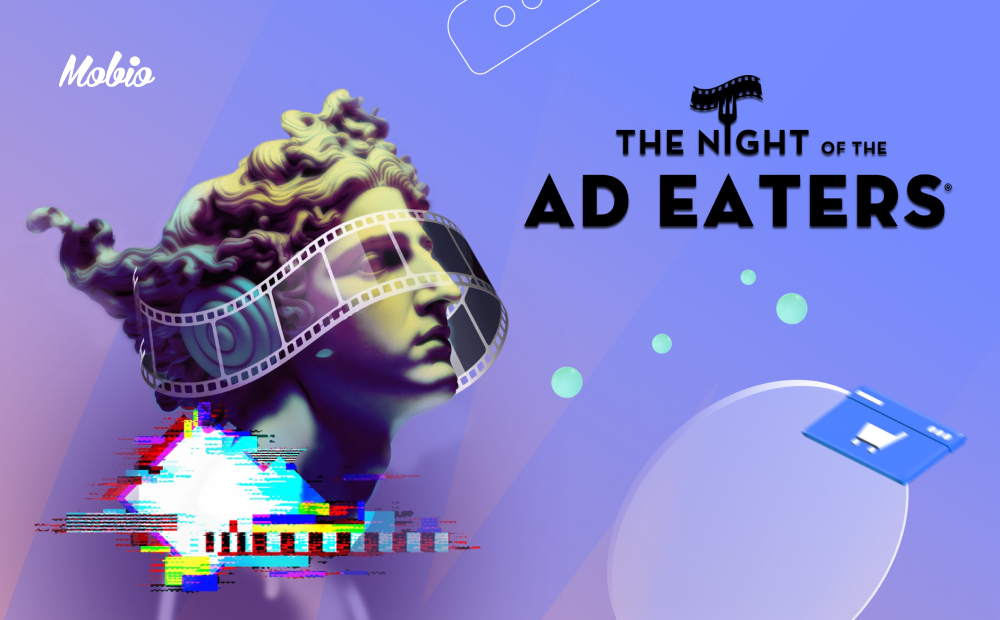 The Night of the Ad Eaters is a fascinating event that for one night turns movie screens into art galleries, showing commercials not as mere advertisements, but as masterpieces. The initiator of this unique project is Frenchman Jean Marie Boursicot. Jean Marie Boursicot is the owner of the world's largest collection of commercials "Cinemateca" (now it is located in Switzerland) and the inspirer of the brand "The Night of the Ad Eaters" (French: La Nuit des Publivores). In this article, Mobio Group will talk about a key event that brings together the worlds of marketing and art.
In 1981, "The Night of the Advertising Eaters" premiered at the iconic Kinopanorama theater in Paris. The audience was presented with a selection of commercials from 1935 to 1981. The success of this premiere opened the way for two more night shows in Paris the following year, and the rapid growth of their popularity showed that the "The Night of the Advertising Eaters" is capable of becoming an international sensation. Today it is a major international project, annually gathering audiences in more than 70 countries around the world. From Switzerland to Japan, from the United States to Morocco, viewers meet to watch commercials turned into artistic value.
Indeed, modern advertising can become an impressive spectacle, a true work of art, akin to an artist's canvas or a fine piece of jewelry. And it's not just about multi-million dollar productions with extravagant sets and popular actors. Some commercials, created without spending a lot of time or resources, but with passion, are able to touch something deep in our hearts. This is exactly the kind of advertising that Jean Marie Boursicot collects. He shares with the world, personally selecting 400 videos from his vast collection year after year.
Like a true Frenchman, Jean Marie Boursiquot is unpredictable, and that's what makes him interesting. The intrigue lies in the fact that no one knows all the surprises that the next "Night" holds in store. No one can predict it. There may be both iconic brand videos with famous actors and unawarded advertising creatives of small companies. But it is absolutely certain that they all have in common — the emotions of viewers and their impression of the videos, which can be touchingly sentimental, and shocking, and incredibly funny.
For advertising creators and creatives (including our Mobio Group team), this event is a reminder that the craft of advertising can go beyond the commercial aspect and be appreciated as an art object or artistic creation.
For creative individuals, agencies and enthusiasts, keeping track of such events not only brings new inspiration, but also allows them to:
Deepen their creative potential. A host of unconventional, bold and boundary-pushing commercials allow you to see innovative storytelling techniques. Also you can see unique visuals and atypical approaches to advertising.
Get acquainted with different styles and understand what resonates with audiences around the world, as advertisers from different countries and cultures take part in the "The Night of the Advertising Eaters".
Learn from successful campaigns to connect with your audience on a deeper level.
Explore bold and thought-provoking concepts that will lead to pushing boundaries and exploring out-of-the-box ideas.
Identify emerging trends and themes in advertising.
While "The Night of the Advertising Eaters" typically features commercials characterized by an off-the-beaten-path plot twist and an original approach to presenting creativity, it is still possible to identify key trends that dominate commercials year after year:
• The use of media personalities or famous characters
It is not a new technique, but it continues to bring success to the creators of advertising. Although advertising can be annoying, interjecting itself into the most interesting moments of sports broadcasts, movies or shows, competent advertising agencies mitigate these negative emotions by captivating the audience with charismatic personalities and making the brand story truly memorable.
The list of stars who have appeared in commercials includes actors, musicians, and athletes. Among the names:
J. K. Simmons (Farmers Insurance Group museum),
Dean Winters (Allstate),
Isaiah Amir Mustafa (Old Spice),
Colin Ferguson (Maytag),
Jake Wood (Martin The GEICO Lizard),
Sharon Stone (William Lawson's),
Johnny Depp (Dior),
Monica Bellucci (Dolce & Gabbana),
Bruce Willis (MegaFon),
Sylvester Stallone (Russian Ice).
Even 6 presidents starred in the commercials:
Nicolas Sarkozy (France) advertised Bonux detergent as a child;
Václav Havel (Czech Republic) donated a car earned from AAA Auto ads to his charity;
Barack Obama popularized the Obamacare medical program;
Ronald Reagan promoted Chesterfield cigarettes as a young man;
Mikhail Gorbachev supported his public activities with royalties from Pizza Hut and Louis Vuitton commercials;
Donald Trump, who promotes not only the products of his own business but also other brands (Macy's, Pizza Hut, Visa).
Just as often as the use of celebrities, "Night" commercials feature well-known characters such as Santa Claus, Dracula or superheroes. The ad creators use buffoonish techniques to use such symbolic figures in ridiculous and unconventional circumstances for these characters. Kapten (formerly Chauffeur Privé, France) delighted viewers with a hilarious commercial. They attracted users to its mobile cab app by using the famous image of a clown to create a comical situation.
• Engaging the audience in the experience
Sentimental and touching commercials resonate with viewers. While advertising agencies often use this technique in social advertising, commercial giants are also taking advantage of this powerful public relations opportunity. Reflecting this concept, mobile operator TrueMove H (Thailand) has collected more than 11 million views. "Giving is the best communication" — commercial, which is based on a true story (it is possible that this statement could also be thought-out marketing move). But whatever the case, the audience was not indifferent.
• Involvement of traditional holidays and their symbols
Successful holiday commercials remain in the memory of millions of people, becoming an eternal tradition that you want to return. This can be a heartwarming story about family gatherings, and humorous videos with a comedic bias, and masterfully filmed mini-movies. The key to the success of such advertising is to evoke an emotional response — the essence of warmth and festivity, which makes advertising memorable.
Unlike regular commercials, holiday ads don't always have to directly call to action. On the contrary, it aims to strengthen the connection with the audience by conveying warm wishes and congratulations. It increases trust and brand recognition. Some of the greetings presented at the event can only be appreciated by viewers with a strong sense of humor. An example is an epic video produced by CakeFilm:
The Christmas theme is so good in advertising that rarely has a brand not used it to stimulate its business. For example, Lidl, a German chain of discount supermarkets distributed across Europe, launched the #LidlSurprises marketing campaign with a series of Christmas commercials that garnered more than 10 million views. Within four weeks of the campaign's launch, Lidl's Twitter followers doubled and overall online buzz around Lidl increased by 40%.
• Emphasizing the environmental friendliness of the product
Emphasizing the environmental friendliness of a product is a strategy that can greatly enhance the impact of advertising on viewers, especially European viewers. By demonstrating a product's eco-friendliness, advertising not only attracts a growing audience, but also creates a sense of responsibility. A focus on sustainability can build consumer loyalty. In addition, this approach reflects the brand's commitment to making a positive impact on the planet, fostering a deeper emotional connection with the audience.
That's exactly what the marketing team at KIA, a well-known Korean automaker. They did with its engaging "Hero's Journey" commercial. In this commercial Melissa McCarthy's character gets into unusual and curious situations while advocating for a clean and green environment. The creativity of the advertising approach also becomes obvious when we get into the meaning of the name of the crossover Niro. Niro originally encoded the phrase "near zero", indicating the low level of CO2 emissions of the new car. This commercial was shown during the prestigious Super Bowl game, where just one second of airtime is one of the most coveted spots on American television.
• Breach of traditional perception standards
A complex mix of incongruities and contrasts is often the hallmark of commercials shown at Ad Eater's Night, where advertisers choose to break free from the chains of conventional norms. The commercials become a platform to showcase bold creatives that challenge the viewer's perception and combine seemingly unrelated ideas and visuals to create a narrative that transcends the ordinary.
Organic products manufacturer Herbaria breaks all the traditions of the tea industry by advertising its sedative tea using techniques commonly used in thriller movies. Sedative tea commercials are the last thing that can cause nightmares, but a commercial called "Fears" breaks all stereotypes.
• Emphasizing full interaction with the audience
Creativity that revolves around demonstrating sincere alertness and concern for the customer is always in demand. When advertising goes beyond mere product promotion and delves into meeting customers' needs it always resonates with the audience.
Durex likes to create excitement with its marketing campaigns, which is not surprising because of the specificity of the product. The brand has created a mobile app that allows users to order the company's products in emergency cases. Users can order the company's products to the geographical location where they is located. In the commercial, Durex emphasizes that in addition to the speed of delivery (within an hour), the company is careful and attentive to the feelings of its customers, helping them to avoid awkward situations.
• Surprise endings
The key to successful commercials often lies in talented creativity and the art of creating unusual and unexpected endings. Brands that master the art of storytelling that ends with an unexpected twist stand out in a sea of conventional advertising. The element of surprise in final scenes elicits an emotional response, ensuring that the commercial stays in the minds of viewers long after it's over. By straying from predictable narratives, brands are achieving international recognition, such as We Cry Together: A Short Film, which won the Grand Prix in the Film Craft category at Cannes Lions 2023 (see our Cannes Lions 2023 overview).
In Night of the Ad Eaters, the contrast between a calm narrative and a completely unexpected denouement is the key to winning the praise and hearts of the audience, who are enthralled by the unforeseen final plot twist that defies all expectations. At the same time, viewers are often unaware until the very end of the commercial of the advertised brand or the product it offers.
It is hard to guess, for example, that a commercial with a sweet old lady who had to die several times and for various reasons in order to rise again, serves to promote a job search service. An ad with the slogan "Leave Grandma alone. Find a job that you like" plays on the overused excuse, calls to stop making up excuses for absenteeism, let grandma rest in peace and find a job that you would like to go to with pleasure.
It's also hard to guess which brand is behind the dark and terrifying atmosphere of the German video for "The Exorcist". The video charms with its unpredictable ending.
• Humor
Laughter is a universal language that unites people. Throughout the entire series of commercials of the Night of the Advertising Eaters, humor is woven into each commercial to varying degrees be it comedic farce, irony, satire or black humor. It defies conventional advertising norms, making the audience react to the unexpected, thus leaving an unforgettable trace in their minds. Both small companies and business giants resort to the use of black humor.
Many funny videos, especially with the use of "toilet humor" would be appreciated by the children's audience. But we should not forget that the "The Night of the Advertising Eaters" is held under the sign of 18+.
If you are interested in this event, the next event will be held in September 2023 in Buchereste, Romania. The organizers promise a premiere screening where legendary French ad film collector Jean Marie Boursicot will present a new selection of commercials from around the world. Some clips (Samsung and Aldi) are already in the announcement:
Mobio Group team is passionate about creative ideas and we keep our finger on the pulse of advertising trends. We are experts in our field and work to take your brand to new heights. Contact us and let's create something extraordinary together!