Uninstalling Apps: Challenges & Solutions | Mobio Group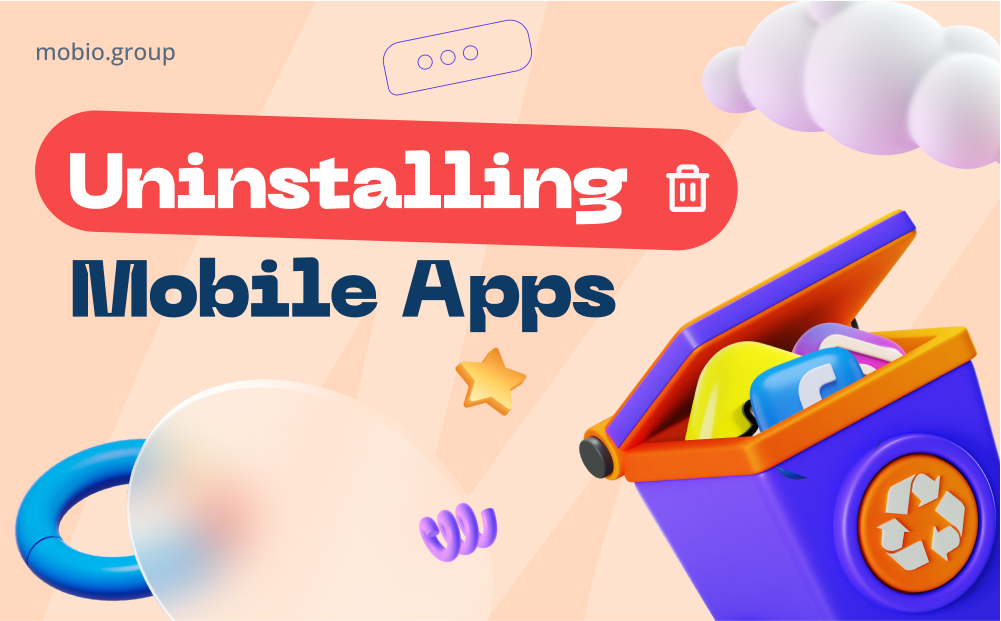 Mobile apps have become an integral part of our daily lives. The number of hours spent in gadgets, the number of app downloads and active users continues to grow. However, it is crucial to take a step back and examine the other side of the coin that needs our attention: the growing number of uninstalled apps and the declining user retention rate. So why are users uninstalling apps? In this article, Mobio Group will look at the prevailing trends and statistics on app deletions, as well as the main reasons for the decline in engagement.
The Growing Number of Active Users and App Downloads
Whether it's entertainment, social networks or e-commerce, apps are demonstrating a dynamic of steady growth. With a significant increase in the number of downloads, statistics show a steady increase in the number of active app users on various platforms and in Stores: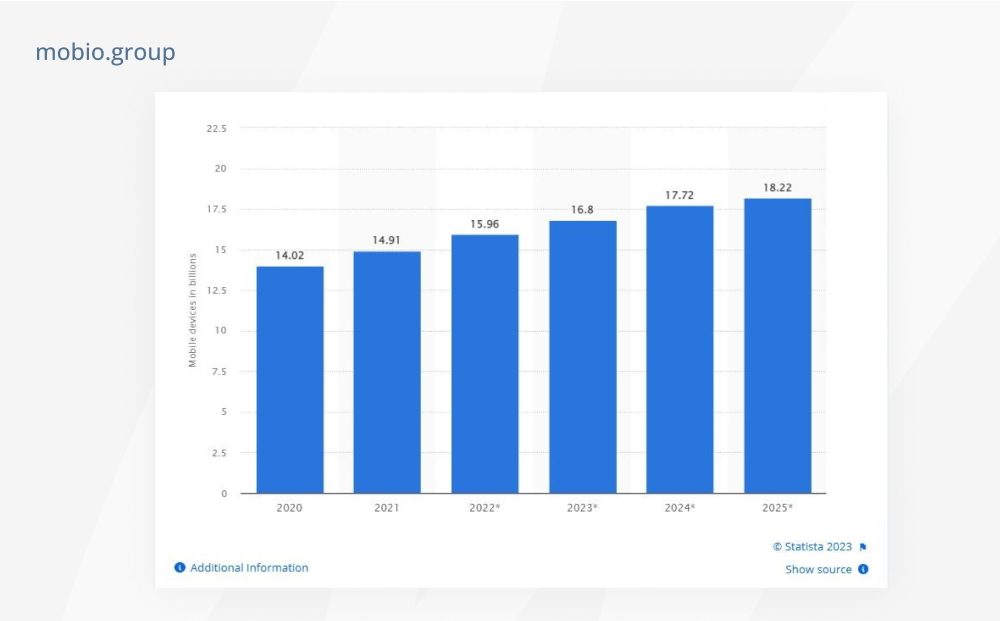 Statistical services confirm the development of the digital market and provide positive data: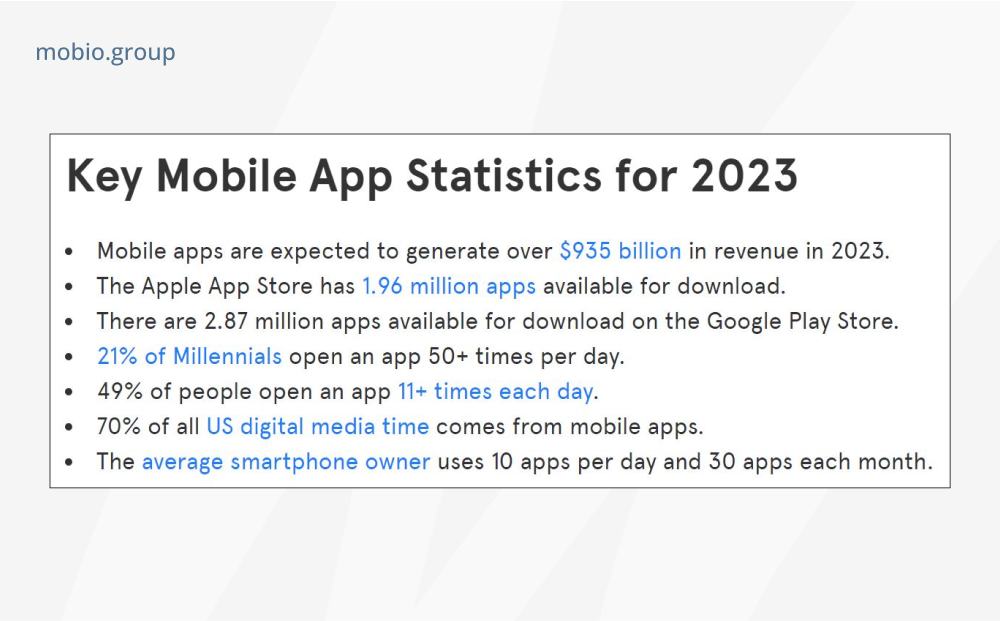 Users are eager to explore new apps, innovate features and improve their digital experiences. Nowadays the stores are overflowing with options to suit a wide range of interests and needs. Top apps are racking up hundreds of millions of downloads: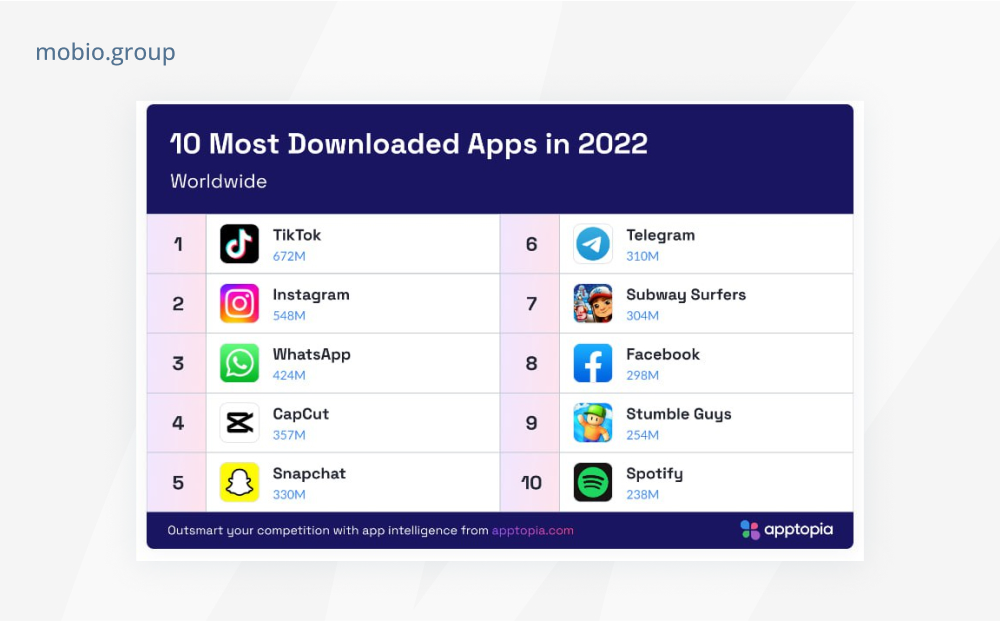 Growing Number of App Deletions
However, an app's success is determined not only by the number of downloads or active users. Success its app ability to retain users over time. The same leaders in the number of downloads remain at the top and in the number of app uninstalls: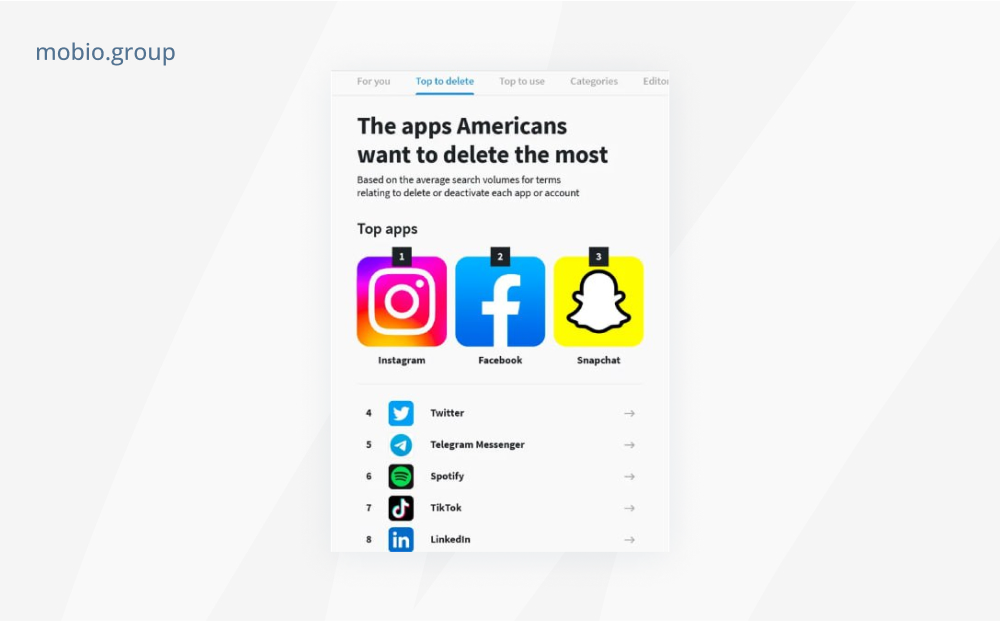 Almost every other downloaded app in 2022 was uninstalled by users within 30 days. Appsflyer cites a figure of 49%. Gaming apps account for the most deletions (66%), with Travel apps having the lowest rate (31%).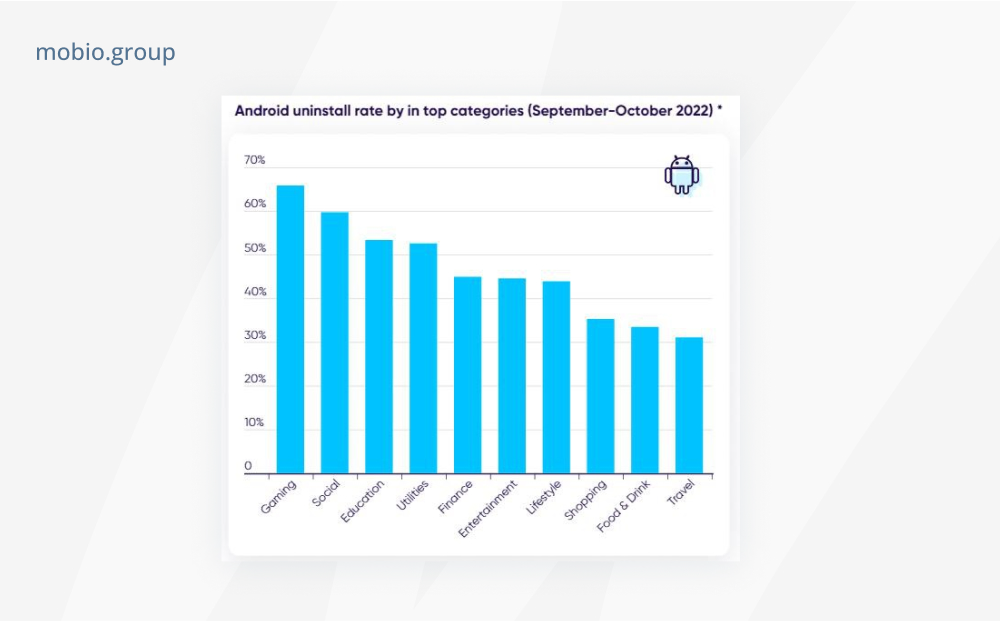 Statistics and Benchmarking
The first month after installation is critical. Nearly half of all deletions (49%) occur within the first 24 hours. Financial apps, compared to other app categories, show the highest first-day abandonment rate, 27% higher than the average for various verticals.
The retention rate on day 30 after installing mobile apps varies significantly across categories:
news — 11.3%,
business — 5.1%,
shopping — 5.0%,
Food & Drink — 3.7%,
entertainment — 3.0%,
games — 2.4%,
education — 2.1%.
Overall user retention results for the 30-day period according to Adjust: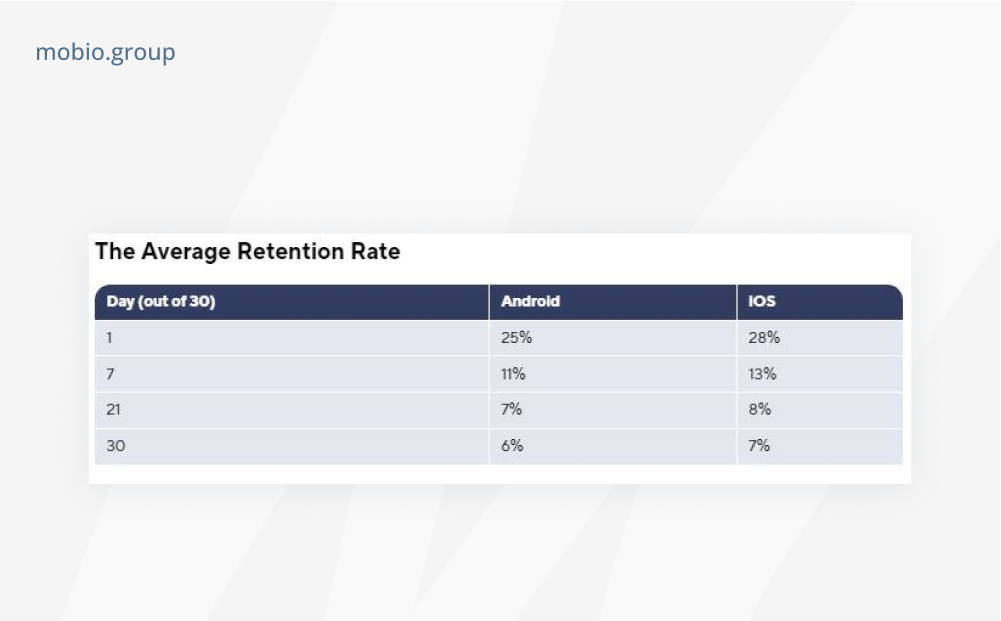 Appsflyer looks at this figure over three years: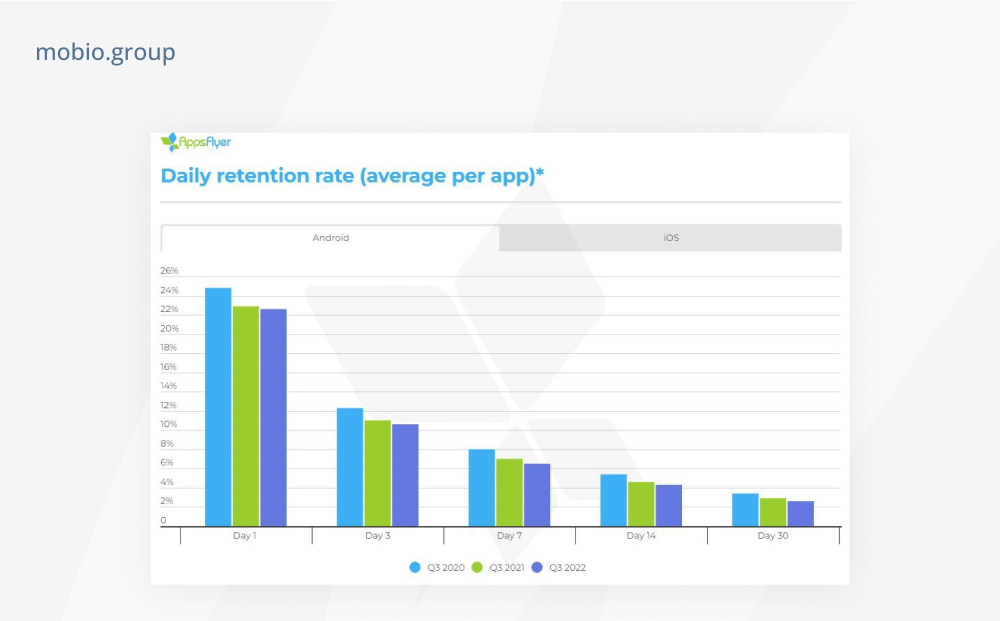 Despite the positive growth trend of app downloads, retention rates are deteriorating significantly compared to previous years. Over the past three years, there has been a decline in the key 30-day user loyalty metric in the categories: photography (-31.8%), finance (-23%), gaming (-20%), entertainment (-16.7%), social media (-15.2%), shopping (-12.3%) and travel (-11.8%). Compared to 2020, apps in the business, health and fitness, education, and music categories show an 8-15% increase in retention rates on Day 30.
iOS apps vs. Android apps remain stable with slight drops in 2023 vs. 2020. iOS app retention dropped 1.5% on day 14 and changed from 4.5% to 4.3% in retention on day 30.
In terms of user retention globally, Japan leads the developed world with a 30-day retention rate of 5.1%. On the other hand, developing countries such as China, Brazil, India and Vietnam showed significantly lower retention rates of 2% or less on Day 30. Lower rates in densely populated regions indicate that widespread use of gadgets does not automatically lead to higher retention.
Among the leaders in deleting Android apps are Argentina (51.8%) and Turkey (51.4%). In Germany, 40.4% of downloaded apps are deleted, in the US — 36.4%, in the UK — 33.4%.
Analysis Tools
Understanding why and when users uninstall an app is critical. By analyzing the stage at which deletions occur using calculated metrics, you can optimize your promotional strategy to increase user engagement and ROI.
The uninstall rate refers to metrics for engagement analysis. Tracking systems (AppsFlyer, Uninstall.io, Google Play Developer Console, MoEngage, QGraph, Vizury, CleverTap and others) help track app removal and calculate the removal rate over a certain time period using the formula:
Uninstall Rate = Uninstalling an App / Installing an App * 100%
Uninstall Rate should be < 100%
Incorporating removal tracking into your app store optimization (ASO) strategy is important, but there are other metrics to consider in your analysis.
Retention Rate is a coefficient that determines the percentage of users who continue to use the app for a certain number of days after installation. The formula: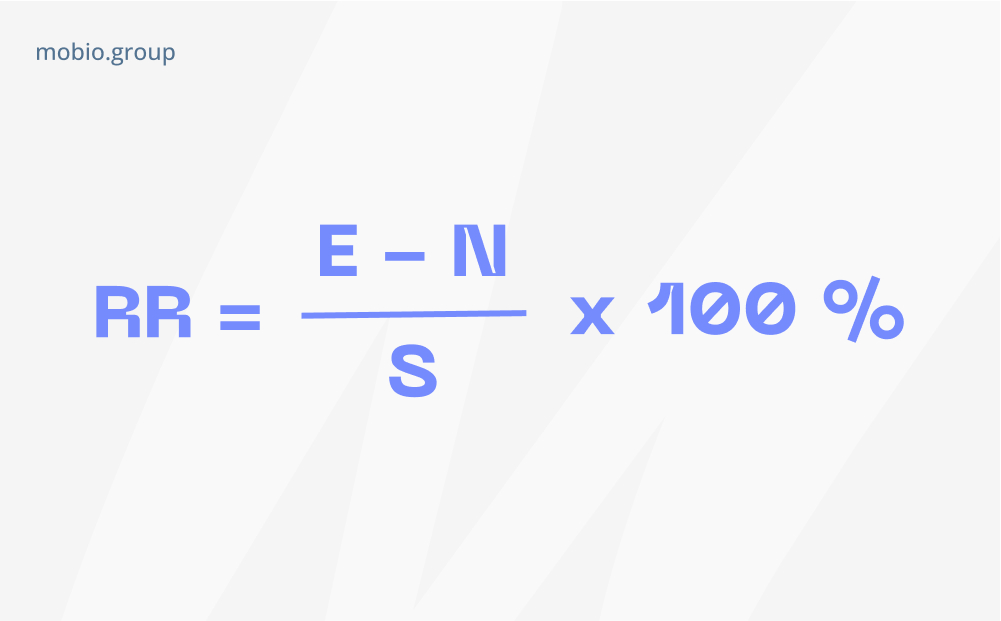 S — number of clients at the beginning of the calculation period; E — number of clients at the end of the period; N — number of new clients for the period.
Churn rate — the churn rate, represents the percentage of users who stop using the app for a given period of time. The formula is:
Churn rate = (S − Е) ÷ S × 100% or Churn rate = 100% – RR
Revenue churn, NPS loyalty index, RPR repurchase rate, LTV lifetime customer value are also indicators of user retention. By tracking these values at different stages of the funnel, app owners can make informed decisions to improve user interaction and promotion strategies.
Top 10 Reasons to Uninstall Apps
It is almost impossible to prevent apps from being uninstalled, but it is possible to take proactive actions to minimize them. To do this, you need to understand the reasons for user disinterest. By analyzing the motives for deletion, app owners can gain valuable information and develop effective strategies to increase retention. Based on our years of experience, we have gathered the main factors that motivate users to delete or not use the app.
⦿ Low performance and stability
If an app is slow, frequently crashes, or contains bugs, users are likely to uninstall it. A slow app with constant bugs undermines confidence in the quality of the app.
⦿ A complicated user interface
A confusing or unintuitive interface causes the user to quickly lose interest.
⦿ Lack of desired features
Users have certain expectations, and they will refuse to use an app if it cannot provide the features they're looking for or doesn't match what competitors offer.
⦿ Excessive battery and resource consumption, large app size
If an app quickly drains your device's battery or uses too much storage space, users can remove it to preserve the performance and longevity of their gadget.
⦿ Privacy and security issues
In an era where privacy and data security are of paramount importance, users are cautious about giving permission and sharing personal information.
⦿ Limited offline capabilities
Apps that rely heavily on an Internet connection and do not provide sufficient offline capabilities may lose users who are looking for functionality even in offline scenarios.
⦿ Lack of integration with other platforms
If an app doesn't sync or interact well with other apps or platforms, users may find it inconvenient and choose alternatives that offer better integration.
⦿ Poor adaptation and user guidance
If the app lacks a smooth adaptation process or does not provide clear instructions and guidance, users may feel lost or confused, leading to frustration and potential deletion.
⦿ Lack of incentives for user loyalty
If an app doesn't offer enticing rewards or loyalty programs, users may not be motivated to continue using it and may remove it in favor of apps that provide greater benefits.
⦿ Excessive advertising and invasive monetization
Although advertising is an integral part of many free apps, excessive and intrusive advertising can be a nuisance. When users feel they are inundated with ads that interfere with the app, removal is more common. Finding the right balance between monetization and user experience requires special attention.
Effective Strategies for Long-term User Retentionin the App
It is not enough to simply keep users from deleting an app, it is important to implement effective strategies that promote long-term retention, because keeping users active is not a sprint, but rather a long marathon. The following methods can help build and reinforce a loyal audience:
⦾ Thoughtful ad placement
Avoid intrusive ad formats that interfere with app usage, and give users the option to remove ads through in-app purchases or subscription models.
⦾ Offer in an advertising campaign of premium features
An ad campaign for exclusive privileges or enhanced features motivates users to become active and invest in the app. These premium features can include access to additional content, enhanced tools, or priority customer support. Such offers not only provide additional value to users, but also create a sense of exclusivity and reward, strengthening the connection and encouraging users to remain loyal and continue using the app.
⦾ Using user-generated content (UGC) as an advertising tactic
When users see content that resonates with them, they are more likely to interact with the brand, send it to their friends or comment (more in our article).
⦾ Maintaining interest with creative advertising
More details in our article.
⦾ Applying, advertising and announcing loyalty programs for active users
Loyalty programs are a powerful tool for companies to retain customers with bonuses, discounts and gifts.
⦾ Using personalization and user experience (UX)
Data on buying habits and individual user preferences creates a solid base for retention in the app.
⦾ Contacting the user through push notifications and reminders
By delivering timely and relevant messages directly to users' devices, push notifications serve as a powerful tool to re-engage and remind users of the value of the app.
⦾ Reactivation of users via messengers, e-mail or a phone call
⦾ The use of advertising campaigns on different channels
This will increase the likelihood of attracting the attention of users who have lost interest in the app.
While the growing number of active users and app downloads may paint a rosy picture, statistics show that users are increasingly deleting apps. This phenomenon poses a serious problem for developers and app owners. Users are becoming more discerning, making informed choices about which apps stay on their devices and which don't. This trend underscores the importance of not only attracting users to install an app, but also engaging them enough that the app remains installed and actively used for a long time.
With the knowledge and experience of our advertising agency team, we develop strategies that help ensure the long-term success of our clients' apps. Our goal is to maximize user retention and engagement, and therefore increase ROI for our clients. Trust our agency Mobio Group to run your advertising campaigns and pave the way for sustained success in the competitive app market.