Custom Store Listings: Google Play Mastery | Mobio Group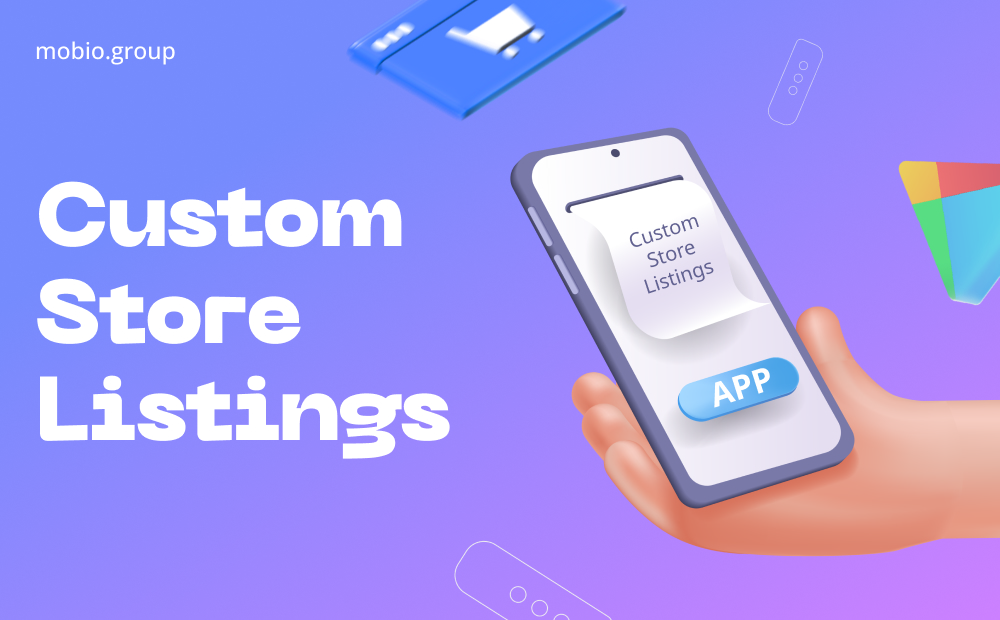 Recently we discussed about Custom Product Pages (CPP) in the App Store, which gives you a chance to greatly enhance your ASO strategy for promoting IOS apps. Google Play has a similar feature called Custom Store Listings (CSL). CSL, or Custom App Pages, allow you to create alternative pages for your app on Google Play in order to personalize and tailor it for different audiences and thus increase the conversion rate.
While these tools are similar, there are significant differences that are worth paying attention to. In this article, Mobio Group experts will look at the features as well as how to use Custom Store Listings.
Features of Custom Store Listings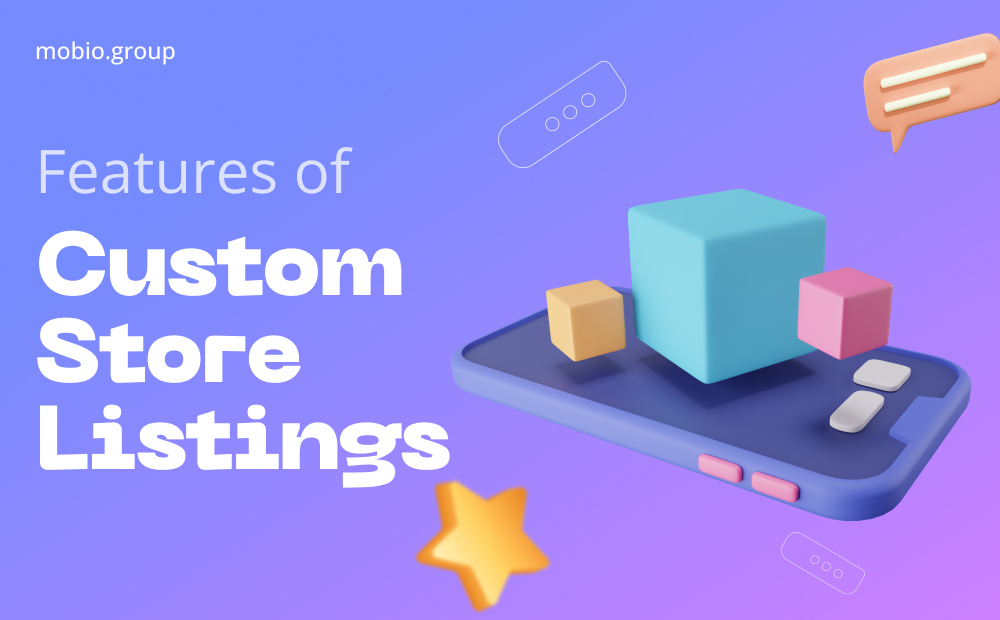 Unlike the App Store, Google Play allows you to change all the metadata of an app, including the icon and all the text. The only exceptions are the category, privacy policy, and contact information — these cannot be changed. This greatly expands the potential of the tool, as you can make app pages even more appealing to specific audiences.
Another difference from the App Store is the number of customizable pages. In Google Play, you can create up to 50 customizable app pages (the App Store has only 35). This allows you to segment your audience in more detail and deliver your unique offer to each segment.
But the most significant difference is the possibility of using custom pages not only in paid traffic, but also in organic output. And this is worth exploring in more detail.
Strategies for Using Custom Store Listings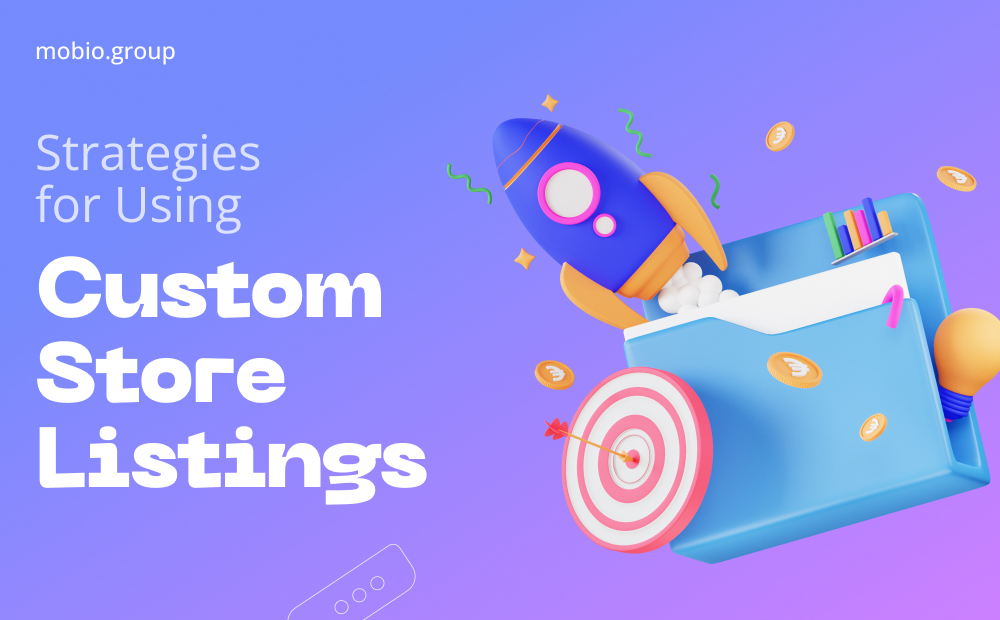 Custom Store Listings can be a powerful tool for both paid and organic app store optimization strategies.
⦿ Using CSL for paid traffic
As far as paid traffic is concerned, everything is clear and implemented in the same way as in the App Store. That is, special pages can be used in any traffic sources that have the possibility to embed URL links in their ads. Accordingly, the ways in which Custom Store Listings are applied are similar to CPP and are based on:
Highlighting certain features of the app to show users exactly the functionality they are looking for. For example, if a fitness app has many features, such as running and strength training, yoga classes, and meditation sessions, you can use CSL to create specific pages for each feature and direct users to the most relevant one based on their search queries.
Segment users by demographics (gender, age, etc.), geography, and other characteristics (e.g., users of certain smartphone models, former app users). You can make special pages, more personalized for men or young mothers, for residents of different countries, or you can set up targeting for users who have left the app and direct them to a page describing new features and functions of the app.
Conducting holiday or seasonal advertising campaigns and promotions. Using themed pages during the Christmas period with descriptions of holiday discounts can significantly increase the number of app downloads.
⦿ Using CSL for organic traffic
Organic traffic uses CSL in two ways:
Displaying specific pages for Pre-Release
Customizing app pages for user segments in different countries
The first allows you to show a dedicated page in regions where the app has not yet been released, but Pre-Release is running. This allows you to test the metadata and test new hypotheses without the risk of changing conversion rates in markets where the app has already been released.
But the main purpose of using Custom Store Listings in organic output is to customize the app page for the user segments in the selected countries. Previously, an app's localization options were limited to language selection. That is, users saw the app page in the language that was selected in their device settings. But, as we know, a particular language does not always mean a particular country, in many countries several languages are spoken at once, and some languages are so popular that people speaking them can live on different parts of the world and therefore have absolutely different needs and preferences. With CSL, it is possible to take all these nuances into account and personalize the application page as much as possible for such audiences.
Before we take a closer look at how to do this, we should keep in mind that there are two limitations when creating specialized pages on Google Play:
1. Only one dedicated page can be created for each country
However, a dedicated page can be used for multiple countries at the same time.
2. Special pages are not automatically translated
The default language is selected when a page is created, and its translation into other languages can be added manually.
How Custom Store Listings Help Personalize App Pages for Different Audiences
Now we can get back to our task. Let's say you need to personalize screenshots and app descriptions for people in Switzerland. Google Play has no language localization for this country. The most common language here is German (>60%), but if we do it with a regular German localization, the page will be visible to all German-speaking users in Switzerland, Austria, Germany and other countries.
Then we create a special application page for Switzerland and set German as the default language. In this case, German-speaking residents of Germany and Austria will see the main application page in German, while all Swiss residents will be directed to the special application page in German. But because Switzerland has a large population of people who speak French (>25%), in order not to miss out on this audience, the special page must be translated into French.
For the next example, let's move to Singapore. There, as we know, quite a few people use American English, but obviously they will have strong socio-cultural differences with people in the U.S. To get them interested, you would create a special page for the Singapore app that takes into account the interests and preferences of Singaporeans, set English as the default language, and add a translation of the page into Malay. Alternatively, you can make Malay the default language and translate the page into English. It is better to determine which audience is the most important to you and use it as the primary language.
Custom Store Listings allow you to target your audience based on the user's actual location. This feature is very useful when your app or game has location-based promotion campaigns.
Custom Store Listings allows you to maximally personalize the app for different audiences, and thus increase the conversion rate and, as a consequence, the ranking of the app in Google Play. Moreover, unlike a similar function of the App Store, this can be implemented not only with the help of paid traffic sources, but also in organic search. It is important to understand that in order to succeed with CSL, you need to pay attention to the research of the markets you are interested in, identify the characteristics and preferences of your audience and work out the keywords. Only then will you be able to properly design special pages and intelligently plan app strategies.
If you are interested in Custom Store Listings, but you do not know where to start — contact Mobio Group. Our specialists will perform the whole cycle of work — from market analysis to launching special pages at the highest level.