CR Cycle or How ASO, ASA and CPP Affect Each Other | Mobio Group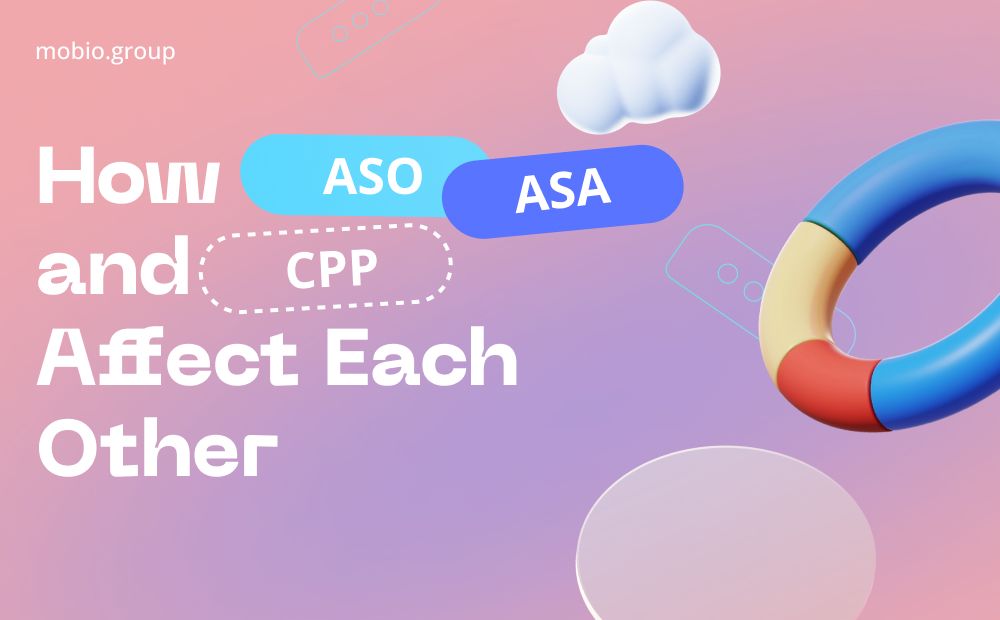 In previous articles, we looked at Apple Search Ads (ASA), ASO and Custom Product Pages (CPP), their capabilities and benefits separately. But it's important to understand that these tools are closely related and in order to get the best results in promoting an app in the App Store, it's necessary to synchronize their use. In this article, Mobio Group team will analyze how exactly these elements influence each other and how they affect the final result.
The Impact of App Store Optimization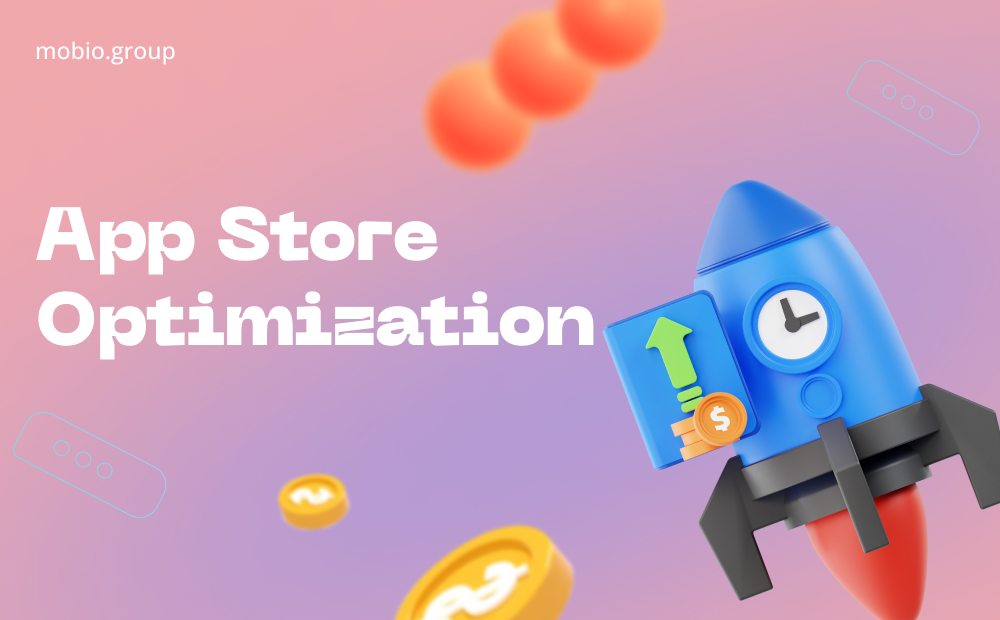 As we said before, ASO is the foundation of successful app promotion. And this applies not only to organic search, but also to Apple Search Ads campaigns. If users refuse to download your app, it does not matter how much money you spend on advertising and how many impressions you get. And vice versa, if the app ranks high in organic search for keywords, an ad campaign for those keywords will show excellent results, and the budget will be spent most effectively.
According to our observations, even small changes in the apps organic search position have a tangible effect on the results in the ASA.
You could say that ASO is the starting point for both ASA and CPP:
ASA gets primary data on audience and keyword performance.
Customized pages get some metadata that can't be changed.
ASO tools can also be used to find new queries to promote in ASA. Some of them allow you to find out what keywords competing apps are ranking for and getting installs.
The Impact of Apple Search Ads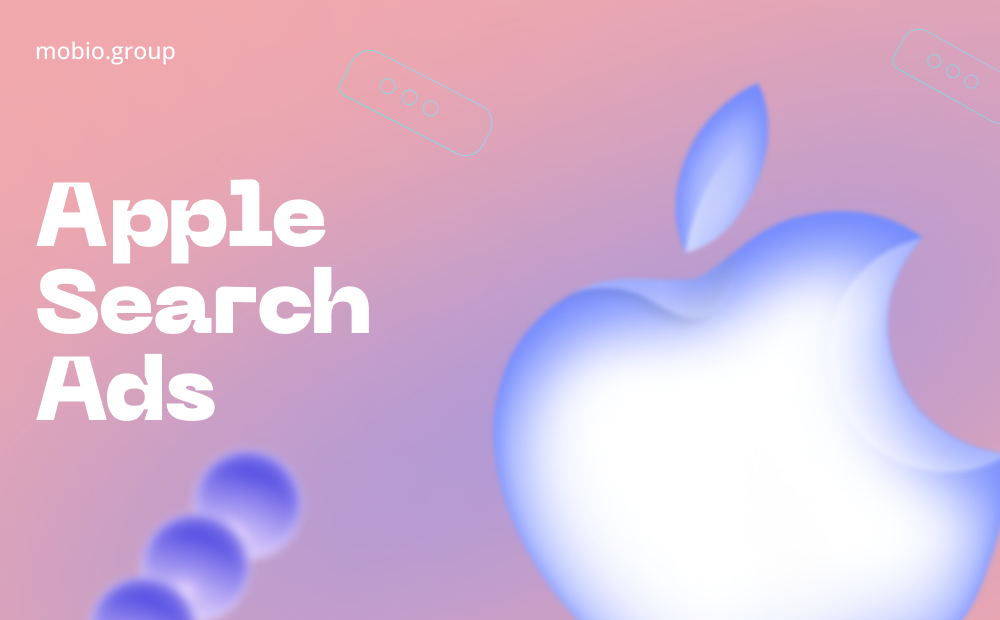 ASA, when applied correctly, helps to significantly improve ASO. Even just running ads in ASA by increasing the number of downloads can increase conversion rates, organic search rankings and keyword weights. But if you want maximum results, you need to look deeper into the connection between ASA and ASO.
You can distinguish two areas of influence of ASA: keyword search and optimization and increasing organic ranking.
1. Keyword Work
ASA is a valuable data source for ASO. You can add high-impact and well-converted keywords from an ASA advertising campaign to the apps metadata (header, subheader, keyword field). Using Search Match makes it possible to find new keywords. And running a small test ad campaign will allow you to assess the relevance of keywords, their conversion rate, and even LTV, if attribution tools are connected.
Analyzing this data provides insight into how you can improve your ASO strategy.
Another way to use ASA is to protect search traffic from competitors. By running ads for keywords that already have your app at the top of organic results, you can get additional downloads, because users will only see your app at the top of the search results and are more likely to download it rather than a competitor's app.
However, this strategy often leads to traffic cannibalization, which is when you pay for traffic that you would get for free from organic search. Traffic cannibalization itself is not always a bad thing, and in many cases can be justified.
For example, if your app and a competitor's app are similar and you run ads in Apple Search Ads using non-branded keywords, your app will take two lines in the top search results. This makes it much more likely that the user will download it. In that case, cannibalizing the traffic can be justified.
But running ads with cannibalized traffic for branded queries is unlikely to give you any advantages. Because the user has a pretty clear idea of what app he needs, and the likelihood that he will confuse it with another one is low, especially if they are very different visually.
It is also important to assess the degree of traffic cannibalization. To do this, you need to compare the number of first downloads of the app from search (in App Store Connect — App Analytics — First-Time Downloads metric with a filter by Search source) with the number of new installations of the app from ads (in searchads.apple.com cabinet — New Downloads metric).
If the app has a sufficient number of installs from ads, but this has no effect on the number of first downloads of the app from search, it means that the degree of traffic cannibalization is very high.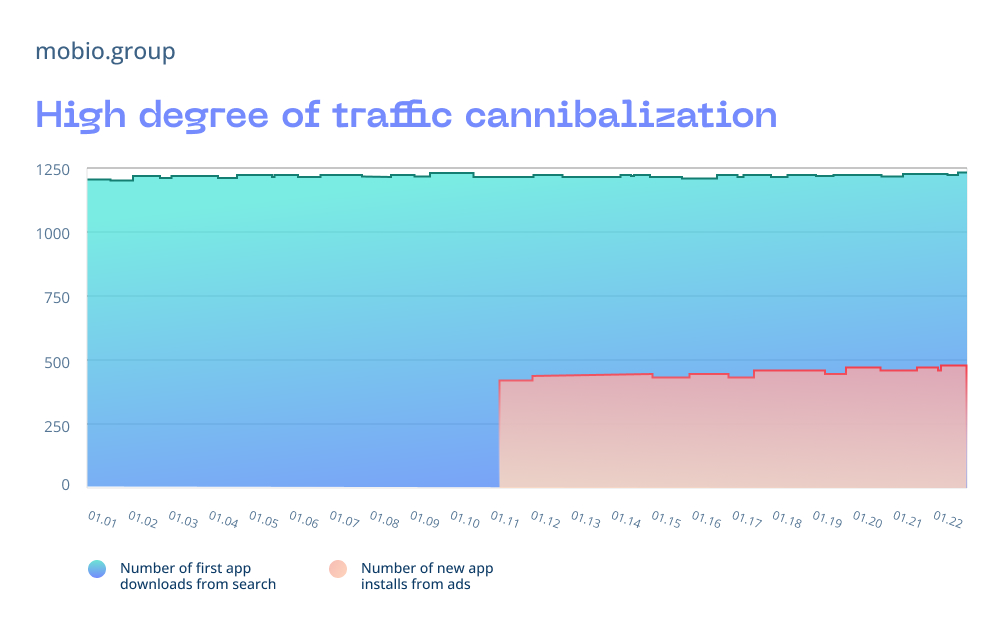 If, on the other hand, we see an increase in downloads of the app from search since the launch of the ad, then the cannibalization of traffic makes sense. And the closer the indicator of the growth of app installs from search to the number of installs from advertising, the less cannibalization of traffic we have.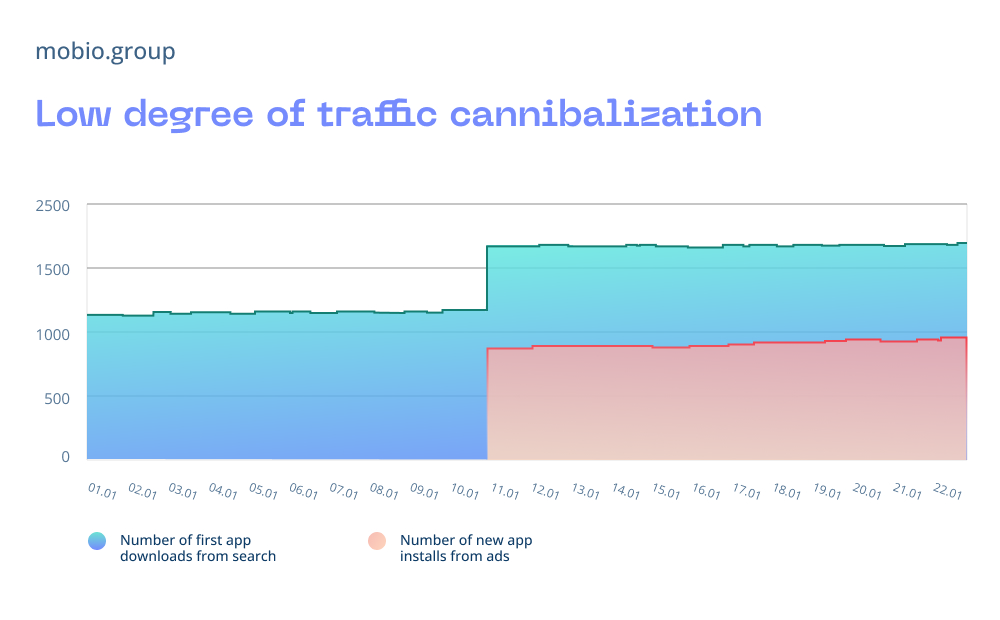 2. Increasing Organic Rankings
If the app does not have a good organic search position for some keywords, the situation can be remedied by running ads for those keywords in the ASA. Increasing the number of installs of the app for a particular search query due to advertising will result in an increase in organic rankings for those keywords. This, in turn, will ensure an increase in the number of organic installs of the app and, consequently, an increase in the overall organic ranking of the app in the App Store. In addition, by running ads for certain keywords, you can reduce the visibility of competitors for those keywords, as your app will be higher in search results.
It's worth noting that sometimes ASA ads can have a negative impact on an app's organic ranking position. This happens if the ads have a low conversion rate (CVR). Therefore, it is necessary to constantly monitor this indicator and immediately turn off ads with low CVR.
The Impact of Custom Product Pages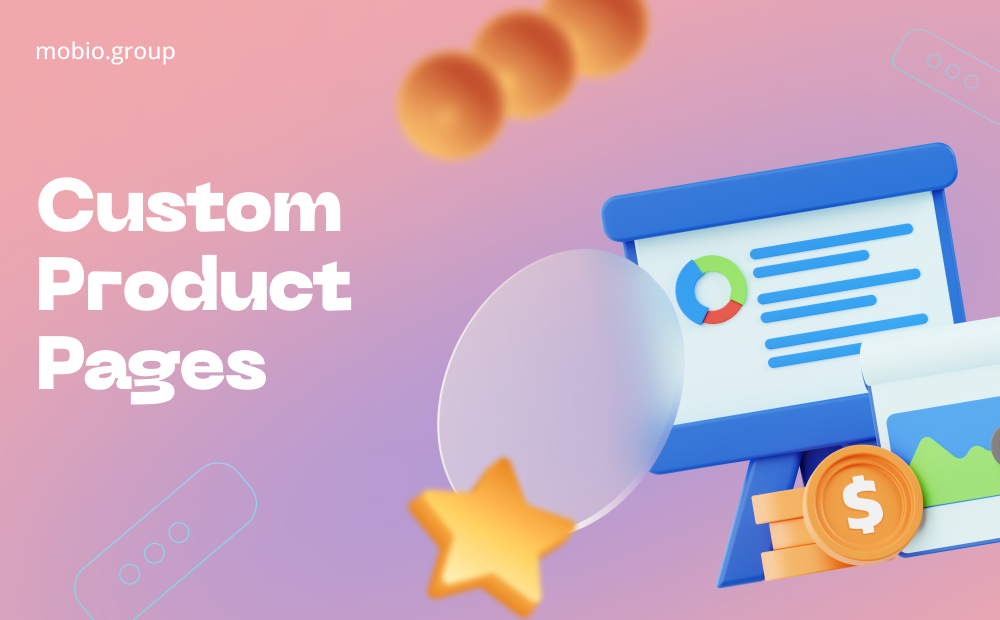 CPP helps to significantly increase the effectiveness of ASA advertising campaigns. By directing users to pages that are more relevant to their queries, we get more app downloads and a high conversion rate. In turn, a high CVR increases the effectiveness of keywords, which makes the app more competitive in the auctions and results in a high click-through rate. And this, as you and I already know, leads to a higher organic search ranking for the app.
In addition, the use of CPP helps to better understand the audience of the app and obtain new data on user behavior and preferences. This information can be useful for further optimization of the app's main page.
As we can see, these three elements create a looped ecosystem, where even minor changes in one of them can significantly affect the effectiveness of the others.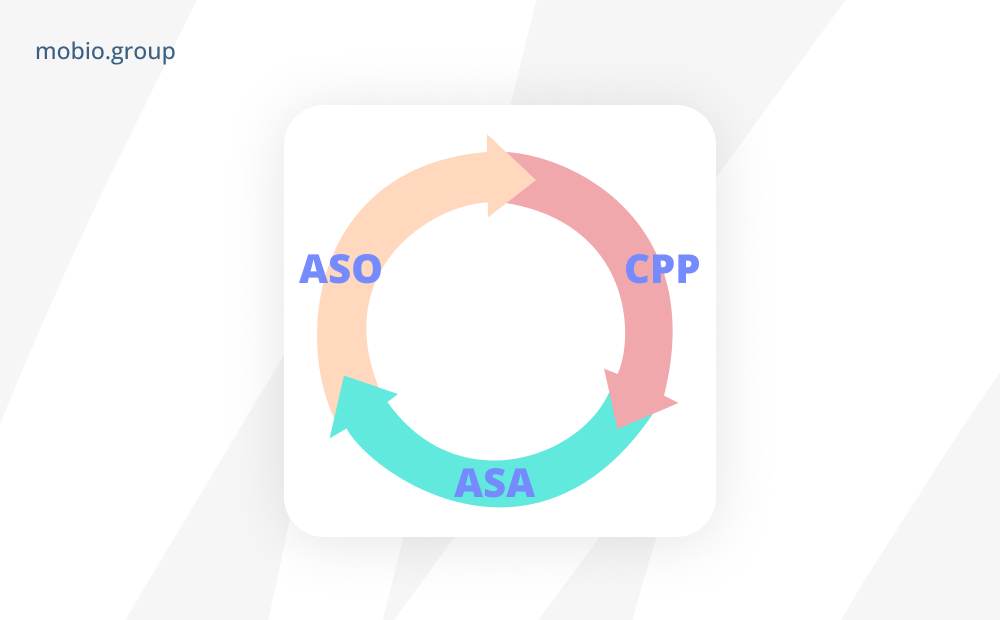 Therefore, when developing a promotion strategy and analyzing the results, it is extremely important to consider all three tools together to clearly understand which actions led to a change in indicators.
Aiming to help our clients to promote their IOS apps with maximum effect and minimum expenses Mobio Group team prepared special packages containing all necessary elements including ASO, ASA-advertising and creation of custom pages. Our clients can rest assured that everything they need for successful promotion is already included.
To learn more about these exclusive packages and how they can help your IOS app, just email us at newbiz@mobiogroup.com. We'll be happy to provide more information.